La Jolla unified once more in City Council District 1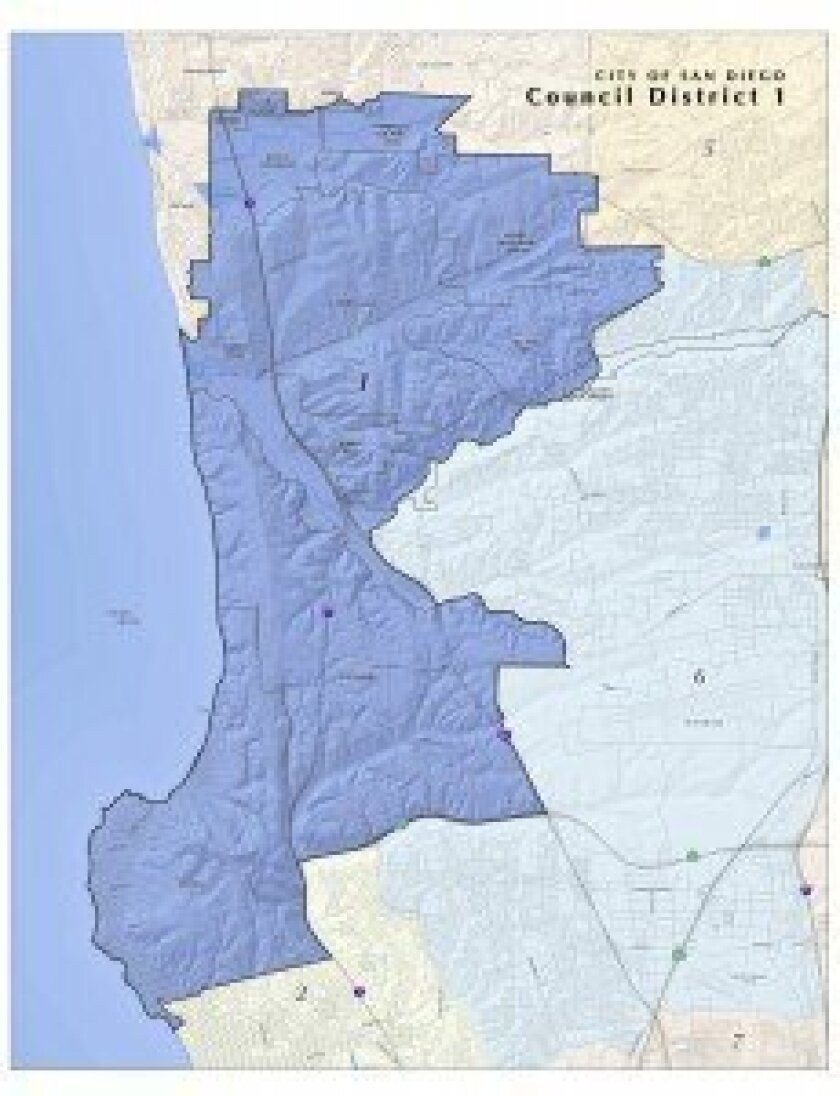 By Pat Sherman
District 1 City Council representative Sherri Lightner began her second term Dec. 3 — the same day the Southeast corner of La Jolla transitioned from District 2 to District 1, effectively reunifying La Jolla as one constituency.
"I look forward to representing the whole of La Jolla for the next four years and thank the community for their tireless work to ensure that all of La Jolla was included in District 1 as part of last year's redistricting process," Lightner said.
Bird Rock resident and land use expert Joe LaCava attended a litany of redistricting commission hearings that began in April 2011, to assure the entirety of La Jolla and University City were included in his district. The commission had the final say on boundaries for the new City Council districts — which included the creation of a ninth district, as mandated by the city's strong mayor form of government.
LaCava drew up plans for what became known as the "Coast and Canyons" map of District 1 — boundaries that received so little resistance from the judicially appointed commissioners that they were the first to be approved.
"I went and met with anybody that would listen to me — planning groups, town councils, a couple of rotary groups, and then I went to every single redistricting commission hearing and made our case," LaCava said. "We said, 'You guys can carve up the rest of the city any way you think is best, but we want to define the new District 1.'"
To LaCava, reunifying La Jolla — which was split in the redistricting process of 2000 — made perfect sense.
"It just makes it easier," he said. "If you have a project or entity that crosses district boundaries, then you've got to get two council members to coordinate and work together. Council members, just by their nature, like to do their own thing, set their own agenda, and pursue their own way of solving problems. When you split the community up, things can happen slower and less efficiently."
LaCava said the newly reunified portion of La Jolla, which includes the southern part of Mount Soledad and a sliver of Bird Rock, is comprised of quiet, mature neighborhoods that are largely devoid of redevelopment and commerce.
Lightner, who spoke in oppo- sition to the division of La Jolla at redistricting commission hearings in 2000, told the
Light
that during her first term she did not neglect the District 2 portion of La Jolla.
She said she worked closely with District 2 council member Kevin Faulconer on issues affecting their adjacent constituencies, which included the Mount Soledad landslide and a ban on alcohol at Kate O. Sessions Park.
"I have always recognized that I represent La Jolla, and if they had serious issues I would take them to Mr. Faulconer's office to be addressed," she said. "Now, (those issues) will just stay with us."
At the beginning of the redistricting process, LaCava noted, there was a concern that University City would be split in half, and that all of La Jolla might be placed in District 2.
"Some of the arguments used were (that) La Jolla and Pacific Beach are both older coastal communities and kind of share those problems that older com- munities have," LaCava said.
When San Diego's population was much smaller, District 1 stretched east to include Rancho Bernardo. During last year's redistricting, that boundary moved further west, and the district lost Rancho Peñasquitos.
LaCava said the loss was inevitable, given that District 1 experienced the greatest population growth in the city during the past decade, due to a spike in new residential development in areas such as Carmel Valley, Torrey Hills and Pacific Highlands Ranch.
Barring any dramatic changes, LaCava said, the configuration of District 1 should remain stable for the foreseeable future.
"Most of those areas are built out. We won't see any explosive growth in the next 10 or 20 years."
---