La Jolla Traffic board OKs 'choker' on Muirlands Drive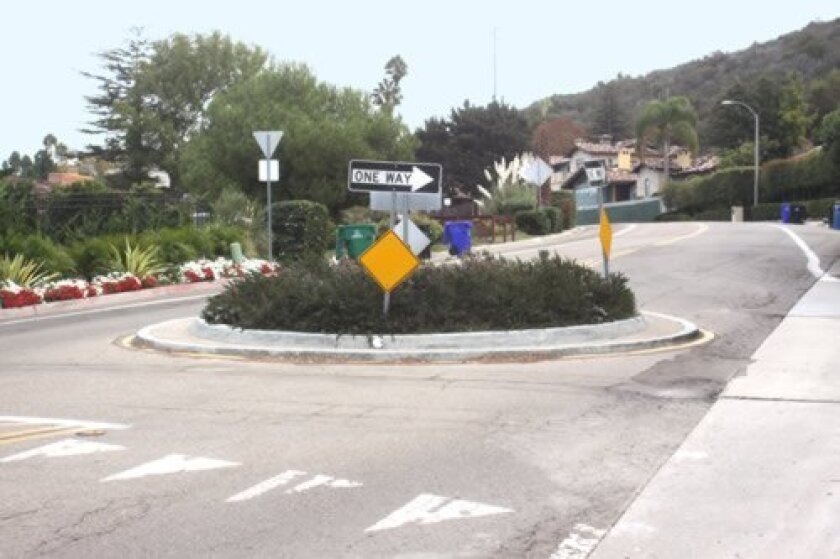 By Ashley Mackin
At its Oct. 24 meeting, the La Jolla Traffic and Transportation (T&T) advisory board voted to approve a traffic calming measure on West Muirlands Drive to help reduce speeding.
Under the plan, a traffic "choker" (an oblong-shaped cement island in the center of the street, similar to the choker on Via Capri, but more elongated) would be installed to divide the lanes, forcing drivers to slow down. "With the center island, there will still be a lane on each side, so people can drive freely, but drivers cannot pass other drivers and speed around people," said Muirlands resident Nancy Gardner.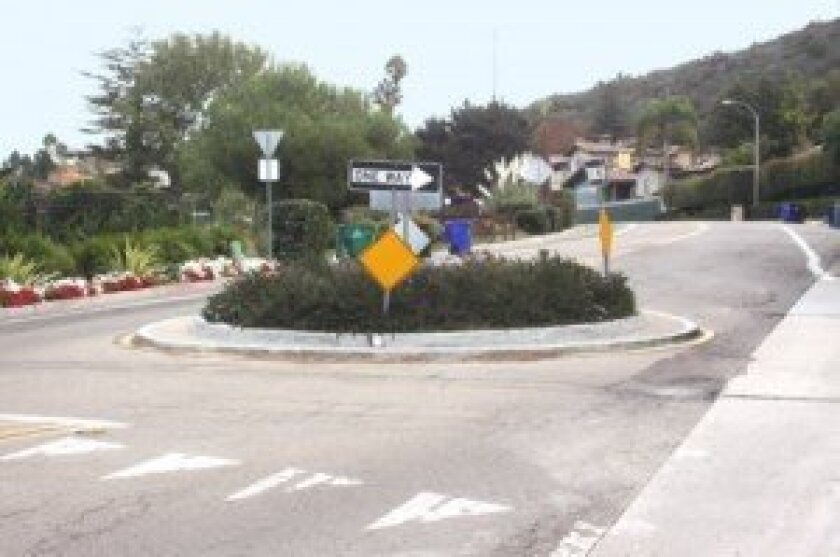 Gardner, along with other residents, cited instances they witnessed of speeding and accidents that resulted from such speeding. One West Muirlands Drive resident pointed to his three sons, also in attendance, and said, "I have three reasons to support this."
The choker proposal comes after years of other efforts. Gardner reported that on the suggestion of residents, police increased enforcement in the area, but do not have the manpower to continue the increased patrol. The speed limit was also reduced, the lanes were re-striped, and signs added that read, "Drive like your kids live here." None of these efforts deterred the speeding, according to residents.
"The only thing that slows people down is if they feel they can't drive safely going fast," said T&T Chair Todd Lesser.
Every resident on the street signed a petition in support of a choker, and some attended the end of the meeting to voice their opinions. In addition to the residents, the San Diego fire marshals approved the project, a San Diego traffic engineer approved the design, and the city has funds set aside for the project.
"The city feels this is important," Lesser said. "They have projects throughout the whole city, and they chose to fund this one."
Gardner said the choker would span a portion of the straightaway of West Muirlands Drive on the north side of Muirlands Middle School. Chokers are typically measured in city blocks, but this proposed choker would only be a few feet long.
Lesser estimated it would be 20 feet long based on renderings, but the exact specifications were not available at the meeting. Four parking spaces on the street would be sacrificed to the choker installation, Gardner said, which residents are willing to forgo.
Board member Dan Courtney voiced concern about drivers crashing into the choker, but Lesser said this was "a balancing act." He said, "It's either someone plowing into it or (plowing into) a house or a parked car."
Signs indicating that a choker is approaching are planned. More details will be available as the project gets closer to construction, which Gardner said will be "sooner rather than later," but an exact date was not available.
The board voted 6-1-0 to approve the project.
---