La Jolla Town Council signs new lease; Trustee Pourteymour helps fund 'Seasons Greetings' sign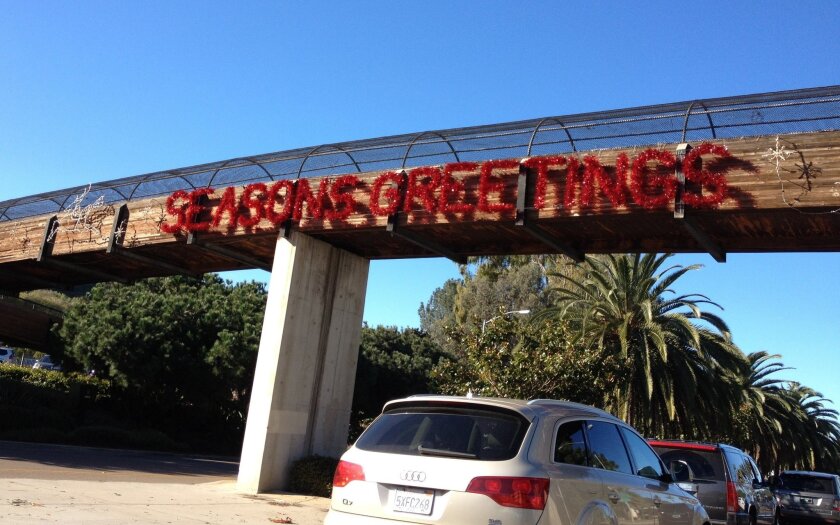 By Pat Sherman
The La Jolla Town Council (LJTC) will be moving its office from Herschel Avenue to more affordable digs at 1150 Silverado St. — thanks to the negotiating prowess of its treasurer, Realtor Yolanda de Riquer.
During the LJTC's December meeting, First Vice President Steve Haskins said the rent on the new space would be about a third of what the organization currently pays. "This is going to put us in a whole new financial situation having this office," Haskins said. "It's $400 a month and that includes telephone, long distance, wireless, a receptionist, everything." The LJTC was scheduled to begin moving this week.
• Other Town Council news
Seasons Greetings sign:
Trustee Egon Kafka noted that the "Seasons Greetings" sign spelled in lights that usually graces the pedestrian bridge over Torrey Pines Road would not likely go up this year without an "angel" to pay for it.
"It wouldn't be appropriate to try and squeeze the same (Christmas parade) donors," Kafka said.
By the end of the meeting, newly installed LJTC trustee Ramin Pourteymour had pledged to be that angel, giving $1,100 to install the sign.
Trustee Egon Kafka and his wife, Maureen, will fund the remaining $300 for the sign.
Fundraiser update:
LJTC trustee Nancy Gardner said the organization's much-anticipated fundraiser, Dancing with La Jolla Stars, will be the evening of Sept. 21, 2013 at the La Jolla Financial Building, 1200 Prospect St.
Gardner said several high-profile names have already expressed interest in being dancers, including Dixon Smith, commander of Navy Region Southwest (aka "Mayor of the Navy").
The event will be held on the patio overlooking the ocean, most likely from 6 to 10 p.m. The event committee is still seeking local "celebrity" judges with good chemistry and charisma.
"There is a groundswell of support from the community every time I mention this," Gardner said. "This is now on the desk of the mayor's office. I suspect that if either he or his fiancée aren't dancers, they'll be involved (somehow)."
Gardner said a friend's organization in Arizona is now raising $800,000 with a similarly-themed event.
"My goal is $400,000 our first year, at a minimum, and that money goes through the town council, straight back into the community for projects that we need, per a vote of the council, such as the Belvedere Promenade."
Anyone wishing to help is invited to attend event committee meetings, 5 p.m. the first Monday of the month at Hennessey's Tavern, 7811 Herschel Ave.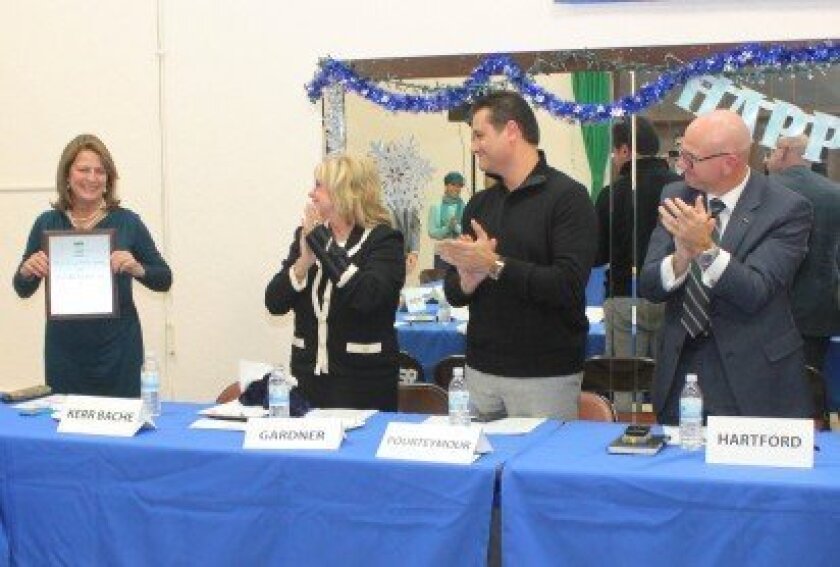 Christmas Parade recap:
La Jolla Christmas Parade Chair Ann Kerr Bache was given a plaque recognizing her annual efforts to pull off the parade and holiday festival.
Though this year's parade almost didn't take place due to an initial scarcity of funding, Kerr Bache said an estimated 25,000 people attended the event on Dec. 2, making it the largest turnout in the parade's history.
Kerr Bache also recognized the efforts of LJTC member Rob Hildt and trustee Kafka and his wife, Maureen. Calling themselves, "Rob's Riders," the trio walked the parade route the night before, putting flyers on windshields to alert people that they needed to move their vehicles. As a result, no cars were towed along the parade route, Kerr Bache said.
• Subcommittee reports
Coastal Access and Parking (CA&P):
Nancy Gardner reported that the CA&P board is still working to obtain status as a separate nonprofit organization. "The city does have our money captive," Gardner said. "In the meantime, the (La Jolla Village) Merchants Association has graciously agreed to ... sponsor our 501(c)3."
La Jolla Planned District Ordinance (PDO):
LJTC trustee Mike Dershowitz said a mixed-use project that came before the PDO committee recently was not in compliance with the La Jolla Planned District Ordinance because it exceeded the height limit for its proposed location — despite having been approved by city staff.
The project, which would include two stories of condominiums above ground-floor retail space, was proposed for the rear parking lot of the Vons grocery story on Girard Avenue.
"The city admitted that they made a mistake," Dershowitz said. "Now they're thinking about what else to do."
• Looking ahead:
LJTC President Cindy Greatrex commended immediate past president Rick Wildman for his ability to line up engaging guest speakers.
Greatrex said as president she hopes to continue that tradition, securing speakers to address La Jolla issues, such as the Torrey Pines Road Corridor project, Cove stench or green technologies.
Greatrex said such discussions are consistent with the town council's mission: "to provide a forum for people to come and hear both sides of the story."
"Let's not forget that the core mission of this town council always has been as a feeder to the city council, to allow the city and greater areas of the county or state to know what La Jollans are thinking," Greatrex said. "It doesn't mean we can solve the problem or even move the needle ... but we can provide a forum for discussion."
---