La Jolla Theatre Ensemble seeks support for productions
By John Tessmer
Artistic Director La Jolla Theatre Ensemble
As it has each of the last two summers, the La Jolla Theatre Ensemble (LJTE) under my direction, will present several performances of staged readings by classic playwrights in the La Jolla Community Center's beautiful outdoor courtyard. Selections will be chosen from the work of the great American playwright Tennessee Williams; the father of modern drama, Norway's Henrik Ibsen; and the greatest playwright of all-time, William Shakespeare.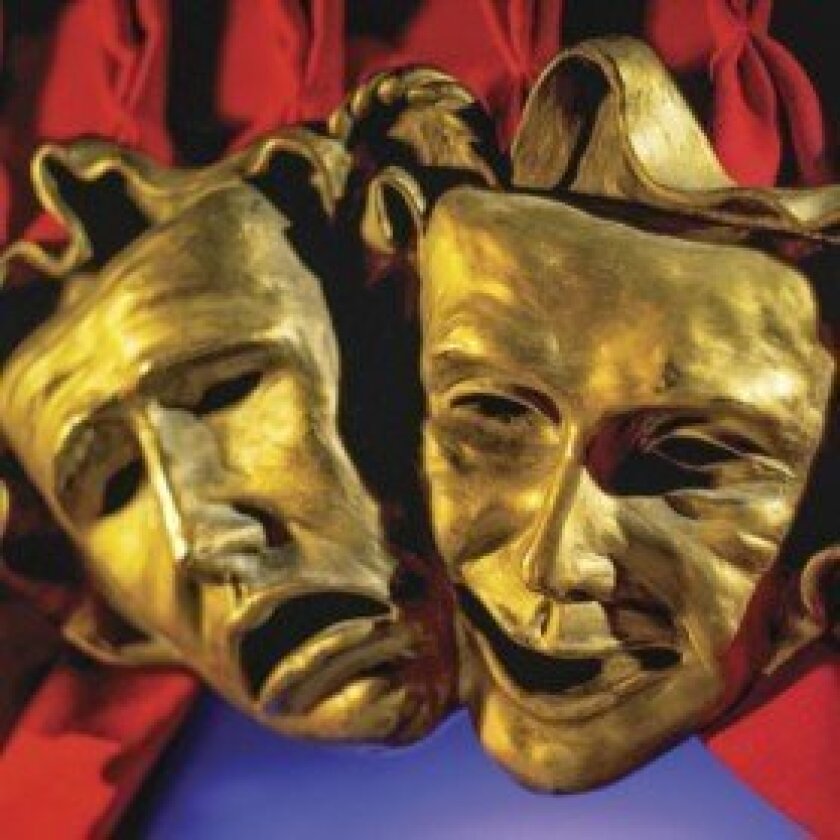 LJTE was founded four years ago by Davida Huchel and me, and has produced nearly 20 staged readings since. The company is currently seeking underwriters for the modest artist stipends necessary to ensure professional quality performances.
LJTE has been experiencing steady artistic growth since its founding, but in order to continue to evolve and bring still higher quality to its audiences, funding beyond the generous donations of its patrons is necessary.
Yes, we in La Jolla have the wonderful La Jolla Playhouse on the UC San Diego campus, but since the La Jolla Stage Company folded, there has been a void in the heart of La Jolla's art scene, which the LJTE has begun building momentum in filling.
If you are interested in supporting the company and helping it thrive, please e-mail me at jctessmer@yahoo.com and/or make any contributions to the La Jolla Community Center, designating your generous donation for the La Jolla Theatre Ensemble. You may designate your gift for programs or marketing; food and/or beverage; or actor or director stipends.
An entire staged reading production can be sponsored for $500; as examples, a donation of $75 can sponsor an individual lead actor stipend, $50 a supporting actor stipend, and $125 a director stipend.
The La Jolla Community Center is a 501(c)(3) nonprofit organization and your support is tax deductible. The LJCC and the LJTE thank you and encourage you to watch for the next performances coming in August and September!
Contact city council for
a leaf-blower ordinance
I am in complete agreement with the letters blasting leaf blower-use from Kat Cowley and Ruthie Gordon (I tip my hat to a bonnie descendent of the Gordon Highlanders! My maternal grandparents were Clan Leslie and Clan Hannay). The profligate increase of leaf blowers in La Jolla over the past several years has created quite a menace. The most egregious fault is that they don't even remove any debris — they just move it around!
I contacted the very helpful Erin Demorest, City Council representative for Sherri Lightner, about this last September and learned the following: "Due to staffing constraints, Neighborhood Code Compliance staff does not support placing any new regulations on the books right now that have little chance of being enforced given the existing staffing levels."
I hope there must be a way around this budget constraint. My guess is that once our dedicated landscapers realize there is an ordinance against leaf blowers, 90 percent will stop right away and compliance really won't be a big problem at all. Please let Sherri Lightner's office know if you are in favor. I'm confident she can find a way! (619) 236-6611.
Clem Hoffman, M.D.
La Jolla
For a clean Village, it will take a Village
There has been much ado about trash in La Jolla lately. May I make a suggestion? Some years ago, I read in
Time
magazine about a tour guide who asked his guests each time they got off the bus to pick up two pieces of trash, no more, just two. As one might imagine two times a busload adds up quickly.
Maybe, if each time we walked on the streets of La Jolla, we picked up two pieces of trash, there would, after a time, be none left ... and people could return to enjoying all that La Jolla has to offer instead of demonstrating their angst in the newspapers.
I know this "system" works because I have tried it with my students near the high school where I taught on Long Island. First, most students didn't stop at two pieces of trash and second, after a week or two, one had to hunt hard to find a piece of litter. Two benefits might occur: the bending over helps the waistline, and others will see you, be inspired, and are likely to copy your efforts.
What do you say La Jolla? Can we do it?
Art Cooley
La Jolla
Tax phone scam is now hitting residents
I want to alert others to the phone scam I encountered. On July 18, I received a phone call on my answering machine from "Fernando," claiming to be from the IRS and saying I owed money and the sheriff would come after me, etc., and to please call this number (888) 379-0745 to clear things up.
I did not call the number, and instead reported the incident to the Federal Trade Commission. I'm on the Do Not Call Registry, so I'm guessing a random dialing system was being used.
Sara Moser
La Jolla
Editor's Note:
Thanks for the caution, Sara. On its website, the IRS reports several such scams are underway as tax filing season has ended. The IRS recommends:
1) If you know you don't owe taxes or have no reason to think you owe any taxes (for example, you've never received a bill or the caller made some bogus threats as described above), then call and report the incident to the Treasury Inspector General for Tax Administration at 1 (800) 366-4484.
2) If you've been targeted by this scam, you should also contact the Federal Trade Commission and use their "FTC Complaint Assistant" at FTC.gov
The IRS notes it will always send taxpayers a written notification of any tax due via the U.S. mail. The IRS never asks for credit card, debit card or prepaid card information over the telephone. To report a scam, go to www.irs.gov and type "scam" in the search box.
PS:
La Jolla Light
dialed the suspicious 888-number where an anonymous automated voicemail system asked us to leave a message.
Parking spots belong to those who get there first
I agree with Juliana Beletis's letter (July 24) that people should not try to reserve a public parking space by standing in it. Penal Code Section 370 supports this good sense thought by specifying that any deliberate obstruction to the free use of a street is a public nuisance.
On the other hand, the thwarted driver must keep in mind that threatening to run over the miscreant would be assault with a deadly weapon, for which there could be criminal conviction and civil liability. Having fought for free parking in La Jolla, I look forward to a peaceful first-come, first-served allocation of this resource.
John A. Berol
La Jolla
The beach is for dogs as much as for people
I read with interest the article about off-leash dogs in the July 17 issue, describing the difficulties faced by dog owners and their pups in accessing beaches and parks in our city. As a dog owner myself, I share in this frustration, particularly this time of year when I get to see, firsthand, the impact of the many visitors to this area.
The overflowing trash cans exacerbated by the vast numbers of seagulls ripping through their contents; the burn circles of visitors' grills on the grassy areas; the fast food and beverage containers; and the diapers left on the streets, stuck into bushes and around park benches — these are the real threats to our environment.
The majority of dog owners are quite careful to pick up after their pets. We do it because we should, and because we also know that is one of the first things anyone says when discussing the presence of dogs.
It is tempting to try to set up a specific location where dogs are allowed to be off-leash. It would, ultimately, be the ideal solution. It will also,
suspect, take a long time to happen, as organizer Nancy Linck is sure to agree.
I would like to propose a simpler solution. Current law allows for dogs to be present at parks and beaches before 9 a.m. and after 6 p.m. If the leash restriction could also be eased during those hours, most dog owners would be very grateful. We like to take our walks in the morning, before the heat of the day and before the crowds arrive, and in the evenings after work. If we could just decriminalize taking a dog off the leash and letting a pup run a bit, play fetch and interact with others, it would be a strong step toward a happy balance.
We rely on dogs for their sensitivity and help with our limitations, for comfort and companionship, for rescue during and after disasters. Let us show them some respect and concern, and provide for their wellbeing in return. Let us learn to share our environment and not be so thoroughly convinced of the importance of human beings, especially to the detriment of other species.
Betina Tasende
La Jollan since 1979
Dogs on the beach are not the real problem
The controversy over dogs, leashed or unleashed, on our beaches has been contentious for years. I, for one, have been taking my dog(s) to the same beach for going on four decades. The problem is not with the dogs themselves, but careless owners who do not control their animals or fail to clean up after them. I have never seen a dog leave glass bottles or cans on the beach, drop cigarette butts, drink alcohol, leave uneaten food and wrappers, have unauthorized beach fires, have noisy parties or write graffiti on sea walls. I find these practices far more troublesome than people walking their dogs at sunrise or sunset who are inevitably nearby residents.
David W. Valentine
La Jolla
Beach dog walkers take care of the land
I walk our dog everyday on the beach. It is with that acknowledgement I have to take exception to the one letter writer stating that he has been "nipped at, barked at and set upon by belligerent dog owners." The dog owners I see and speak with everyday would tell such a dog owner to go elsewhere as that kind of behavior is simply not condoned. I have never seen what was described but would be among the first to leash and call animal control should I ever. What I do see are a lot of very happy animals and their loving owners. The amount of trash that is collectively picked up by these dog walkers is staggering and the contents are appalling: drug paraphernalia, beer bottles and cans, plastic salsa cups, and diapers, along with the cute little plastic buckets and shovels. The off-leash beach proponents are better caretakers and denizens of the beach than many.
Zeke Woolley
La Jolla
Children's Pool access supporters have website
Dear Supporters of the Disabled: Announcing the new website that tells the truth about the Children's Pool situation: restorechildrenspool.org/home.html
Hope you will check it out — and thank you for your continued support for the access rights to the disabled at our only Pacific Ocean pool and for supporting the undersea ecology.
R.A.M.P. To Restore Access To Many People
C.O.A.S.T. Coastal Ocean Access
& Sustainability Team
Christmas Parade: Leave
it as it was and is
I would like the title of La Jolla's original parade maintained for the sole reason: I want to be connected with that which I know, La Jolla. As the victim of inner city violence, I request dignity of familiarity.
I fled from a terrible life-or-death circumstance and to have a security blanket and resemblance of happiness (i.e. the La Jolla Christmas parade) ripped away is unfair. I have always received from La Jollans the blanket of acceptance because, and only because, I was a student at UC San Diego.
I went on to fight ethnic holocausts as pilot to U.S. generals serving our nation in the Balkans, and yes, everybody gunned down for ethnicity deserves a voice.
My voice, the voice of victimization of violence is this: I did not hurt you, therefore I do request you don't rip away the sole grip upon the only nicety of humanity — the end-of-the-year celebrations.
Andra Welsh
La Jolla
Time to change the parade name
I'm writing in regard to the longstanding La Jolla celebration of the beginning of winter, named historically as the winter solstice. Noteworthy, it has been practiced long, long before many religious communities' adaptations of this annual recurring event. The winter solstice does not spotlight nor ignore any other groups' celebrations of this "return to light."
Unfortunately, until several decades ago, our beautiful Village of La Jolla did deny residence to folks of anything but very white skin and Christian religions. It seems a fragment of this unkind practice remains in naming the annual winter La Jolla parade "Christmas." Let us remove this broadly publicized exclusion of many others, and open our hearts and minds to all La Jollans, San Diegans and world travelers.
Phyllis S. McGrath
43-year resident of La Jolla
La Jollans: Chill-out over
first-world problems
I think it's time the people of La Jolla got a grip on their complaints and frustrations about living in "the jewel" that is La Jolla. Whilst people's biggest gripes are leaf blowers, seals' rights, to let a dog off-leash or not, or whether the recent visit by Ms. Clinton was some kind of government conspiracy — take a minute to be thankful for what you have … arguably, one of the nicest places to live in San Diego (if not the country); low crime rates; little poverty; and successful, employed people.
I guess since everything is so rosy you have to find something to complain about, but please, let's have a little perspective here. Yes, leaf blowers are mildly annoying and man vs. nature raises conflicts. At least we don't have to deal with the day-to-day problems that people living in less prosperous areas of the region, or indeed the country, have to. So please, take a minute to cherish what we have and appreciate how lucky we all are! u
Chris Noakes
La Jolla
---