La Jolla Symphony & Chorus heads to Carnegie Hall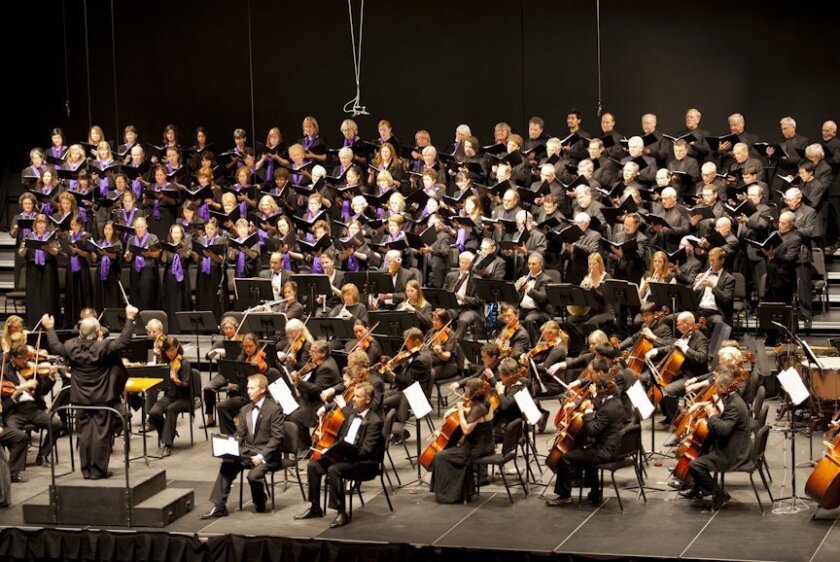 By Linda Hutchison
La Jolla choral voices will sing out in celebration of spring this month — both locally and across the country in New York City.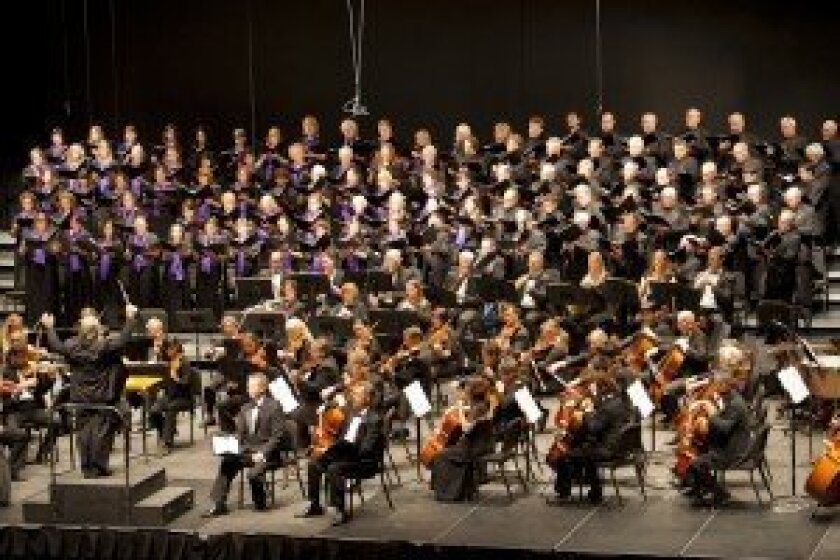 For the first time, the La Jolla Chorus will perform at 121-year-old Carnegie Hall, filling the famed venue with the music of Benjamin Britten's "Spring Symphony" on Sunday, May 27.
The Carnegie Hall performance will also be a celebration for choral director David Chase, who has been leading the group for 38 years.
According to Chase, the production company at Carnegie Hall has been asking him for years to bring his musical group there. Finally, "All of the circumstances came together just right to do it at this point," he said. "This is the first and probably the only time we're going to do this."
The Carnegie Hall concert will include about 160 voices, including 120 from the La Jolla Chorus and 40 from the North Coast Singers, a children's chorus directed by Sally Husch-Dean and based in Encinitas. The choirs will perform with the Carnegie Hall resident orchestra and three of their soloists. (In San Diego, the group is part of the La Jolla Symphony & Chorus.)
To make sure enough singers were available to travel to New York, the group reached out to past members to join them. Some of these La Jolla Chorus alumni will perform in both May concerts and some just in New York, coming from all over the country and the world. They include Rosemary Chang, Wayne Cornelius, Ylva Elias, Garry Gippert (who lives in Denmark), Sharon Jones, Jason Mahon (who lives in Texas), Jay Sacks, Vincent Tedjasaputra (a graduate student at the University of British Columbia in Vancouver), and Helene Vik (who lives in Sunnyvale).
"I'm especially excited about the notion of drawing back together a good number of people from our past, which is a kind of payoff for the fact that I've been at this for 38 years. It's been heartwarming to see past members from all over the country enthusiastically embrace the idea of coming together to sing at Carnegie and reunite with old friends," said Chase. "It'll be a very intense few days in New York."
While there, the children's choir also intends to stage another type of performance — a flash mob at Grand Central Station.
Although this will be the first Carnegie Hall performance for the La Jolla Chorus and the North Coast Singers, it is not for Chase. Both he and his wife Ann appeared on stage there in the late 1980s with the Robert Shaw Festival Chamber Chorus. A professional singer, Ann will also participate in the May 27 concert.
"The La Jolla Symphony Chorus is such a wonderful choir and always performs a great variety of interesting music," said returning member Helene Vik, who sings soprano. "I am so excited about this opportunity."
Another returning member, Ylva Elias, who sings
alto, agrees with her. "It's wonderful to be back in the chorus and I'm so excited about this once-in-a-lifetime opportunity to sing in Carnegie Hall! Wow! Hello Big Apple town, here we come!"
The La Jolla Symphony & Chorus is San Diego's oldest and largest community orchestra and chorus, now in its 57th season.
Hear them this weekend
What: La Jolla Symphony & Chorus Spring Concert
Program Includes: 'Last Spring' by Edvard Grieg; 'Symphony No. 1 in B-flat Major: Spring' by Robert
Schumann; and 'Spring Symphony' by Benjamin Britten.
Guest performers for 'Spring Symphony' include soloists Kerrie Caldwell (soprano), Sasha Hashemipour (mezzo-soprano), Christopher Bingham (tenor), and the San Diego North Coast Singers (youth chorus).
When: Saturday, May 5, 2012, 7:30 p.m.;
Sunday, May 6, 2012, 2 p.m.
Where: Mandeville Auditorium, UCSD Campus,
9500 Gilman Drive, La Jolla
What: La Jolla Chorus Spring Concert at Carnegie Hall
When: Sunday, May 27, 2012, 8:30 p.m.
Where: Carnegie Hall, 57th Street and 7th Avenue, New York City
Information: (858) 534-4637 or
lajollasymphony.com
---