La Jolla Symphony & Chorus announces 60th season concerts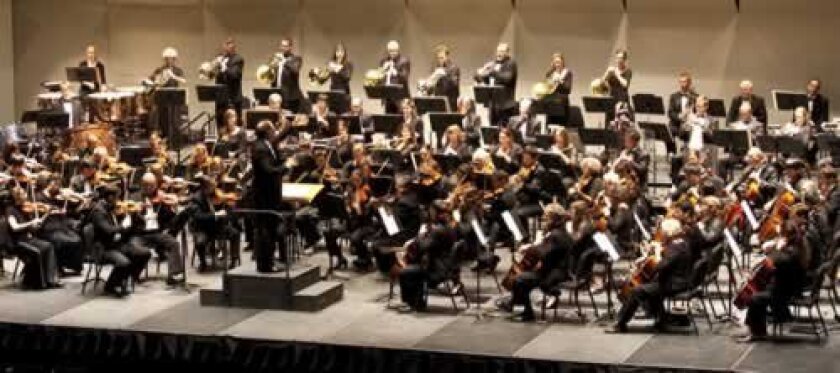 2014-2015 Season: 'The Nature of Things'
Nov. 8-9: "On the nature of sensation and thought," premiere of "a Sound, uttered" and Mahler's "Symphony No. 5." Guest artist: red fish blue fish. Steven Schick and David Chase conduct.
Dec. 13-14: "On the nature of the democratic impulse and the effacement of obstacles," William Grant Still's "Afro- American Symphony" and Beethoven's "Symphony No. 9." Schick conducts.
Feb. 7-8, 2015: "On the nature of reflection," Golijov's "Azul," Chinary Ung's "Khse Buon" and Carl Nielsen's "Symphony No. 4 The Inextinguishable." Guest artist: Cellist Maya Beiser. Schick conducts.
March 14-15, 2015: "On the nature of renewal," Berlioz's "Requiem." Schick conducts.
May 2-3, 2015: "On the nature of the space between us all," Bernstein's "Symphony No. 1," Yeung-ping Chen's "The Moon of La Jolla" and Charles Ives' "Symphony No. 2." Guest conductor Christopher Rountree.
June 6-7, 2015: "On the nature of utterance," Tchaikovsky's "Violin Concerto," Jonathan Dove's "There Was a Child." Guest artist: Annelle Gregory. David Chase conducts.
The La Jolla Symphony & Chorus (LJS&C) will present the first concert of its six-concert 60th anniversary season, "The Nature of Things," Nov. 8-9, at Mandeville Auditorium on UC San Diego campus. A pre-concert lecture by Choral Director David Chase and visiting composer Nathan Davis will be offered one hour prior to curtain.
The first concert explores the nature of sensation and thought, with the world premiere of Davis' "a Sound uttered, a Silence crossed" and one of the mightiest of all symphonies, Gustav Mahler's "Symphony No. 5." Music Director Steven Schick and Chase will conduct chorus and orchestra, with guest artist red fish blue fish.
Act 1
Davis and librettist Laura Mullen scored "a Sound uttered, a Silence crossed" for chorus and four percussionists. The multi- dimensional work charts the human journey from the first awareness of sound to the promise offered by the mastery of skills needed to reach out to others, to the joy in connection, and on to a transformative confrontation with the limits of communication.
An extensive battery of percussion, performed by UCSD's percussion ensemble red fish blue fish, buttresses the piece and provides context, and, in a unique collaboration, the libretto is drawn from writings by chorus members and others, as well as poems created for the occasion. Davis is a core member of the internationally renowned contemporary music ensemble ICE and is on faculty at Dartmouth College. Mullen is a prize- winning poet and director of creative writing at Louisiana State University.
Act 2
Mahler composed "Symphony No. 5" in 1901–1902, his "middle" period of composition when he was ready for new directions. The structure is completely original. It opens with a grief-stricken funeral march, lifts out of that darkness to dance with cosmic energy and concludes in a blaze of triumph. One of its most distinctive features is the trumpet solo that opens the work. The fourth movement, "Adagietto," may be his most famous composition, said to represent a love song
for his wife, Alma. At its 1904 premiere, the five-movement symphony overwhelmed audiences, who were unprepared for the stupendous power and dramatic scope of the work. It has since become one of Mahler's most popular symphonies, and one critic has gone so far as to call it "one of the seven wonders of the symphonic world."
IF YOU GO: Concert times are 7:30 p.m. Saturday and 2 p.m. Sunday. Tickets are $15-$29 at (858) 534-4637 or lajollasymphony.com Parking is free. The non-profit LJS&C (a 110-person orchestra and 130-person chorus) is San Diego's oldest and largest community orchestra and chorus.
---