La Jolla surfer Jake Halstead makes his way to the pros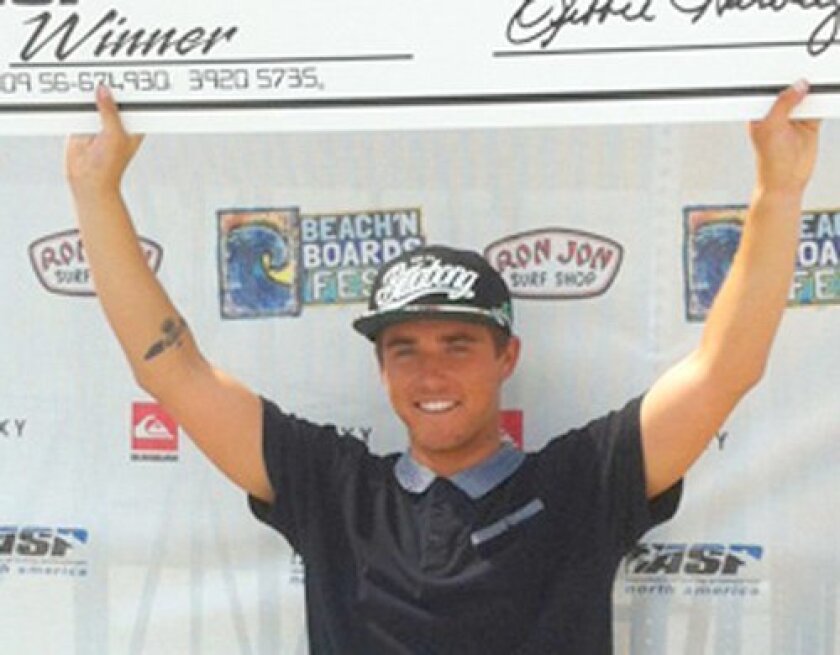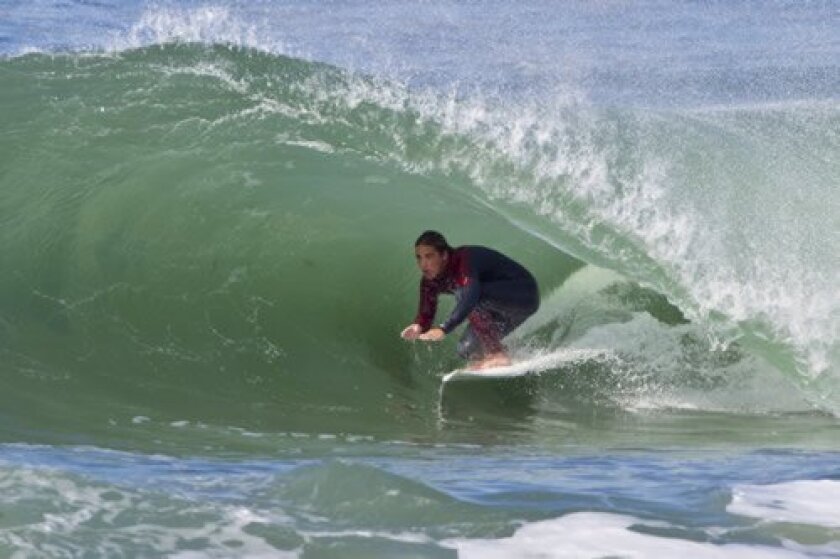 By Ashley Mackin
La Jolla native and lifelong surfer Jake Halstead is making a career out of his oceanic hobby. He has the endorsement of big-name companies and has surfed all over the world, collecting competition victories left and right — all by the age of 20.
His career as a surfer really started to take off in 2010, when he earned the silver medal in the International Surfing Association (ISA) World Championships, which is considered the Olympics of surfing. "It was kind of life changing for me," he said. Soon after, the surf attire and clothing chain Billabong wanted to sponsor him, offering him financial support, clothes and decorations for his surfboard. Although he's still with Billabong, other sponsors include Rusty surfboards, Nixon watches, Oakley sunglasses, Vertra sunscreen, Da Kine accessories and Future Fins, he said.
The same year as the ISA Championship, he took first in the National Scholastic Surfing Association (NSSA) West Coast Championship in the junior division and fourth place in the men's division. Two years later, he took second place in the NSSA National Championship in the men's division.
He also won the 2013 Association of Surfing Professionals (ASP) North America Pro Junior Champions. Next to the ISA World Championship, he regards the ASP victory as one of his biggest accomplishments.
His current venture is to participate in the U.S. Open of Surfing in Huntington Beach, which started July 26. The week-long competition hosts surfers from around the world — including pro surfer Kelly Slater — and thousands of spectators. "It's probably the biggest surfing event in California," he said, adding that he scored high enough in previous events to qualify.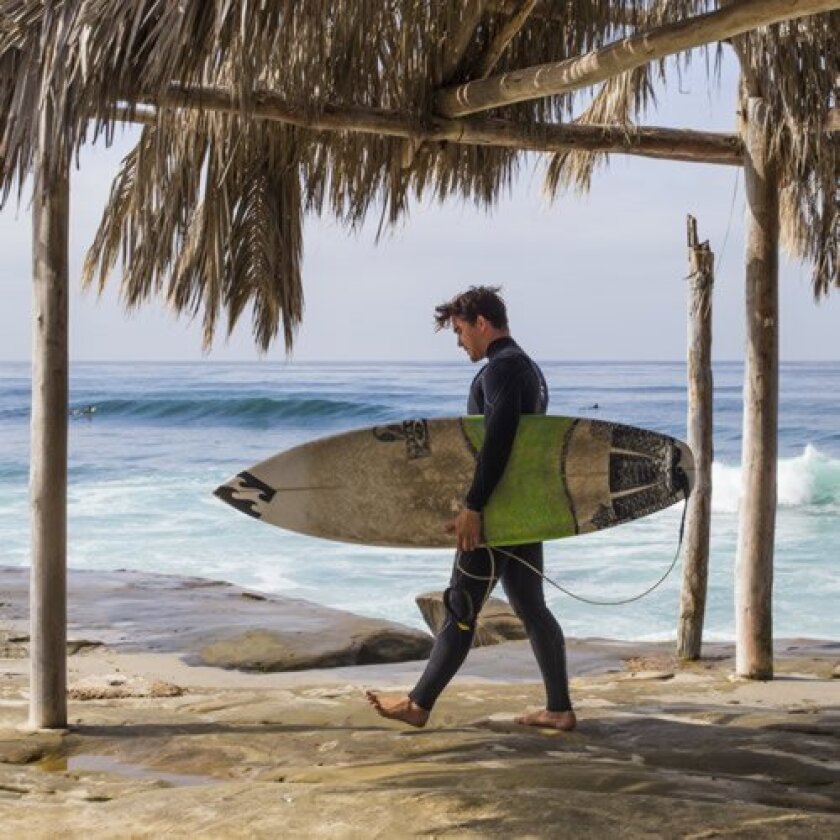 But it all started in La Jolla. Having grown up in The Jewel, Jake has been a surfer since childhood. "I would watch my dad surfing and I would swim up to him and he would push me into waves, so from a young age I was addicted," he said. "Once I was standing up on a surfboard on my own, I knew I wanted to do it for the rest of my life. I didn't know it would be a career, but I knew I wanted to do it."
His "home break" is WindanSea Beach, which he said he would visit daily growing up. "It has my favorite waves and it's what I grew up on, but there is still something mysterious about it. I take surfers from around the world to WindanSea and for some reason they have difficulty with it. But if you get to know the waves and spend time there, you start liking it. It's a weird wave, but it's fun and you learn to love it."
Halstead started his competitive surfing at the annual Menehune surf contest in La Jolla Shores. "Whether I won or lost, the Menehune was always fun," he said. After competing in the Menehune three times — winning one of them — he thought he would enter bigger contests.
His father, Anthony Halstead, although supportive, did not have a career in surfing in mind for his son. "It wasn't about him becoming a pro, it was about having fun. But I saw talent in him and I made a commitment at one point that I would take him as far as he wanted to go with this and support him however I could," he said.
So Jake signed up with NSSA, and witnessed a serious increase in competition. "It was really hard at first because these kids — some of them half my age and half my size — were so good. But it was good for me to be around other surfers who were pushing me to do better. My first two years were tough, but then I got the hang of it and started making more heats and more finals and eventually winning some," he said. "I climbed the ladder."
He also traveled around the world, competing at every event he could. "I've traveled to Indonesia, South Africa, all over the East Coast, Puerto Rico, Mexico, Peru and Brazil. But the best place I've traveled to is Tahiti," he said. "In a lot of places, the locals are protective of their surf, but in Tahiti they are really welcoming. If they don't know you, they come up to you and shake your hand — plus the waves are perfect."
But it wasn't always perfect Tahitian waves. Anthony Halstead said his son's success was a process. "At times it was stressful," he said, citing a trip to Florida for a contest. "We rented a car and drove for two hours to the contest, and he lost in the first hour. So we'd turn around, jump on a plane and come home."
Jake recommends children who want to surf competitively start early. "Start with a Menehune-type contest or something through the YMCA and move up from there," he said. "Don't get discouraged. I did contests for two years and lost every single heat. I questioned whether I was even good at surfing. Then it clicked and I started doing better and better. Don't get too down if you are not doing well, just keep trying and do your best."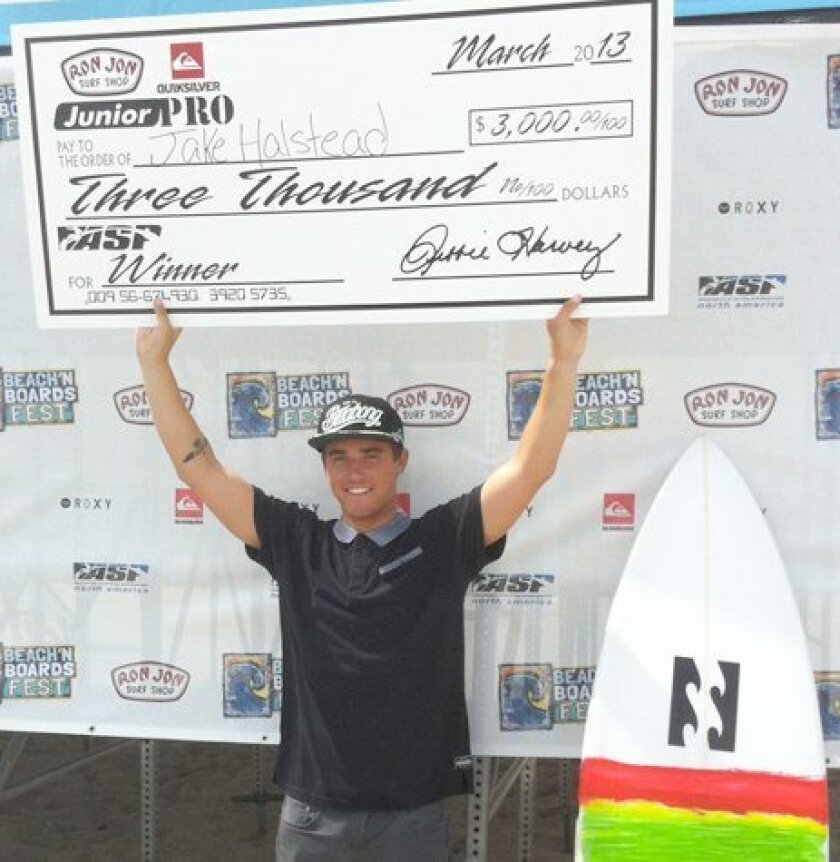 ---