La Jolla students learn to spot the signs of human trafficking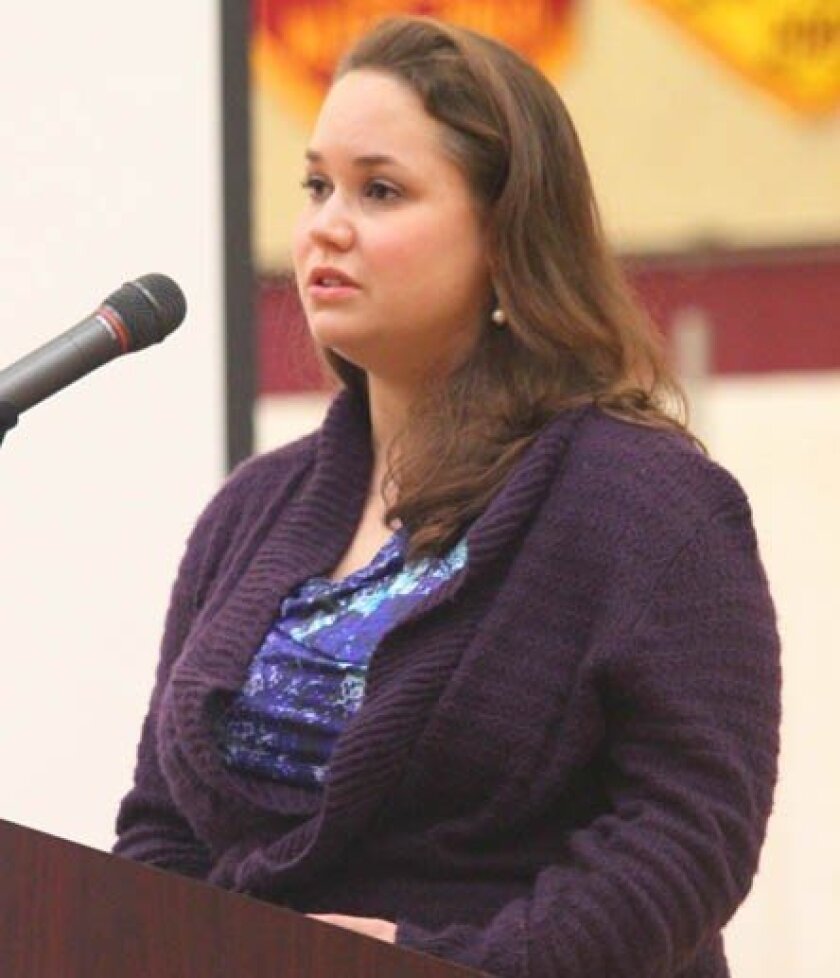 By Pat Sherman
Students at The Bishop's School had their eyes opened to the dangers of human trafficking this month — specifically how easy it is for girls and young women to become victims.
The presentation, in honor of Human Trafficking Awareness Day (Jan. 11 worldwide) included three presenters: Chris Tenorio, a federal prosecutor with the U.S. Attorney's Office in San Diego; Mark Wexler, executive director of Not For Sale (a nonprofit working to end human trafficking and slavery); and Tiffany Mester, a survivor of sex trafficking.
Mester, who recounted her upbringing in an abusive home and recruitment into prostitution at age 14, warned Bishop's teens that people involved in the sex trafficking industry are lurking online and in malls, theaters and other public places where teens meet — systematically targeting girls.
She urged students not to air their troubles on social media sites such as Twitter and Facebook, posting messages such as "I hate my life," "I hate my parents," "I never get to have fun" or "Nobody will ever love me."
"You guys have all seen those posts, right? That's like a signal screaming, 'I'm vulnerable,' " Mester said.
Traffickers are adept at infiltrating Facebook profiles to learn things that help them recruit their victims, Mester warned.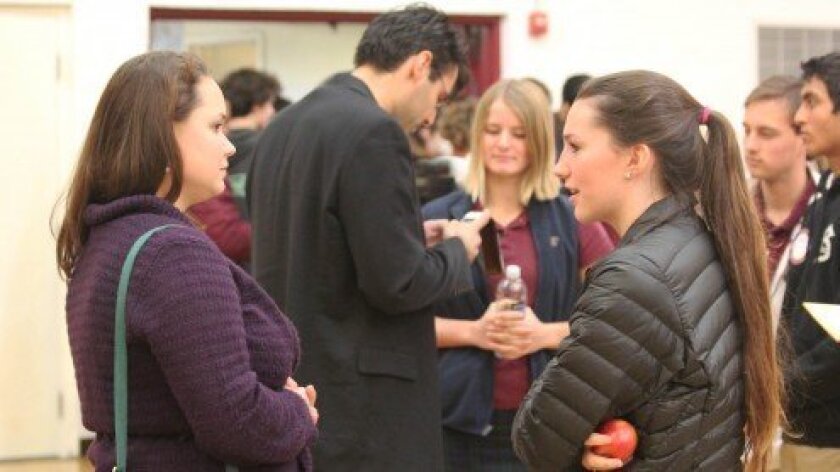 "If traffickers know what makes a girl happy, what your favorite food is, how much your parents suck or what you got grounded for they have an ability to go in there and say, 'Dude, your life does suck; I'm totally there with you,' " she said. "Then they offer a friendship or love that that girl is not getting."
Mester said traffickers are often waiting in public places, looking for girls who appear vulnerable.
"A lot of times when you go to the mall with friends, there's a trafficker there looking at you and watching you," she said. "They're waiting for the girl in a short skirt that's making eye contact with every man there because she wants their attention. These are the girls that don't understand their value, their identity."
Mester said traffickers may use teen boys to help locate and recruit girls that are unhappy or having difficulty at home.
"They'll go, 'Hey, I know this guy so-and-so. He seems like a great guy. Would you like to meet him?' He introduces the girl to the trafficker and he gets paid for it."
The best way students can combat the problem, Mester suggested, is by serving as a mentor to a younger student who may be having trouble at home or dealing with self-esteem issues.
"Get to know some of these kids. Look for ones who don't have a good home life and really commit to loving them," she said. "That's what they need. If you fill that void for them, that trafficker is going to have a harder time weaseling his way in there and filling that void himself."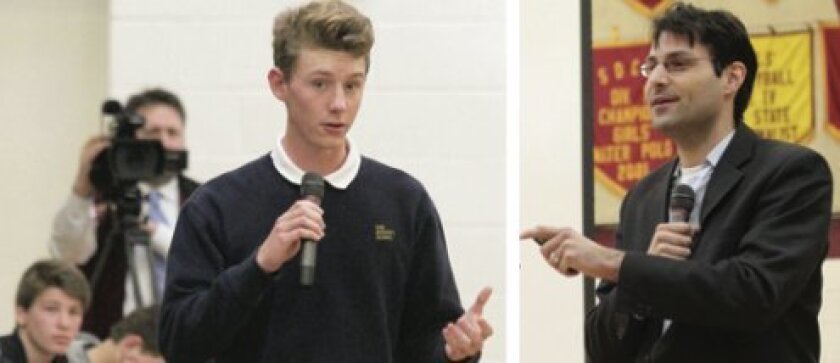 A girl being fawned over by an unknown, older male or showered with gifts or promises, is a red flag. Students who witness this should tell a teacher, parent or trusted adult, Mester said.
She asked that students have compassion for the victims of sex trafficking, the majority of whom come from broken homes or a history of physical or sexual abuse.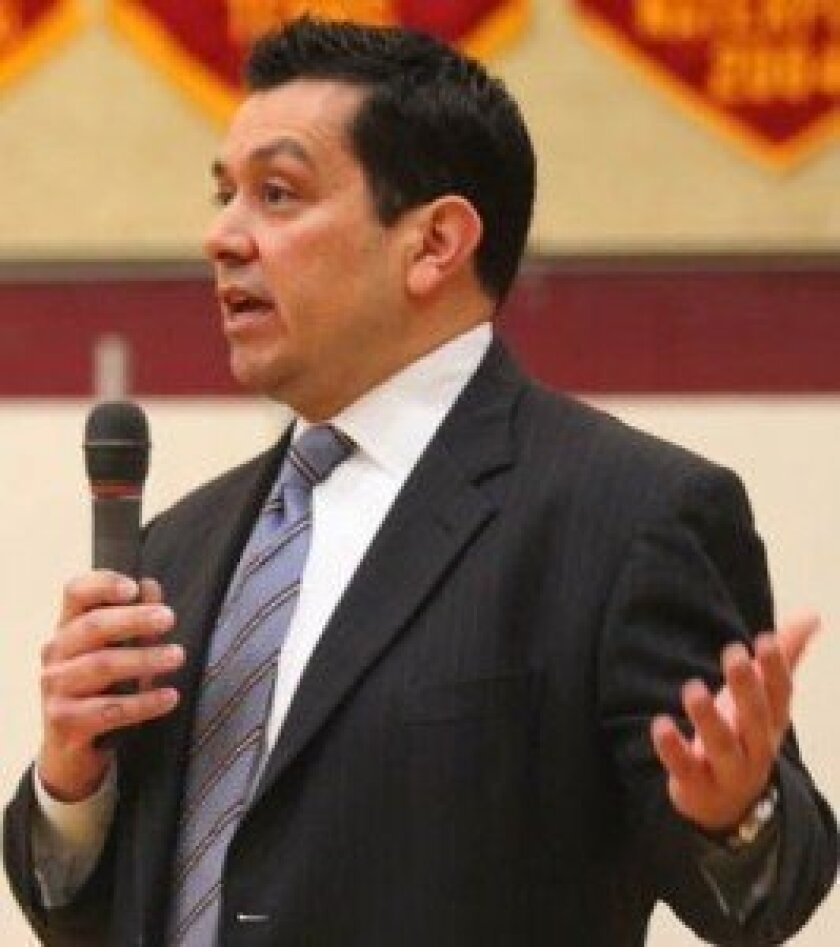 Most lack the education or life skills to simply walk away from their pimp when they become adults, she said.
"We're creatures of habit who fear change. Going to college is scary. Getting a new job is scary. What happens when you're put into this new lifestyle where all you do is have sex and sleep with people for money and give all your money to a pimp? … You're 18 years old, you don't have a high school diploma and you can't tell people what you've been doing the last five years when they ask you in a job interview," Mester said. "There's a whole lot of barriers in the way."
Chris Tenorio, a federal prosecutor with the U.S. Attorney's office in San Diego, stressed that human trafficking — which includes forced slave labor and sweatshops — is a global crime that's relatively easy to commit and lucrative. The definition of human trafficking under the law is "compelling or coercing another person to provide labor or a service against their will," he said.
"Once they learn how to traffic somebody they're going to do it again and again, unless you prosecute somebody," Tenorio said.
Tenorio said young girls from other countries are often brought to the United States on the promise of receiving a decent paying job as a nanny or that they will earn enough money to gain their citizenship.
However, once in the United States, they are told they must first pay off a debt of perhaps $3,000 — one $1-paying sexual transaction at a time. Traffickers often keep the girls working by threatening to tell their mothers they are involved in prostitution, he said.
"The shame that comes across these girls as young as 14, to think that their mother is going to know that they're in the sex trade, is enough to keep them working," he said.
Unfortunately, Tenorio said, proving in court that an adult victim of trafficking couldn't have simply walked out the door and escaped can be difficult.
"It's subtle," he said. "That's why psychological coercion is so effective."
---