Overnight Frustration in La Jolla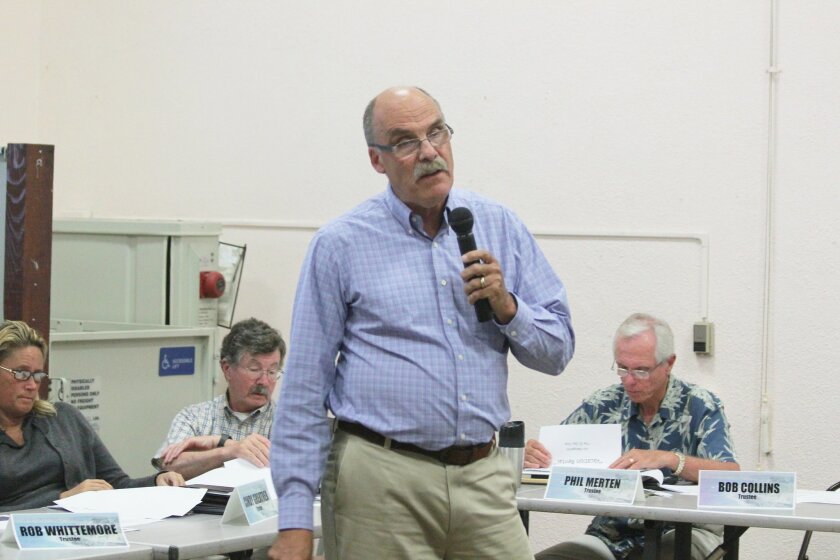 La Jolla Planners revisit short-term vacation rental issue, to be continued during Nov. 6 meeting
Online: lajollacpa.org
During the La Jolla Community Planning Association's (LJCPA) Oct. 2 meeting, residents voiced concern about homes being used for short-term vacation rentals (STVR), or those in which the home is rented for less than 30 consecutive nights.
Meeting attendees and trustees first heard from LJCPA secretary Helen Boyden, who chaired LJCPA's ad hoc committee on STVRs that met from January to July of this year.
Boyden discussed the group's work and a set of proposed solutions it crafted that LJCPA trustees will consider submitting to the City of San Diego next month.
During opening presentations by two community stakeholders, trustees considered input on how San Diego Police's Community Assisted Party Program (CAPP) is used to handle noise and other complaints about short-term vacation rentals. CAPP is designed to identify and penalize the owners of homes hosting loud and disturbing parties on a chronic basis. Once a home is identified as problematic, it is considered "CAPPed," and a zero-tolerance policy is enforced. In lieu of warnings, officers must then take direct enforcement action, including arrests, citations, property impounds, sobriety checks and vehicle impounds.
Representing the 30-Day Club, a group advocating that all vacation rentals be for durations of 30 days or more, Jon Mangerich argued that under CAPP the threshold for enforcement on STVRs is too high to be effective. CAPP is more appropriate for dealing with houses rented as so-called "mini-dorms" near San Diego State University, he said.
CAPP also suggests citizen monitoring and citizen arrests, placing the burden of enforcement in the hands of residents, instead of the police or the STVR industry, Mangerich said.
The ad hoc committee's recommendations for strengthening CAPP "further requests citizen policing via video and audio evidence," he noted. "The wisdom of pointing a video camera at a group of intoxicated partiers should be clear."
Mangerich characterized STVRs in San Diego as "unacknowledged businesses," adding most CAPP violations merely wind up in an already overburdened small claims court system. "A short-term vacation rental in our residential neighborhoods just disrupts our quality of life," he said. "It dramatically increases our intensity of use."
However, STVR Jonah Mechanic, representing the San Diego Vacation Rental Managers Alliance (a representative from which served on the STVR ad hoc committee), noted that a 2007 memorandum from then San Diego City Attorney Mike Aguirre found "no evidence that past zoning codes prohibit short-term vacation rentals in the single-family zone, nor do current regulations prohibit such a use." (LJCPA board President Joe LaCava, who was not in attendance, later told La Jolla Light some residents who spoke with current city attorney Jan Goldsmith this year confirmed that this is still the city's official legal position on STVRs.)
Mechanic chastised Mangerich and others for raising the issue of a young girl who drowned Aug. 2 at a property in the 5000 block of Rutgers Road used for STVRs.
"I think it's despicable that a child's death was brought up to support any case," said Mechanic, noting that the renters were his clients. "However, since it was brought up, I think it's essential to note that the child was a member of a family who was staying at that home for 38 days. They were not a vacation renter." (Mark and Barbara Leinenweber, who live adjacent the home where the drowning occurred, disputed how long the couple was renting.)
Mechanic said STVRs generate $4.4 million in annual transient occupancy tax (TOT) for the city, and are estimated to have a $312 million annual economic impact.
"Short-term rentals are ideal for families, traveling professionals, tourists, visiting professors and small groups who want to experience the best that La Jolla has to offer," he said. "Short-term renters are contractually obligated to follow all the laws, in addition to management rules, and are held financially accountable."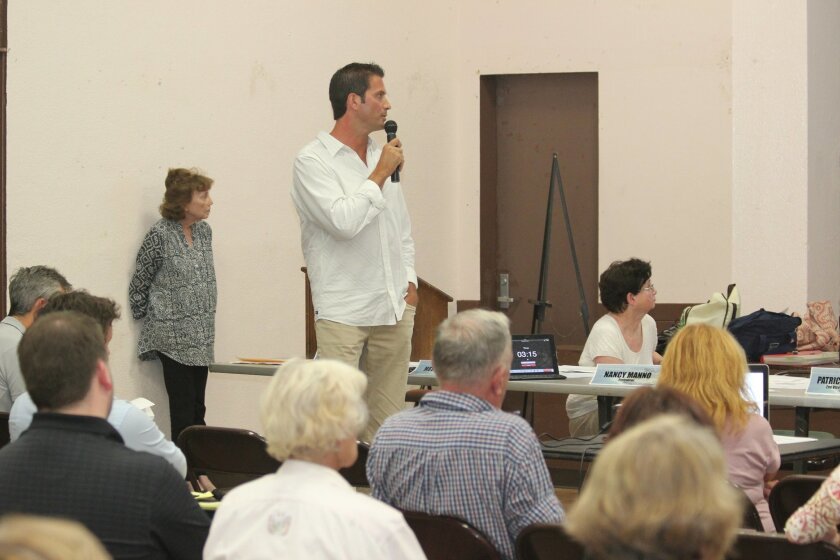 Of an estimated 460 La Jolla houses being used as STVRs, Mechanic said the ad hoc committee only heard about four problem homes — all of which he said would be considered "party houses," or those rented for one or two weekend nights that involve amplified sound, parking issues and a blatant disregard for neighbors.
"Those four houses represent less than 1 percent of the total inventory," he said. "I believe everyone in this room is all on the same page that we need to work together to make sure that these kind of houses do not exist in our communities."
Mechanic said current methods in place to prevent party houses and disruptive STVRs, "while not perfect, are effective and need to be improved."
"They need to ensure that those who are not following the rules are penalized, however, not at the expense of those who are," he said.
La Jolla Shores resident Jim Thomas said he has used his home for STVRs for almost 15 years and has never heard complaints from his neighbors.
"I don't have a pool, a Jacuzzi, nor a fire pit," Thomas said, adding that if his home were used for a disruptive party he would "shut it down very quickly."
Fellow Shores resident Lani Buchbinder recounted her experience living next door to a home on La Jolla Scenic Drive North that was rented for weddings until it was CAPPed. She noted a "continuous stream of trucks" arriving every Thursday over several months delivering party décor, music equipment, tables and chairs.
"How about someone ringing your bell and asking where to deliver porta-potties … invasive music and shouting that increases as the night progresses, and inebriated people piling into cars at night's end?" she posed.
Chelsea Street resident Mary Kinyon said short-term renters on her street cursed at her when she asked them to turn their music down, telling her that they paid $5,000 to rent the property for the weekend.
Gale Baccaglini said STVRs lower property values, adding that some STVR landlords she knows are not paying their transient occupancy tax, as required by the city.
As the meeting reached its end, LJCPA trustees voted to continue public comment and trustee discussion on STVRs at its next meeting, 6 p.m. Nov. 6 at La Jolla Rec Center, 615 Prospect St.
In November, trustees will consider the ad hoc committee's suggestions, including that the city strengthen CAPP and establish a permitting process for STVRs; strive to substantially improve police response times to citizen complaints; substantially increase fines for CAPP violations; and dedicate CAPP fine revenue for code enforcement and public outreach.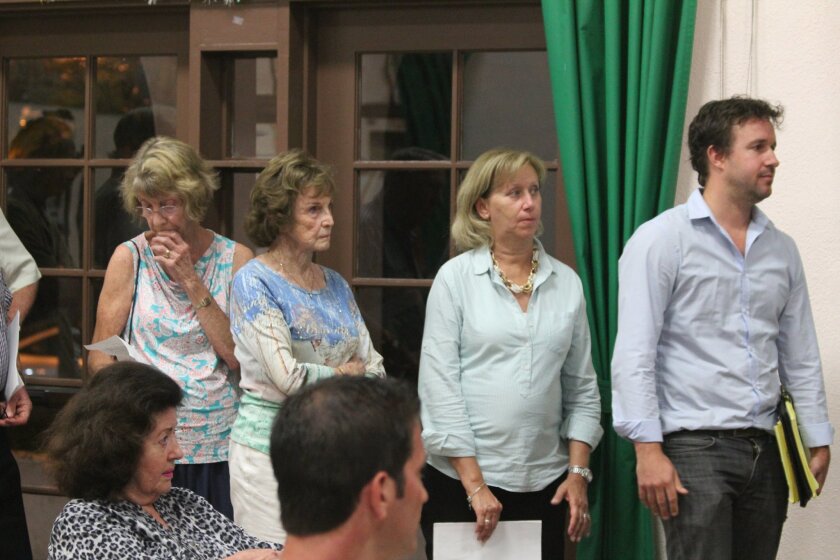 In addition, the ad hoc group is recommending that once a house has been designated as problematic under CAPP, the owner be required to give the city a substantial security deposit that would be forfeited if there is a subsequent CAPP violation.
The ad hoc committee stopped short of recommending that the city codify STVRs as stays of 30 days or more, or that there be no more than 12 rentals in any 12-month period at a given property.
President LaCava said trustees will likely forward whatever final recommendations come out of the November meeting to the offices of District 1 City Council representative Sherri Lightner and Mayor Kevin Faulconer, and to La Jolla's new community planner, Karen Bucey.
In other LJCPA News
Cove Pavilion update: Plans to replace the deteriorating public restroom at La Jolla Cove (dubbed the La Jolla Cove Pavilion project) are gaining momentum, reported community project organizers Judy Halter and LJCPA trustee Patrick Ahern (representing La Jolla Parks and Beaches, Inc.).
The 2010 General Plan for Ellen Browning Scripps Park recommends opening up a coastal view that is blocked by the current restroom. Part of the proposal would be to relocate the restroom. Ahern noted that $5,000 apiece was donated to produce schematic designs for the project by: La Jolla Cove Swim Club, Kiwanis Club of La Jolla, La Jolla Bridge Club, Sunrise Rotary Club and La Jolla Rotary Club, which will each be listed as "Pillars of the Community" on a plaque gracing the side of the new restroom. Fundraising is underway for the $1.1-$1.3 million project, for which some city funds may be available, Ahern said.
Reservoir rebuild OK'd: LJCPA trustees also discussed and approved the city's plans to rebuild the La Jolla Country Club Pump Station and Reservoir off Encelia Drive on Mt. Soledad. The rebuild is designed to meet La Jolla's future water needs and comply with current Homeland Security mandates.
UCSD development open house: Anu Delouri, with UC San Diego's Physical and Community Planning department noted that her department will host a community open house to answer questions about development projects on the UCSD campus 4-7 p.m. Nov. 19 at University Town Center Forum Hall, 4545 La Jolla Village Drive (above Wells Fargo bank).
Delouri also noted that construction of a public "Coastal Meander Trail" on the Scripps Institution of Oceanography campus, which will connect two existing coastal overlook points off La Jolla Shores Drive, will begin in November. The campus is also working to convert about 352,000 square feet of turf to drought-tolerant landscaping, which is estimated to save about 2.7 million gallons of water annually, she said.
---