La Jolla Shores readies for 'Map' repair project
Hoping to get one step closer to repairing the degraded educational "Map" display in Kellogg Park at La Jolla Shores (which has fallen into disrepair to the point the city blocked the area off for safety reasons) Friends of La Jolla Shores member Mary Coakley-Munk presented a concept for a new Map installation during the Oct. 8 La Jolla Shores Association (LJSA) meeting.
The Map, which is a visual representation of the canyons and sea life in the ocean at La Jolla Shores, is made of glass beads in various shades of blue. It began to crack soon after the installation in 2008. The city roped off the area in 2012.
Coakley-Munk showed a mock-up of the new design, which involves fencing in the Map to make it a "destination," using unobtrusive protection around it. One entrance would be built in, so those wanting to walk on The Map still could, but those on their way to the beach would pass around it. The fencing would be no more than three feet high, designed so it could be seen through to protect the views.
"As a thoroughfare, people would walk over it without knowing what it was, and the filth that was carried onto it (was too much)," said Coakley-Munk.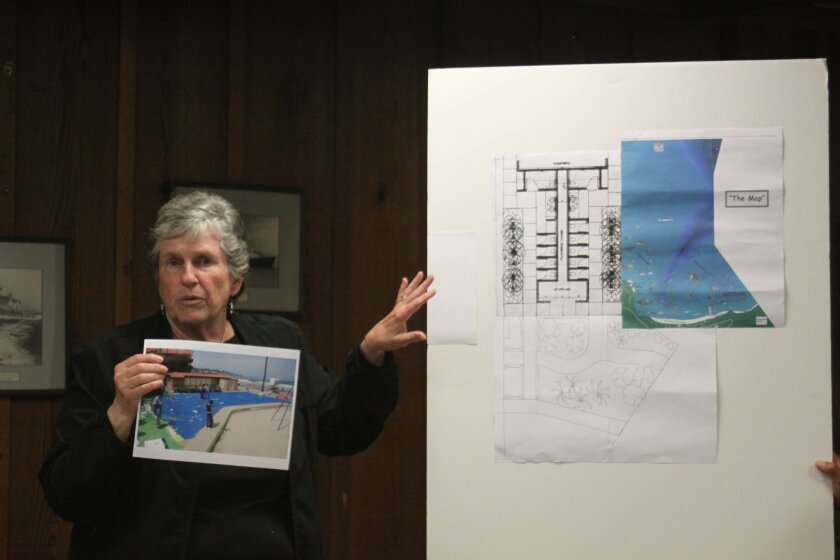 To guide Map-viewers to the designated entrance, walking paths would also be built (likely from decomposed granite), with additional paths built to lead visitors to the adjacent restroom and to the boardwalk. Coakley-Munk said the path component could possibly be completed as an Eagle Scout project.
As for the Map itself, Coakley-Munk said she is hoping the new installation will be made with LithoMosaic, colorful, durable tiles that would recreate the same visual effect with less maintenance.
Negotiations between Friends of La Jolla Shores and Map contractor T.B. Penick are ongoing, with both parties eager to find a solution for the Map's repair, which was necessitated after T.B. Penick's sealing agent Lithocrete failed. Friends of La Jolla Shores filed suit last year after T.B. Penick refused to fix the Map. Hoping to avoid litigation, the two parties have been meeting to mediate.
"We want to make sure we have approval from (LJSA) in terms of what (T.B. Penick is) asking for, so we can move forward," Coakley-Munk said, noting her presentation was for the new concept and that more formal presentations would be coming soon.
A motion to approve the concept was approved 11-0-2.
In other LJSA news:
■ Avenida de la Playa update: A decision on whether city crews can proceed with
requested night work for the Avenida de la Playa Infrastructure Replacement project and Group Job 809 is expected in the coming weeks. Plans call for replacing sewer mains that run down the middle of the street, so portions of Avenida de la Playa must be closed, drawing ire from merchants concerned with keeping their businesses open in the midst of daytime construction.
A survey went out to residents within 500 feet of the proposed night work, and feedback is being gathered, said Steve Lindsay, Senior Construction Engineer for the City of San Diego. "We're hoping to see something soon," he said.
The portion of the project already underway — on Avenida de la Playa at Camino Del Sol up to Calle de la Plata for the completion of the storm drain installation — is on schedule, Lindsay said, and that Camino Del Sol should be open in early to mid-November.
In the meantime, with traffic diverted away from Avenida de la Playa, Dennis Rush of the La Jolla Beach & Tennis Club requested signs be installed indicating there is construction ahead, cautioning drivers to slow down.
"Now that a considerable amount of traffic has moved north (as a detour), there are three streets that intersect — Vallecitos, Camino Del Sol and Ave de la Ribera — and nobody stops," he said. "When there was no one there, it wasn't an issue. But it might become a safety issue that I would hate to see happen."
■ New member seated: Filling the vacancy left with the passing of LJSA member Sue Geller, the board sat Shores resident Jenny Feinberg as a new member. "I look forward to being a participant in (efforts to) bring more business to the community and discuss traffic issues ... and I welcome any suggestions to beautify La Jolla Shores," she said.
■ Fall Fest coming: The La Jolla Shores Merchant's Association annual Fall Fest will be 4-7 p.m. Wednesday, Oct. 22 along Avenida de la Playa. There will be activities for children (who are encouraged to come in costume) and a passport for adults that will grant something from each participating business. Passports are $7 in advance, $10 the day of.
---