La Jolla Shores Association votes to create beach permit review committee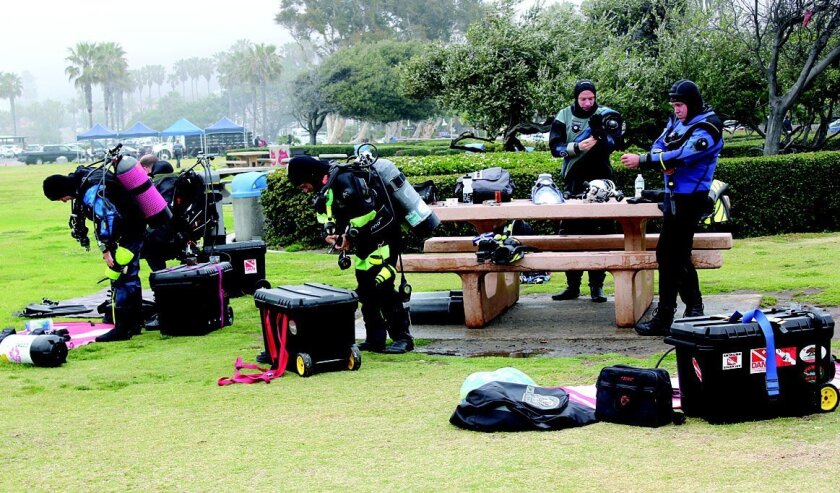 By Pat Sherman
The La Jolla Shores Association (LJSA) voted during its Dec. 12 meeting to form a seven-person La Jolla Shores Commercial Use Permit Committee. The group will explore how to issue and enforce a consistent, fair permit procedure for all commercial vendors and fitness camps at La Jolla Shores Beach and Kellogg Park.
The committee will be comprised of three LJSA board members, three scuba divers and one representative from the La Jolla Shores Merchants Association.
During the past year, La Jolla Shores residents questioned whether private scuba schools that use the beach should be required to pay their share for upkeep of the public amenity. Kayak and surf school businesses are already regulated by an RFP (Request For Proposals) process.
Divers will return to the next LJSA meeting on Jan. 9 with their committee nominations, to include a representative from the San Diego Council of Divers.
LJSA members are proposing that instructional camps and scuba schools pay a permit application fee to operate on city parkland in beach and bay areas. The fee would be nonrefundable and regulate the days and dates activity is permitted.
Permit fees would be $163 per year or $93 per quarter.
Dive instructor Al Blake argued that divers offer instruction in swimming pools and classrooms at alternate locations. They only come to La Jolla Shores for four test dives, and should not be charged a permit fee, he said.
"That is not a commercial activity there," Blake said. "I don't (collect) my money at that beach. My money is already paid way in advance. All we're doing is diving."
However, LJSA Chair Audrey Keane said surf camp and kayak operators also collect money at their offices, yet still pay the city to use the beach.
The four dives at La Jolla Shores are part of the package students are sold by dive schools, she said.
About $305,000 in fees is collected from surf camps and kayak schools operating at La Jolla Shores each year, which goes into the city's general fund before it trickles back to projects at La Jolla Shores.
"Do you have any idea how much it costs to run that beach? A lot more than $305,000," Keane said. "We know that it costs millions of dollars to staff that beach and clean it up."
Rod Watkins with Scuba San Diego asked if Councilmember Sherri Lightner could request that funds collected from Shores' operators be diverted to a fund specifically for use in the Shores, though Keane said the LJSA has already been told that can't be done.
Asked who is responsible to assure people operating in the Shores have the proper permits, lifeguard Sergeant John Sandmeyer said lifeguards patrol the park when they can, though in summer their main duty is to focus on the beach.
It was suggested that a wristband system identifying those who are part of a business that has paid its permit fees would make enforcement easier.
Board members and attendees also discussed establishing a "code of conduct" for scuba divers. A sample diver code established two decades ago in Laguna Beach was distributed to those in attendance. Laguna Beach's code was posted on signs, and seemed to curb "inappropriate" diver activity, such as changing in public areas, it was noted. Also discussed was the issue of whether additional
fees collected by the city for surf camps and kayak operations are available for park improvements. The LJSA hopes to examine the ways these fees, which are placed into the city's general fund, are allocated for such improvements, maintenance and services.
• For more information on how general fund money is used, visit the website
bit.ly/generalfundinfo
Diver parking issue:
It also was noted that Ocean Enterprises, which offers instructor-assisted "fun dives," has a large truck parked on the street near the playground, advertising its services.
The truck, which Keane said is an "obvious commercial truck," is parked there mornings until 11:30 a.m., when a 15-minute parking limit goes into effect.
Werner Kurn of Ocean Enterprises said the truck is necessary due to the volume of students coming to the beach for dives.
"The truck idea came up to make the whole operation go smoother," Kurn said, adding that if students drove their own cars that would take up more spaces.
Sandmeyer said the parking lot at Kellogg Park was recently restriped, providing clearly delineated spaces for larger vehicles.
"I'd gladly park it in the lot," Kurn said. "It's easier for us. We wouldn't have to rush students to get out by 11:30 so we don't get ticketed."
Fundraiser for local surfer:
A fundraiser will be held at 6 p.m. Jan. 13 at Voulez Vous Bistro in La Jolla Shores to raise money for Stephane, a local surfer who is undergoing kidney transplant surgery.
Tickets are $20 in advance or $25 at the door and include an array of hors d'oeuvres, a silent auction, and no-host beer and wine.
Tickets can be purchased at Voulez Vous, 2168 Avenida De La Playa, or by contacting Jodi Breslow at (858) 488-1725, ext. 300 or e-mail jbreslow@ thefrenchgourmet.com
---