La Jolla Rec Council adds four new members, plans centennial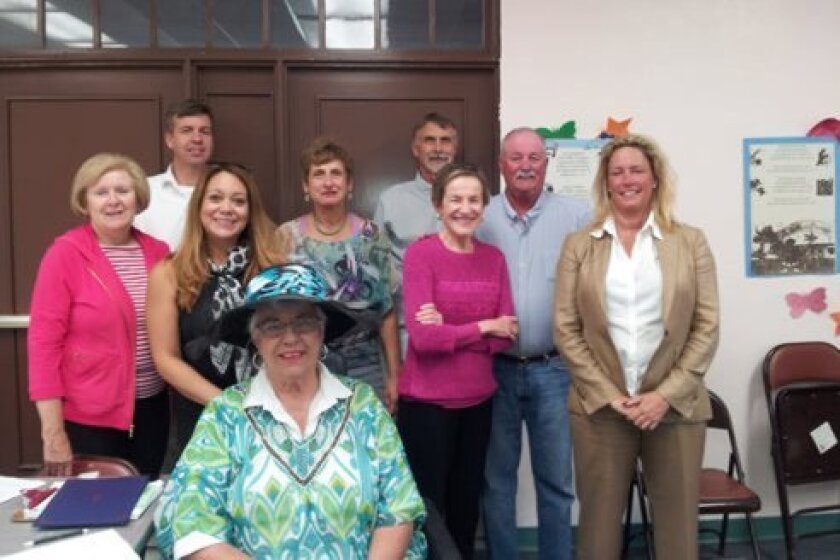 La Jolla Rec Center
■ Where:
615 Prospect St., La Jolla
■ Hours:
Mondays 9 a.m. to 5:45 p.m., Tuesdays-Thursdays 9 a.m. to 7:45 p.m., Fridays 9 a.m. to 5:45 p.m., Saturdays 9 a.m. to 12:45 p.m. (Closed Sundays)
■ Info:
(858) 552-1658
■ Programs/Events:
bit.ly/LJRecCenter
Join the Rec Council
■ Next Meeting:
5 p.m. Oct. 30
■ Contact:
Doug Fitzgerald, (310) 383-6633
By Pat Sherman
The La Jolla Rec Council welcomed four new members to its board during the group's Sept. 25 meeting, including a fitness expert, newly arrived parents and an established community leader.
"I'm particularly glad to see new people on the board," Rec Council President Doug Fitzgerald said. "If you're in a group long enough things on occasion can get a little stale. You sort of keep doing the same things by rote all the time, rather than reaching out and getting your minds around new ideas."
n La Jolla High School graduate
Jan Harris
learned to play tennis at La Jolla Rec Center in her youth, going on to major in kinesiology (athletic training and sports science) at the UCLA and UC Berkeley.
She later served as department chair for the School of Kinesiology and Nutritional Science at Cal State Los Angeles and as director of the School of Exercise and Nutritional Sciences at San Diego State University. She moved back to La Jolla in 2010, and also serves on the board of the Copley Family YMCA in City Heights.
"I think recreation and sports are a very important part of any community," Harris said. "The Rec Center is accessible to anybody. There are no fees or low fees for just about everything going on there, so most anybody can take part — and I think that's important.
"In general, I want to support programs that are going on now and pay attention to what people say in terms of any changes or additions that need to be made," she added.
Since Harris began attending meetings in July, she said La Jolla Rec Center has had two acting (interim) directors.
"I think the first thing that needs to happen is that the city needs to hire a permanent recreation director," she said. "You can't really run a program by just having a stream of interim directors. People on the committee are hopeful that soon they will be interviewing for a permanent director."
Brian and Lizzet Cluster
moved to La Jolla in May of 2012, when Brian's work in the market research field brought them from Palm Springs.
"We have three kids now and we have a vested interest in making sure the Rec Center is the best it can be — kid friendly with good programming. All the wonderful things that it has been, we hope it will continue to be in the future," Brian Cluster said, noting that he is excited to be part of the board of one of the oldest recreation centers in the country (designed by master architect Irving Gill), and helping plan for its centennial.
Brian Cluster said he hopes to help make the center even more family-friendly, creating new events that bring the community and families together.
Wife Lizzet Cluster added that she would like to see the Rec Council build stronger ties with La Jolla schools.
n New member
Cindy Greatrex
is the current president of the La Jolla Town Council and secretary of the La Jolla Community Center's board of directors.
"She's a great asset to have on the board because she knows so many people," Fitzgerald said. "She knows a lot of the ins and outs of the town itself, and all the merchants and everything. We really welcome her on the board because she has influence (and) knowledge of all the people that make things run in La Jolla — and we're going to need those people if we're going to do any kind of fundraising. That's a very important aspect of it."
Rec Council vitals
The Rec Center's current acting director, Roozbeh Ravansari, commended the council for living up to its mission of "enriching lives through quality parks and recreation."
"The La Jolla Rec Center is open far beyond the hours allotted to us by the City of San Diego, and this would not be possible without the help of passionate and generous community members — the kind that make up the La Jolla Recreation Council," Ravansari said. "I can honestly say I have never met a more passionate group of Recreation Council members. … They deserve to be recognized."
The board meets 5 p.m. the last Wednesday of each month (except December). It currently has 12 members, though Fitzgerald said there is room for more.
"There's no limit necessarily to how many members we can have," he said. "We've had a very low amount for a long time. Now we've got four new ones, so that's good."
The Rec Center will celebrate its centennial with an event in June of 2015 (it's official dedication was July 3, 1915).
Before then, Fitzgerald said he'd like to see the building repainted inside and out and the main meeting room floor resurfaced — work he recently learned the city plans to complete, freeing up valuable Rec Council funds.
"We need to perk it up," Fitzgerald said. "The old girl needs some painting."
---