La Jolla preps ready for football season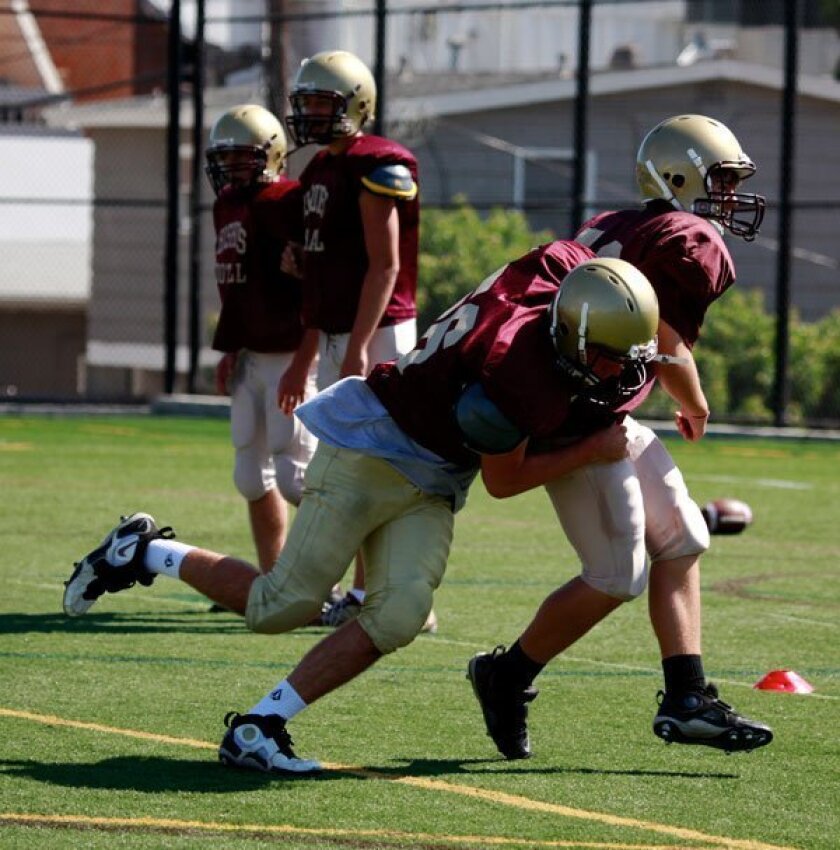 By Phil Dailey
Staff Writer
Football season may still be a few weeks away, but the preparation is well under way. With summer winding down and school starting back up, expectations are high for La Jolla's three high schools — two of which just fell short of capturing a CIF title last season.
Here's a look:
LA JOLLA HIGH
Head coach:Rey Hernandez, second season as head coach (5-7)
Last season:5-7 overall; lost to Valley Center in quarterfinals of CIF Division IV playoffs
Key returners:Cory Wagner, QB; Jackson Ping, OL; Trevor Shelburne, OL; Patrick Haggerty, DL
Last season the Vikings had an up and down year, winning five games in the process. This year, however, the team returns 20 lettermen on a team that finished fourth in the conference race.
Led by Cory Wagner at quarterback, as well as two key offensive linemen in Jackson Ping and Trevor Shelburne, the offense is on the up and up. On defense, head coach Rey Hernandez is looking to Patrick Haggerty, Josh Kilmer, Eric Nelepovitz and Alex Damico to carry the load.
The team starts the season at home versus Mt. Carmel on Sept. 3.
THE BISHOP'S SCHOOL
Head coach:Joel Allen, second season as head coach (8-5)
Last season:8-5 overall; lost to Francis Parker in CIF Division V championship
Key returners:Sr. Micah Seau, LB; Sr. Joey Moreno, QB; Alec Fishers, RB/DB
Last season the Knights were up, then down, then back up again. After losing starting quarterback Joey Moreno, it took the team a while to regroup on offense, but when they did, they nearly won it all in Division V, falling short in the title game to Francis Parker at Qualcomm Stadium last December.
With Moreno's return from injury, and Micah Seau (an all-state linebacker as a sophomore), the expectations are sky-high.
"We're building on last year, the success we had at the end of the season, getting to the championship game," second-year head coach Joel Allen said. "You always use something like that as motivation. And because of that, because the kids are excited, and we have a lot of key contributors from last year returning to us."
The Knights start off the season Sept. 3 with tough competition as they play at El Capitan in Lakeside.
"Anytime you end the season on a good note and 90 percent of your key contributors are returning, and you're getting two kids back from injury who were substantial parts of the team, you can't be anything but optimistic," Allen said.
LA JOLLA COUNTRY DAY
Head coach:Jeff Hutzler, ninth season as head coach (74-18)
Last season:10-2 overall; lost to Francis Parker in semifinals of CIF Divsion V playoffs
Key returners:Sr. Junior Togiaso, G/DT; Sr. Ruben Pena, QB/LB; Sr. Frankie Brown, RB/CB
Last season the Torreys put together an eight-game win streak before falling short of the ultimate prize, a trip to the CIF championship game. With a host of talented seniors returning, as well as group of sophomores ready to step in and contribute, this season appears to be another successful campaign.
"With 53 boys out, which is a real good number, I think the mood is good, the expectations are high," head coach Jef Hutzler said.
Among the sophomores set to contribute is receiver/safety Sage Burmeister, who started last season as a freshman. Hutzler also expects running back/linebacker Colin McMahon to make an impact this season.
"We got kinda an unusual team," Hutzler said. "We have some key seniors and some real key sophomores; we are going to start a lot of sophomores."
The Torreys take on Hoover in a scrimmage Aug. 27 in Coronado as part of the Kickoff Classic. The real test is Sept. 4 when they fly to Maui to play against the Kamehameha Warriors.[gallery columns="2" orderby="rand"]
---