La Jolla Pop Warner football has undefeated season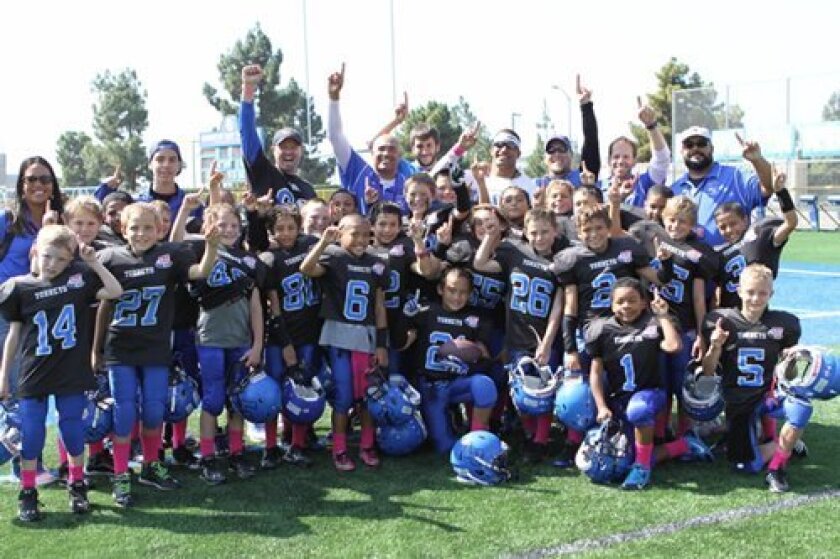 By Ashley Mackin
It's been an eventful season for the La Jolla Pop Warner Torrey Mighty Mites.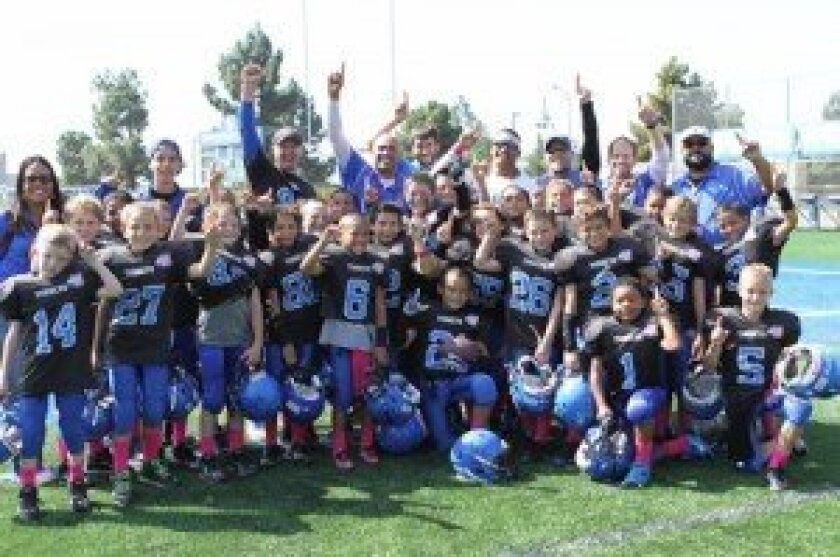 For the first time in the history of the La Jolla Pop Warner Football League, the Torrey Mighty Mites, boys ages 8-10, went undefeated. Using La Jolla Country Day as a home field, the Torrey Might Mites also had their strategies analyzed by the Heads Up Football program for safety. On top of it all, they got to play a game at Qualcomm Stadium before a Chargers game.
Most youth football leagues, like La Jolla Pop Warner, have a Mighty Mite division for that age group, so the Torrey Mighty Mites played against other Mighty Mite teams from other youth football organizations.
On Oct. 12, the Torrey Mighty Mites played and won their final game of the season against South San Diego Mighty Mites, making an undefeated season official. Instead of a traditional playoff, the players under age 10 play in a "Bowl" game, which the Torrey Mighty Mites will do Oct. 26. They do not yet know their opponent or location.
Though it might not matter who the opponent is, because Coach James "Doc" Dockery said no game has even been close this season. "We as a team have thrown the win/lose factor out of the equation and let it be the product of working hard and playing the game," he said. "What we do is prepare properly every time and then go out on Saturdays with very little talk and a whole lot of good, hard football playing."
In addition to the easy victories, these were safe victories, after Heads Up Football representative Jacob Frank trained the coaches. Heads Up Football, a safety strategy supported by the NFL, focuses on increasing awareness of the signs of a concussion, how to check for properly fitting equipment throughout the season, and tackling techniques for minimizing helmet contact, aka the Heads Up Tackle system.
Coach Dockery said with Frank coming in to train the coaches, they were able to implement these strategies and "never look back."
Coach Dockery reports that with the implementation of Heads Up methods, there were no on-field injuries this season.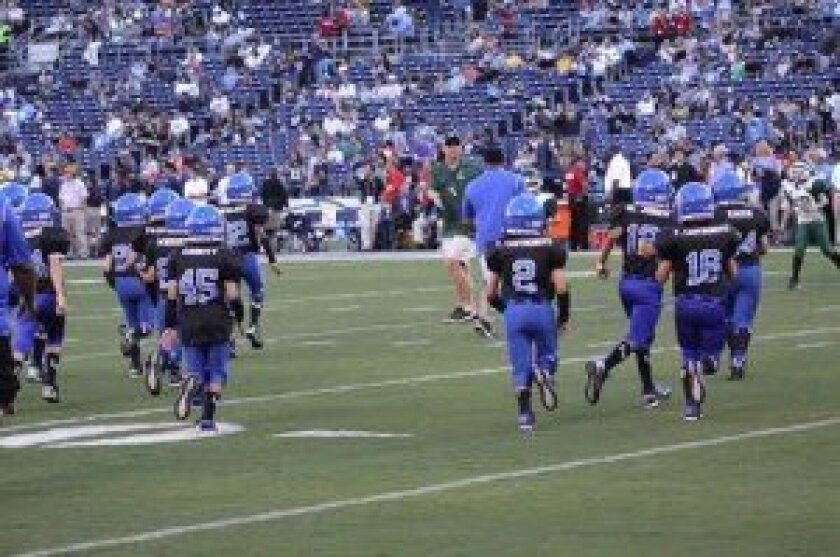 One of those fields, and a highlight for some players, was Qualcomm Stadium. On Aug. 8, the Torrey Mighty Mites played on the field before a Chargers game against their respective Mighty Mite team from Coronado.
Coach Dockery blogged about the event: "(When) they gave us the command to go warm up and we began our run through the tunnel and out into the stadium and the Qualcomm fans just roared for the little players, it was just awesome (to see) the love San Diego football fans had for Pop Warner football."
---