La Jolla Playhouse celebrates award nominations, primps plaza for closeup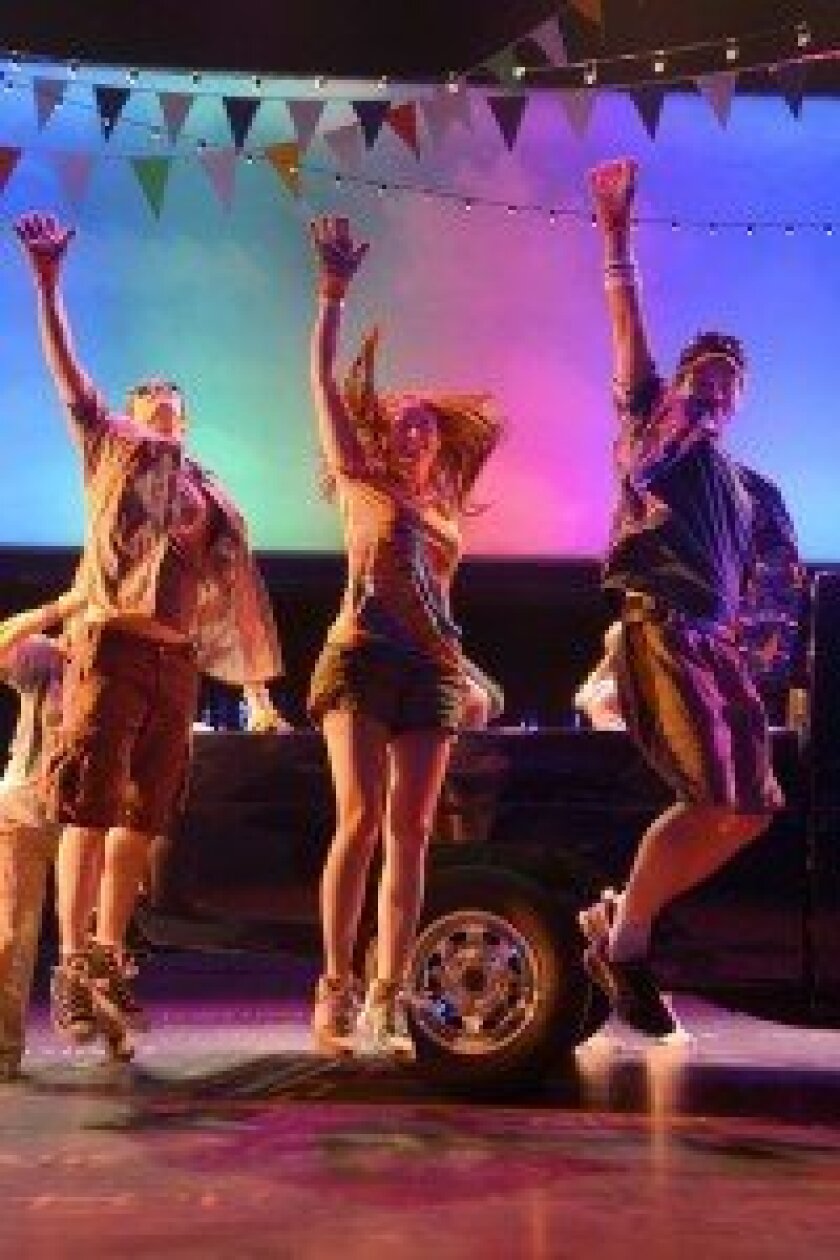 By Pat Sherman
Audience intermissions at the La Jolla Playhouse will get an ambiance infusion with the addition of $1.5 million in landscaping enhancements.
The improvements include new walkways, exterior plazas and outdoor seating areas, as well as enhanced signage and lighting. The project also features restoration of a surrounding eucalyptus grove to reinforce the Theatre District's connection to the greater UC San Diego campus.
The project, which began in late January, will encompass 1.8 acres, and includes four programmable LED video screens to announce current and future events, to be installed along the central pedestrian walkway.
Work is slated for completion in August. The architecture firm overseeing the project is Spurlock Poirier Landscape Architects.
Bravo! Bravo!
The Playhouse is celebrating 24 theater award nominations, including four nods from the Tony Awards, nine from the Drama Desk and 11 from the Outer Critics Circle Awards.
"Hands on a Hardbody," an original Playhouse production that had its world premiere in La Jolla last year, received nine Drama Desk Awards (which, unlike the Tonys, consider both Broadway and Off Broadway productions in the same category).
Though the play, about a group of broke Texans competing for a new pickup truck, closed on Broadway after only 28 performances, Playhouse Managing Director Michael Rosenberg said it had an impact on critics. The production also received three Outer Critics Circle Award and three Tony Award nominations, including best score (Amanda Green, Trey Anastasio), featured actor (Keith Carradine) and featured actress (Keala Settle).
"It's always harder for a show to get nominations if it's not running, so it's really nice that people ... still felt they were worthy of recognition," Rosenberg said.
"Chaplin," which premiered at the Playhouse in 2010, earned just one Tony nomination (Rob McClure's performance as Charlie Chaplin). However, it received eight Outer Critics Circle nominations (these awards will be announced Monday, May 13; the Tony Awards are June 9).
The bio-musical, which tells the story of the silent film legend, had 24 previews and 136 regular performances at the Barrymore Theatre in New York City before it closed in January 2013. "Broadway is a very, very competitive business, where the best projects from around the world come to be seen," Rosenberg said. "Even if you get one nomination, I think is a really big deal."
Rosenberg said "Hands on a Hardbody" and "Chaplin" will no doubt have futures at theaters around the world, with "Chaplin" headed next for a production in Saint Petersburg, Russia.
"We pay attention (to where the productions go) because these writers, these actors, these directors become a part of our family," Rosenberg said, adding that any future success on Broadway, London or elsewhere is merely, "the cherry on the Cool Whip on the icing of the cake."
Currently, the Playhouse is co-producing works with companies in London and Kansas City, and is collaborating with several companies to bring Daniel Beaty's play, "The Tallest Tree in the Forest" to the Playhouse. Directed by Moisés Kaufman, the play tells the story of early 20th century stage and screen star Paul Robeson, an African-American loved for his talent, but reviled for his human rights advocacy.
Rosbenberg said the play is still being perfected in anticipation of its Oct. 9-Nov. 3 run in the Playhouse's Sheila and Hughes Potiker Theatre.
The "re-imagined" Broadway musical "Side Show," with music by Henry Krieger ("Dreamgirls") and direction by Bill Condon, is headed to the Kennedy Center in Washington, D.C. after its Playhouse debut (Nov. 5-Dec. 15), Rosenberg said.
"This is a show that was done on Broadway in the mid-'90s and did not have a very long life there," he said. "But it's a project that almost took on a mythical quality because theater people really responded to it and loved it."
Rosenberg said Krieger and Condon "came up with some really great ideas and said, 'We'd like to do this in La Jolla, because you guys do new work; you guys find projects and make them better.'"
---