La Jolla planning association requests revisions to confusing Shores rebuild plans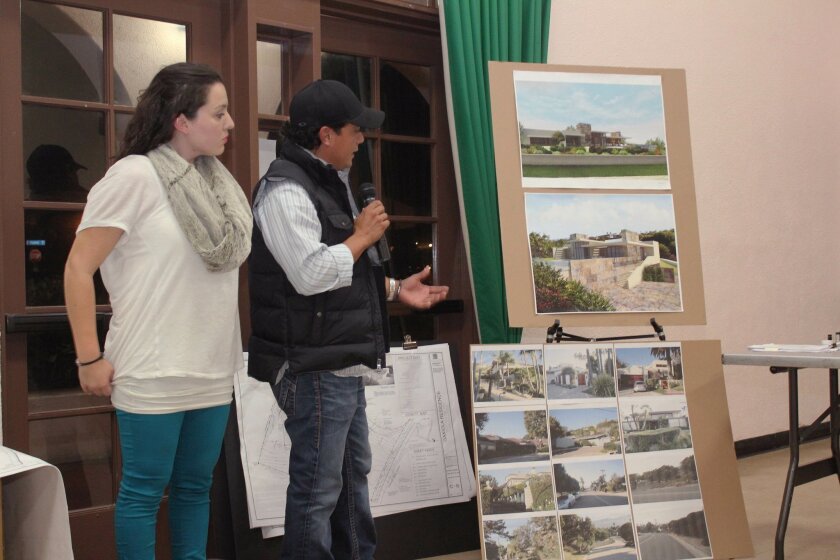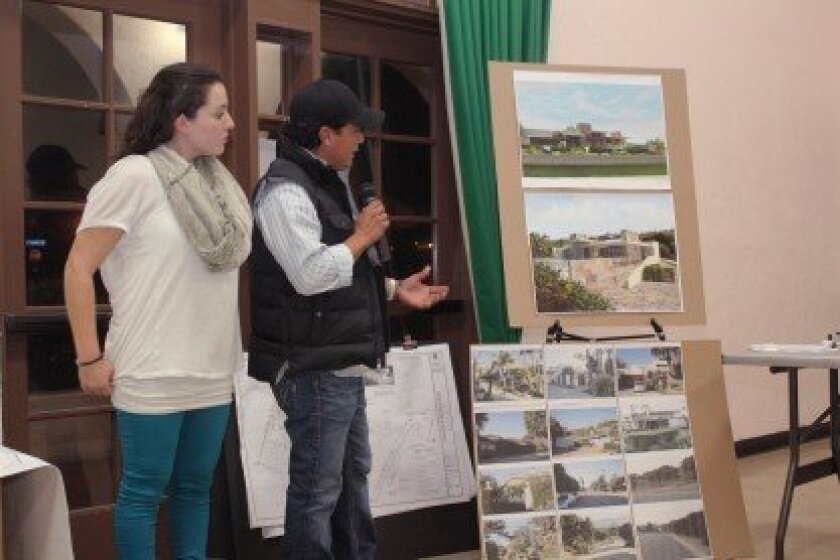 By Pat Sherman
During its Dec. 6 meeting, the La Jolla Community Planning Association (LJCPA) requested that problematic La Jolla Shores home rebuild plans be revised and resubmitted to the LJCPA in the future.
Interior designer Gricel Cedillo presented plans for the Gaxiola Residence at 2414 Calle de Oro, which includes demolition of an existing one-story, 3,178-square-foot home, to be replaced by a two-story, 11,696-square-foot residence with four bedrooms, seven bathrooms, a two-car garage, attached guest quarters and swimming pool on 29,120 square feet. Approximately 4,744-square feet of the project would be considered a "phantom floor," or ground-level uninhabitable space.
In October, the La Jolla Development Permit Review Committee (DPR) voted that findings could be made for approval of site and coastal development permits for the project.
However, LJCPA members found too many variables with current Gaxiola Residence plans for their comfort. LJCPA board member Phil Merten said the structure's flat- roof, contemporary architecture conflicted with an adjacent gable-tyle roof and several one-story ranch-style houses in the area.
Merten expressed further concerns about a 10-foot-tall retaining wall in front of the home that would support the swimming pool. Questions arose as to the length of the wall, and whether it had been included on earlier drawings submitted to the city.
"If this wall is a problem, it can go away," Cedillo said. "If the wall isn't in the city plans, we're not even going to be able to put it there."
"I am just not ... sure we even ought to vote on a project when there's such an inaccuracy in the renderings you're showing us," board member Laura Ducharme Conboy said. "I know that artistic license means that you can wiggle some things around, but if we're to understand that a wall stretching the full distance of a rendering is actually only on a portion of it ... I recommend that you take your drawings back and correct them. ... There's not enough information here that I can rely on."
LJCPA Board President Tony Crisafi suggested the applicant return at a later date with modified drawings that are clearer and that show how the project complies with La Jolla Shores landscaping regulations.
In other LJCPA news n Tying the Lot: LJCPA
• Tying the Lot:
LJCAPA members reacted more favorably to a proposed Bird Rock home rebuild at 5328 and 5334 Calumet Ave., voting 12-1-1 that findings could be made for site and coastal development permits for the project.
It calls for demolition of two existing structures totaling 8,042 square feet and construction of a new 7,308-square-foot, single-story home with a spa and 2,820-square-foot basement on 15,201 square feet.
Though the DPR committee voted in favor of the permit requests in October, the item was previously pulled from the LJCPA agenda due to questions regarding the lot-tie agreement.
The applicant proposed to reduce the project's width by three feet to increase side views, said attorney Matt Peterson, who represented the applicant during the LJCPA meeting. A spacious, central entry window would also preserve access to some coastal views, he said.
"Instead of building two maximum-sized houses, the client wanted to bring the two lots together and build one house that's smaller than what is allowed," Peterson said.
LJCPA board member David Little questioned whether allowing lot-tie agreements sets a questionable precedent for the future of Bird Rock, creating a de facto zoning change to allow mansion-size projects.
"(Even) if they were all just as nice as this one, would you be happy with that?" he questioned.
Though Merten said the La Jolla Community Plan doesn't specifically address the issue of lot tying, he said he feels the project divided the structure in an aesthetically pleasing manner, with increased side yard setbacks to expand existing view corridors.
• Goldfish Point fix:
LJCPA members also approved Sunny Jim Cave Store owner Jim Allen's plan to add native vegetation and post-and-chain barriers to the Goldfish Point coastal bluff adjacent his shop. The plan would serve as a deterrent to keep people off the cliff and slow erosion, in part by filling a fissure there with local cobblestones.
La Jolla landscape architect Jim Neri, who Allen hired to draft the plans, presented his concept during last month's LJCPA meeting.
Much time was spent hashing over whether the post-and-chain barrier should provide a hook that can be unlatched by divers to access an existing trail leading to the rocks below, or whether divers should step over the chain. Neri said the chain would serve as an implied psychological barrier to keep out-of-towners a safe distance from the bluff.
"The intent is to encourage the public to be safe," he said. "It's kind of design intervention."
LJCPA members also asked that an existing wooden gate be removed. Neri said the proposal would next be reviewed by the city Park and Recreation Department's Design Review Committee.
• No MESOM movement:
A letter the LJCPA sent to Scripps Institution of Oceanography (SIO), UC Regents, the governor and other officials regarding the height of SIO's MESOM laboratory on La Jolla Shores Drive has received no response thus far, it was reported.
SIO and university officials maintain they are not at fault and followed proper procedure on the project. The LJCPA feels the project is blocking coastal views in a way that was not evident based on renderings initially presented to the group. They have asked that Scripps remove the top story of the building to reduce its height.
• Forestry board openings: LJCPA Board Vice President Joe LaCava noted that there are currently vacancies on the San Diego Community Forestry Board, which oversees planting, removal and replacement of trees on city streets.
Members are appointed by the mayor and confirmed by the city council. For an application, contact Erin Demorest with the office of District 1 City Councilwoman Sherri Lightner at edemorest@sandiego.gov
• Next LJCPA meeting
: 6 p.m. Jan. 3, at La Jolla Rec Center, 615 Prospect St.
---