La Jolla permit review group asks George's at the Cove to screen roof equipment during patio expansion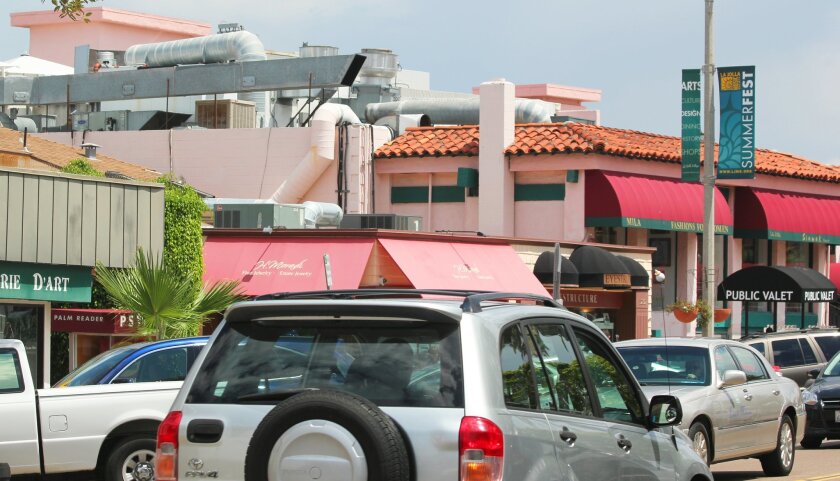 By Pat Sherman
During the Aug. 12 and 19 meetings of the Development Permit Review committee (DPR) — which analyses all discretionary permits in La Jolla outside La Jolla Shores for conformance to the La Jolla Community Plan — DPR members considered the proposed, rooftop expansion of George's at the Cove restaurant on Prospect Street.
The DPR submits its recommendations to the La Jolla Community Planning Association to be ratified/approved and submitted to the city's Development Services Department.
Restaurateur George Hauer is seeking a coastal development permit to convert an unused roof area atop the building he leases at 1250 Prospect St. to accommodate a 550-square-foot bar and reception area that would complement his existing dining terrace.
Although DPR members were satisfied that the project meets existing height and parking requirements, they asked that rooftop ventilation and air conditioning equipment visible from Prospect Street be screened from public view during the process, as proposed by La Jollan Gail Forbes during the Aug. 12 meeting (Forbes first made the request during the July meeting of the La Jolla Planned District Ordinance committee, which recommended approval of Hauer's plans).
Hauer said he e-mailed Forbes telling her to "hold my feet to the fire."
"That's why I'm here," Forbes said Aug. 12, adding that the new waiting area and larger bar space would increase safety by preventing congestion in the existing bar and on stairs up to the restaurant patio.
To relocate the existing bar, additional equipment will need to be moved further toward the roof's edge along Prospect Street.
Architect Mark Steele, who is designing the addition, said he and Hauer hope to begin construction by December or January to avoid having to request a waiver for the city's moratorium on summer construction in the coastal zone.
Steele initially asked if DPR members would approve the project to keep it on schedule if they promised to add the metal screening, for which he displayed rough photo simulations. "We don't know (what the screening will look like); the owner of the building doesn't know — and it's actually not part of George's project," Steele said. "He's merely a tenant, but the owner is refurbishing the building and has agreed to this and is working with us."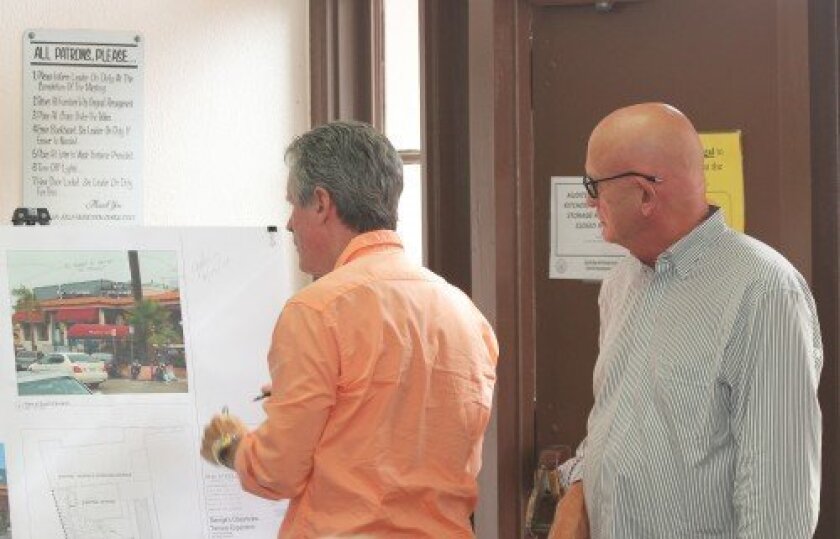 Hauer said the building owner was planning a "fairly large facelift, so it stands to reason that they're going to want to do that. … It's just saying that George will guarantee it happening, I can't, because it's not my building."
George's at the Cove has been in operation for 30 years, and the rooftop patio open since 1991.
"This is the first time anybody has ever mentioned the equipment to me, ever," Hauer said. "Had this been an issue … had we known that anybody cared about it, we certainly would have mitigated it in the past."
DPR chair Paul Benton said his committee has seen both residential and commercial project applicants eschew such aesthetic aspects of a project, only to have to deal with them later. "I think intensification of the roof is enough justification to say that we really have to have this (screening) as part of the permit," he said.
DPR member Robert Mapes concurred that Hauer has "a chance to change that eyesore."
"I agree," added DPR member Mike Costello. "It's just inconsistent with the really first-class views from the structure to have this visible on the roof. It shouldn't cost that much. For Mr. Steele, it's just child's play. He just needs permission."
Steele said delaying the project with a permit amendment could permanently derail it. "If we keep putting it off there won't be a project," he said. "It's got to hit some deadlines. We're happy to work with you, but we'd also like you to work with us."
Hauer said he appreciated DPR members dedicating time and effort toward improving the community.
"You're bringing up legitimate questions," he said. "We'll get your screening done … (but) to stop an $800,000 project with the commensurate revenue to the city — and with the construction jobs — on the basis of a condition that has existed for 23 years, to me is not rational. … Don't worry. I'm not some person who just dropped into La Jolla. I've lived here for 50 years. I'm not going to do anything to ruin my reputation."
In the end, Steele and Hauer signed and dated renderings of the proposed screening, indicating that its installation was an official aspect of the job.
A motion that findings could be made to approve the project was made by DPR member Jim Ragsdale and seconded by Mapes. It passed 5-0-1, with opposition by Matthew Welsh, who asked if there would be food service in the new area.
Hauer said cocktail tables would hold no more than one plate, and that his kitchen is near capacity.
"If all those people came to eat, we would probably not do a good job serving them, so food will be available (in the new area), but we're not going to be encouraging it," he said.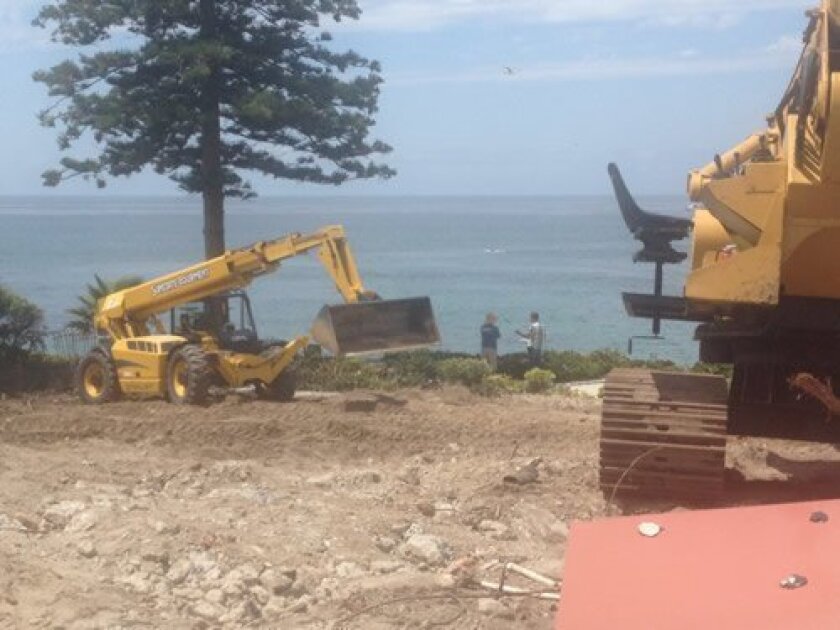 In other DPR news
Dunemere (over)Drive:
A flurry of construction is ongoing near the coast on Dunemere Drive, including Mitt and Ann Romney's Barber Tract home rebuild at 311 Dunemere. The home he visited during his 2012 presidential bid is now completely demolished and construction of the Island Architects-designed replacement home is underway. Directly south, a two-story wood frame at 323 Dunemere has popped up, and at 325 Dunemere renovation of the former estate of late La Jolla actor Cliff Robertson (also designed by Island Architects) is ongoing. Architect Tony Crisafi said that significant restoration of the home's historic site and structure is near completion and soon to follow, crews will finish construction on the main house.
Meanwhile, during its Aug. 12 meeting DPR members reviewed plans for a proposed two-story addition to a potentially historic, single-story home at 335 Dunemere Drive (Serros Residence).
The applicant is seeking a coastal development permit to add 79 square feet to the first floor and 647 square feet to the second story, including two exterior decks totalling 100 square feet (on a 4,152-square-foot lot). During a July 15 DPR courtesy review of the project, neighbors expressed concerns that street views might be blocked, though DPR member Mike Costello noted that Dunemere is neither a protected view corridor or scenic overlook per the La Jolla Community Plan.
"There's not a view corridor to protect, so (the issue) is whether to be nice to neighbors or not," Costello said.
Project architect Ron Despojado said the homeowner is working with a historical consultant, adding that existing wood shake roofing would be replaced with textured asphalt shingles that meet current fire code standards.
Asked about the DPR's earlier request to reduce visual impacts by pulling the second story back from Dunemere slightly, Despojado said he was "still massaging the design."
"I spoke to the owner recently and we made that suggestion. … His concern was that we'd lose some square footage," he said.
Mike Duddy, who purchased his home at 360 Dunemere in 1993, said a proposed balcony that sticks out over the garage is intrusive. (Despojado countered that the balcony would abut the property line, not protrude over the street.)
"I know you can't protect personal views, but as you make that corner at Dunemere Drive there's quite a beautiful ocean view that I think will be obstructed by that," Duddy said, adding he believes the project's boxy, four-gabled roof design is also obtrusive and unlike other homes in the neighborhood with gabled roofs.
"Dunemere Drive is under construction/destruction," Duddy said. "In the 20 years I've lived here, I have never seen almost every house on the block being destroyed or let go. … The Barber Tract was the first developed neighborhood in La Jolla. We've essentially lost Cliff Robertson's home to a minor remodel and I'm afraid to see a small, beautiful cottage that the neighborhood is known for disrupted. I just hope it's done in a way that is sensitive to the history of neighborhood. I'm seeing it just slowly erode away."
John Mallory, of 369 Dunemere, agreed that neighborhood character should be preserved. "Everyone should be able to bring in their uniqueness and design things that they like … but we want to keep some of these new remodels with second stories as inconspicuous as possible," he said.
Benton suggested Despojado return to his client and work on softening the project's visual impact, rather than having DPR members take a final vote and potentially recommend denial of the permit. Despojado said he would discuss the issue with the homeowner and return to DPR at a later date.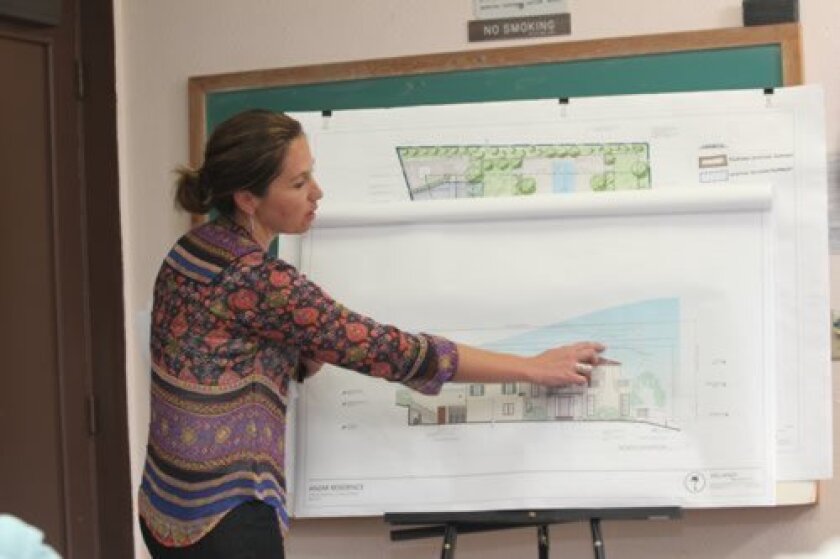 Other DPR reviews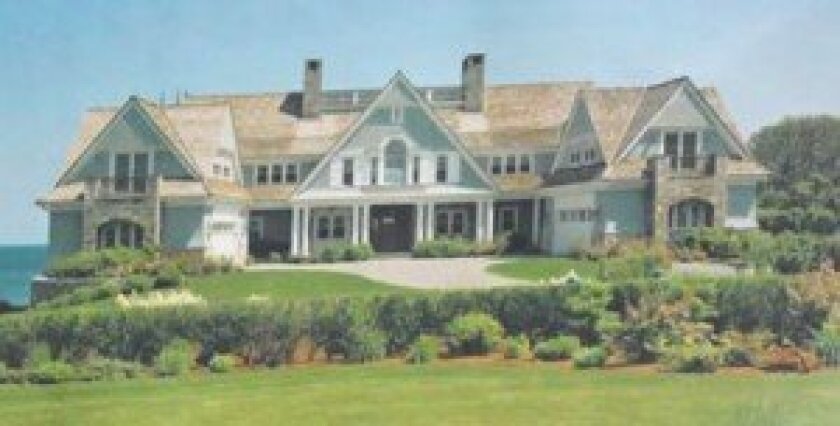 Zavaro Residence:
On Aug. 12 DPR unanimously approved Golba Architecture's plans to construct a new, 4,843-square-foot, two-story home above a basement on a steep hillside at 1994 Via Casa Alta (with 2,491 square feet of exterior deck areas, including a pool and spa). It was first reviewed July 15. Read more at bit.ly/DPRJuly
Buckingham Residence:
DPR members also recommended approval of a coastal development permit to demolish an existing single-family residence at 1545 Buckingham Drive and build a five-bedroom, 8,499-square-foot home, with a 984-square-foot pool cabana and two garages (under the city's Sustainable Building Expedite Program).
Anzar Residence:
DPR members were so impressed with the thoroughness of a home rebuild presentation for 1253 Muirlands Vista Way that they nearly approved the plans during a preliminary review (which the committee may do per a unanimous vote), though DPR member Matthew Welsh opted to conduct a site visit first.
The applicant is seeking coastal and site development permits to demolish an existing single-story home and build a 8,636-square-fooot, two-story residence in its place. u
— DPR meetings are open to the public and held 4 p.m. the second and third Tuesday of the month at La Jolla Rec Center, 615 Prospect St., Room 1.
---