La Jolla panel's vote stalls Hennessey's sidewalk café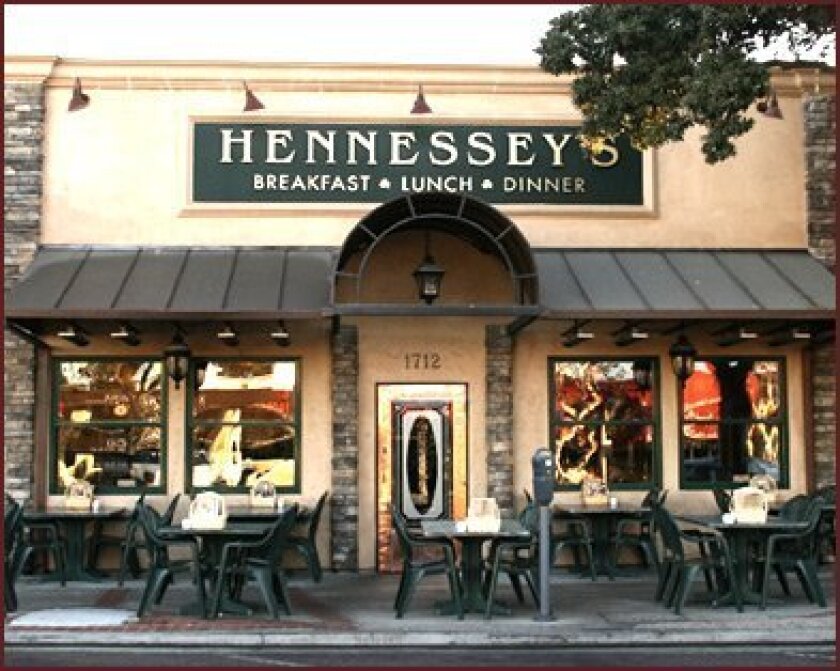 By Dave Schwab
Staff Writer
Hennessey's Tavern owners got mixed signals last week on plans to add four tables outside their restaurant.
"We had the sign-off from the city and the go-ahead from the (Planned District Ordinance Committee) the night before and were jazzed about bringing some life down to this end of Herschel," said a surprised Damian Gulak, the general contactor.
He was talking about a decision by the Development Permit Review panel that sends the Irish-themed restaurant-bar back to the drawing board for a 180-square-foot sidewalk café within the public right-of-way at 7811 Herschel Ave.
Architect Paul Benton, DPR committee chair, and committee member Laura DuCharme Conboy, also an architect, said they didn't like the restaurant's plan to break up the sidewalk with the addition.
"For the last 15 years I've been walking up and down this street framed with trees on the one side and it's just charming, and putting tables right there where you would have to walk around them would take away from that charm," DuCharme Conboy said. "I wish you would preserve the straightaway and put the tables on the other side (of the sidewalk near the curb)."
After the meeting Gulak said honoring the DPR Committee's request would be problematic.
"The owner doesn't want to go that route — too much liability with pedestrians crossing the walkway attendants have to cross to serve patrons," he said. "Our plans are to keep an 8-foot clear path."
Noting there are other restaurant sidewalk cafes with far less than 8 feet of clear path from building to curb, Gulak said, "The battle is not over." They are prepared to appeal to the City Council if necessary, he added.
In other action:
• Jersey Mike's sub shop, which is remodeling the spot at 7836 Herschel Avenue formerly occupied by a toy store, was told the by PDO Committee its project constitutes a change of use. As a result, the will need to provide additional parking spaces based on their total square footage, and that those spaces must be part of a long-term shared parking agreement, not a short-term lease with a parking provider.
• Island Architects presented revised plans to the PDO for a proposed mixed-use development with retail on the bottom and condos on top in the vacant corner lot at 7401 La Jolla Boulevard. But committee members tabled a vote until applicants return in October with more detailed plan drawings.
---