La Jolla News Briefs: Children's Pool lifeguard tower demolition to begin, injured sea lions found at La Jolla Cove ... and more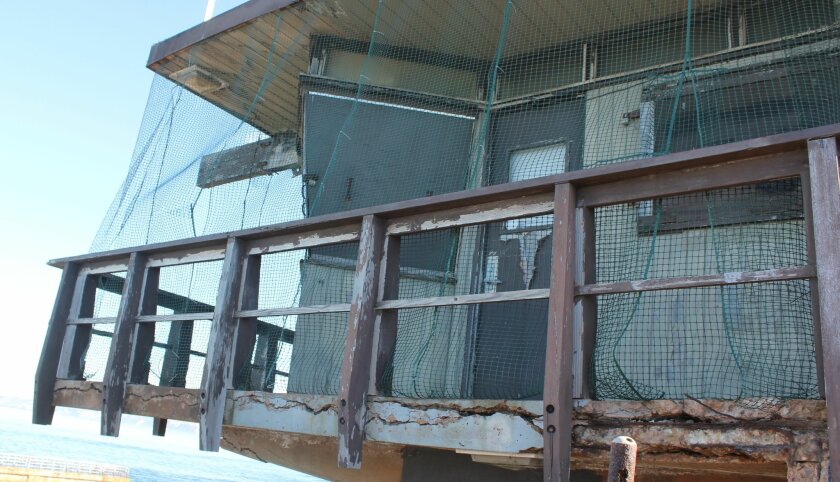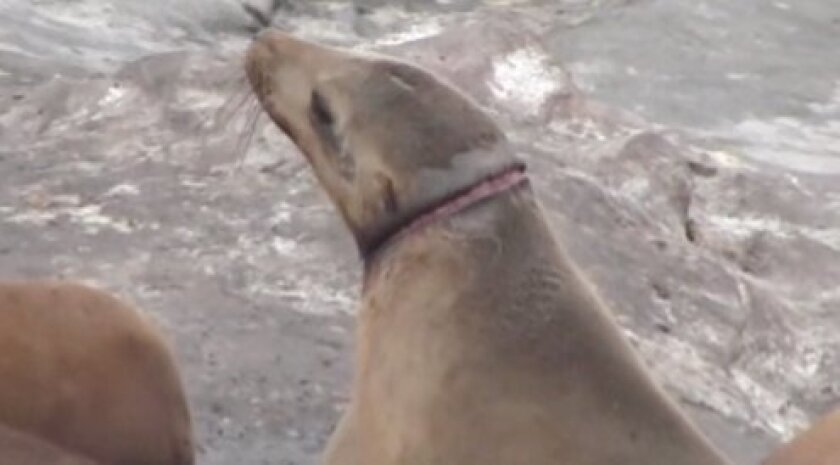 Compiled by Pat Sherman and Ashley Mackin
■
Injured sea lions found at La Jolla Cove
As many as five sea lions were discovered at La Jolla Cove last week with gouges around their necks, after apparently being caught in fishing line.
SeaWorld was contacted about the injuries and, with assistance from lifeguards, is monitoring the animals' condition. At press time, the sea lions were either submerged in water or resting on slippery rock formations deemed unsafe for SeaWorld rescuers to access.
"We rescue and return several animals each year that have fishing gear related injuries," said SeaWorld's curator of mammals, Keith Yip. "A vast majority of the time it is too dangerous for our staff and the animal to attempt rescue."
SeaWorld Director of Communications David Koontz added that marine mammals are often impacted by pollution like fishing line, netting or other plastics.
"An animal can be entangled for quite some time, and as they grow it becomes a greater issue because it can start to cut into their body," Koontz said.
■
Seal Cam monitoring approved by commission
California Coastal Commission staff analyst Kanani Brown said the Commission approved San Diego Mayor Bob Filner's request to use the Seal Cam to meet the terms of a coastal development permit allowing a year-round rope at Children's Pool.
The permit requires the city develop and implement a monitoring program of beach activity by seals and humans. Filner requested flexibility in how the city meets this special condition, including use of the Seal Cam as an acceptable method of recording the mandated beach activity. The Coastal Commission issued a notice of approval May 14.
■
DPR approves Starbucks patio
La Jolla's Development Permit Review (DPR) committee on May 14 approved Starbucks' plan to convert a former bank drive-thru at its location at 1055 Torrey Pines Road to an outdoor patio.
Starbucks is seeking coastal and site development permits for the 1,100-square- foot, enclosed patio. The plans will be reviewed next by the La Jolla Community Planning Association.
Starbucks corporate representative, Elizabeth Valerio, said it is the third time the company is presenting the plans to the community. The city has already approved the addition of an additional handicapped parking space and access required per the Americans with Disabilities Act, she said.
DPR requested that Starbucks close one of two driveways accessing the property off Torrey Pines Road to avoid additional traffic congestion. However, Valerio said such an action would be the responsibility of the landlord and would require a traffic study. There are two other existing driveways into the property (one off Virginia Way and one off Bluebird Lane), which Starbucks shares with a Chipotle Mexican restaurant.
"It's going to be months and months, I would say at least six months, of (traffic) study," Valerio said. "This is something that I proposed to the landlord. I haven't gotten any response."
White Sands resident John Baker contacted the
La Jolla Light
to report the problem of traffic backing up along Torrey Pines Road as cars wait to enter the Starbucks parking lot.
"People can't get in, so they wait (and cars) continue to line up," Baker said. "It's absolutely an accident waiting to happen."
DPR member Angeles Liero said a new traffic study might be warranted.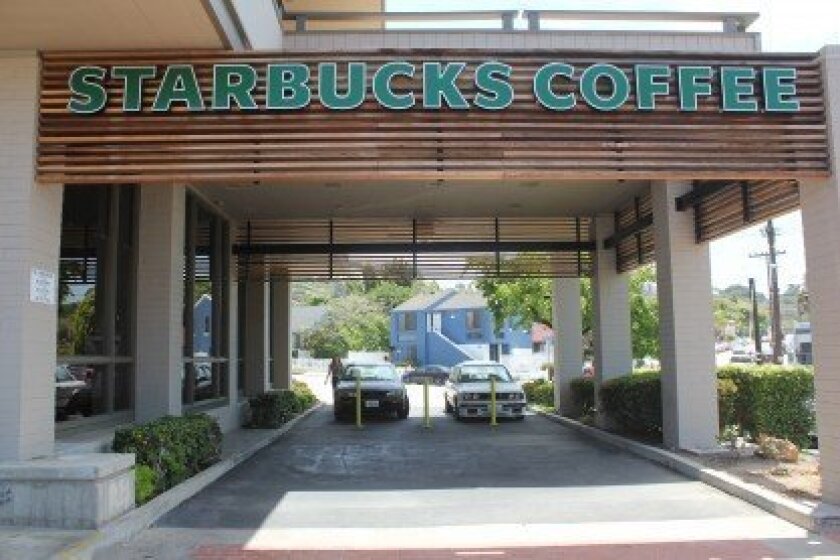 ■
WindanSea cottage demolition heads to Planning Commission
On June 13, the City of San Diego's Planning Commission is scheduled to hear an appeal of the city's environmental determination allowing a property owner to demolish two potentially historic cottages on Playa del Sur in WindanSea. The city has exempted the project from California Environmental Quality Act review.
The La Jolla Historical Society and the La Jolla Community Planning Association (LJCPA) both filed appeals on the project. At its May 14 meeting, the Development Permit Review committee voted to support the LJCPA's appeal.
The La Jolla Historical Society argued that the cottages are historic, while the city's Development Services Department said there have been too many changes to the cottages over the years, which constitute a "loss of integrity" that diminished their historic value.
DPR member Angeles Liera said the process of reviewing potentially historic properties at the city is flawed. Support- ing the LJCPA's appeal was important to assure a change in the process, she said.
"It's happening on other projects and I'm afraid that it can continue to snowball," Liera said.
For a timeline of the project, e-mail Donna Blackmond at blackmond@ scripps.edu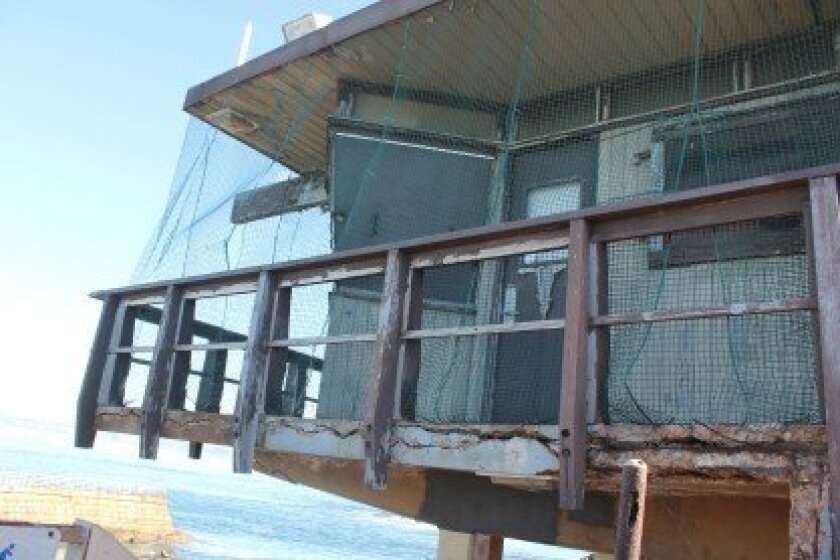 ■
Lifeguard tower work to begin May 30
The City of San Diego confirmed that work on the new lifeguard tower at Children's Pool beach would begin today. A requested waiver of the city's summer, coastal construction moratorium was granted to allow the work to proceed.
Myrna Dayton, a senior construction engineer with the city's Public Works department, said via e-mail that pre-construction meetings with the contractor, city inspector, staff and others would begin May 30 at the site.
The contractor, Stronghold Engineering, will move onto the site to begin work June 3. Dayton said workers would fence off the area, relocate the existing, temporary tower and create another temporary tower before proceeding with the demolition.
■
City spends $8,000 to guard seals
According to the city's Park and Recreation department, the city spent $8,000 for a private security guard to monitor Children's Pool beach and prevent harassment of seals from mid-March to mid-May, between 12 a.m. to 8 a.m. nightly.
■
La Jolla High School to get new cameras
La Jolla High School is getting 12 new security cameras for its campus perimeter thanks to
Las Patronas
and the
La Jolla High School Foundation
, which awarded a total of $10,000 in grants for the upgrade to campus security. The cameras will be in locations previously out-of- range of current equipment. Administrators say they will help prevent truancy, theft, break-ins and potential dangers to students and faculty.
"La Jolla High School is different from most other schools in the district," Vice-principal Will Hawthorne said. "There are many nooks and crannies where students and adults can hide. The cameras will be placed in strategic locations that give us a broad scope of the entire campus."
La Jolla High currently has 26 cameras on campus.
■
Deadline to appeal pupping season
beach closure is June 3
The La Jolla Community Planning Association's request to extend the public comment period for the Draft Negative Declaration on city's proposed 24-hour closure of Children's Pool (Casa) beach during the seals' pupping season has been extended to Monday, June 3.
The LJCPA requested a 20- day extension so that the matter could be discussed at its June 5 meeting, though the city only granted a 14- day extension.
To view the report and declaration, visit sandiego. gov/city-clerk/officialdocs/ notices and search for Project No. 225045.
To comment: • Mail: Anna McPherson, Environmental Planner, San Diego Development Services Center, 1222 First Ave., MS 501, San Diego, CA 92101
• E-mail: DSDEAS@ sandiego.gov (put Project No. 225045 in the subject line)
■
Christmas Parade Dec. 8
Though the community-wide holiday event is usually held on the first Sunday in December, this year because that date is Dec. 1 and still part of the Thanksgiving Day weekend, the La Jolla Village Christmas Parade and Holiday Festival will be moved to the second Sunday, Dec. 8 at 2 p.m. down Girard Avenue.
---