La Jolla merchants to redouble outreach in 2014, encourage businesses to pay BID fees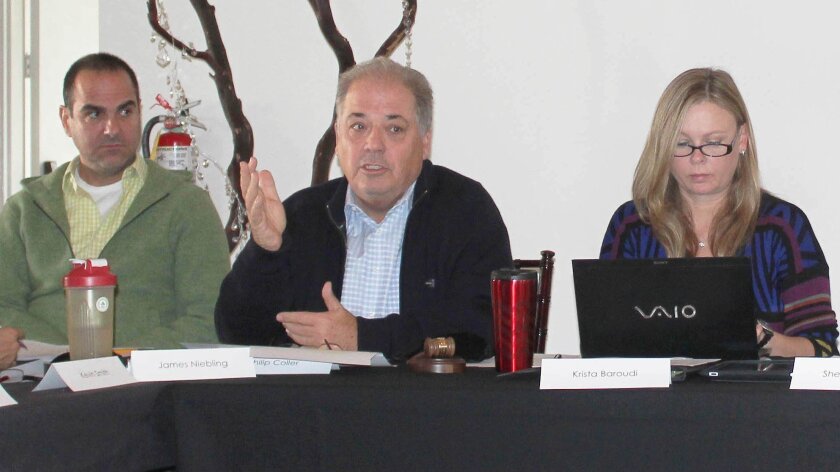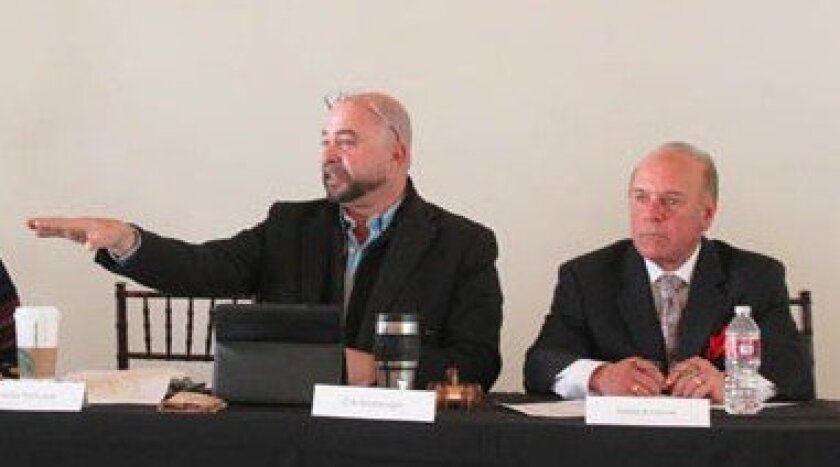 By Pat Sherman
Following a year of grand plans — albeit lagging revenues — the La Jolla Village Merchants Association (LJVMA) discussed ways to further engage merchants in its mission to improve the business climate in La Jolla.
During a strategic planning session held during the group's regular monthly meeting on Jan. 8 at the Cuvier Club, the LJVMA's new board president, Claude-Anthony Marengo, and its executive director, Sheila Fortune, put out an all-hands-on-deck call for board members to pay regular visits to member businesses — a task formerly handled primarily by LJVMA's "Block Captains" committee.
Block Captains are tasked with visiting local merchants to educate them on the association and its activities, and to assure they are paying the appropriate fees.
Of more than 1,060 registered business owners in La Jolla's business improvement district (BID), past president Phil Coller said the association has only been able to engage about 50 or so in the group's improvement objectives, which most recently included the push to rid La Jolla Cove of its acrid, business-deterring odor.
"If they all became enthusiastic and engaged … it would help enhance their business experience (so they could) sell more (products) or more services," Coller said.
Each business falling within La Jolla's business improvement district is assessed a fee of $45-$350 to fund the LJVMA. The fee is based on the size and type of business, and in which of the Village's three commercial zones it falls. La Jolla's is one of the largest of San Diego's 18 such districts.
A BID fee is assessed annually when a business owner pays their business tax certificate (formerly business license) fee. However, BID fees are billed separately, and many business owners become delinquent on their BID fees or fail to pay them entirely, resulting in a loss of revenue for BID groups, such as the LJVMA, to promote their district.
Several business owners contacted by the LJVMA said they were not operating with a business tax certificate (and thus not assessed a BID fee).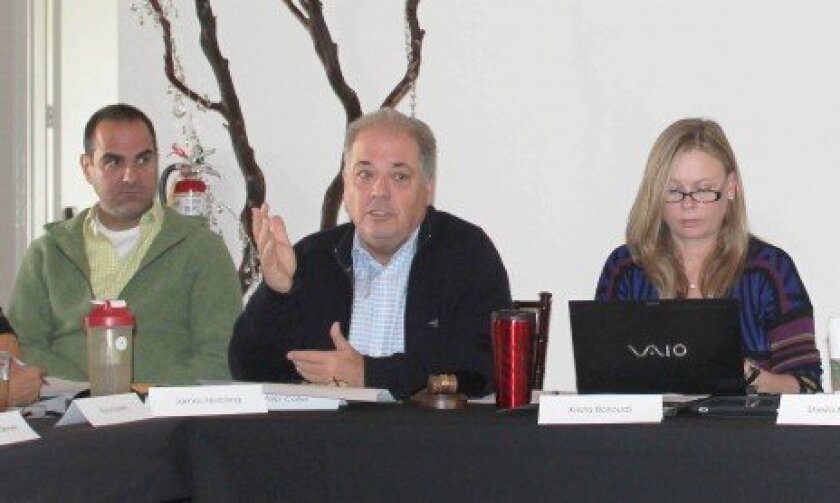 During visits to businesses on their block or in their designated area, board members will also be responsible for informing merchants about fees they are required to pay the LJVMA for placing signage, merchandise or promotional items within the public right-of-way (PROW) — another source of income for the LJVMA.
An initial permit for outdoor dining tables (sans alcohol) is $500, with a $250 renewal fee. An initial fee of $250 is required for other approved PROW uses, with a $100 annual renewal fee.
"That is a lot of money sitting on the table that we're not getting," Fortune said, noting that businesses not paying PROW fees will be sent a violation letter and invoice. Signage is not allowed in the PROW.
The city generates a monthly spreadsheet of businesses within each BID that have filed their business tax certificate, though the information is often outdated or incomplete, Fortune said.
Though it was suggested that board members remind each business that they must file a business tax certificate and pay BID fees, Marengo advised, "Let's look at it as a fact-finding mission (and) take the words 'policing' out of the picture. … Let's collect the information tactfully and put it together so that we can get the proper information to the city and make everybody equal in terms of paying their BID (fees)."
Elizabeth Studebaker, the city's new BID advocate, who attended the Jan. 8 meeting, said some BIDs "take it upon themselves to walk through their district … comparing the city's spreadsheet versus reality.
"We depend on the BIDs to be our eyes and ears on the street and let us know if there's inconsistencies," she said. "Then the (city) treasury department can follow up — but the city doesn't act as a collection agency."
Marengo and other board members said they would like to see the LJVMA return to advertising at the airport, and possibly produce reusable shopping bags that would include the LJVMA's logo, and that of a larger corporate sponsor that would pay for the bags.
Marengo also suggested the group work as an advocate to help merchants and those considering opening a business in La Jolla navigate city permitting and La Jolla's discretionary review process to open shop sooner and more seamlessly.
Marengo said he was speaking with vice-president and attorney Mark Krasner about the possibility of the LJVMA forming a foundation to raise money for community improvement projects not funded by BID money, such as the proposed Belvedere Promenade project on Prospect Street. An approved (yet unfunded) component of the La Jolla Community Plan, it would create a pedestrian promenade along Prospect Street between Girard and Herschel avenues.
"At some point if we want that we have to go at it from a foundation standpoint," Marengo said. "I'm ready to do that."
In other Merchants news:
Budget:
This year Fortune said she is reducing the LJVMA's operating budget from about $683,000 to around $400,000 to reflect less than expected grant monies and advertising revenue.
Merchants join Cove lawsuit:
In addition, the LJVMA board voted unanimously as a group to join the newly formed Citizens for Odor Nuisance Abatement group that has filed suit against the city over the cove odor.
Special meeting:
Due to time constraints, the LJVMA board voted to hold a special meeting to continue its strategic planning discussion, 8:30 a.m. Thursday, Jan. 16 in the Sky Room of La Valencia Hotel, 1132 Prospect St.
La Jolla Light
will report on the meeting in its Jan. 23 addition.
La Plaza update:
The former Jack's restaurant and nightclub complex at Wall Street and Girard Avenue — being remodeled and re-branded as the upscale shopping complex La Plaza La Jolla (originally scheduled to open last month) is now slated for a June opening, said Marcelle McAfee, regional manager of the commercial division at Davlyn Investments, which owns the property.
Construction was delayed last fall while the owners waited for the city to issue a building permit. An exterior elevator and clock tower is nearly complete, McAfee said. She added the three-story, approximately 27,000-square-foot facility should contain 15 to 20 tenants, including a third-floor, ocean-view restaurant, women's and men's clothing boutiques, juice bar and possibly a spa and cigar lounge.
"We don't want to just cater to women," McAfee said. "We want to cater to a full audience."
She said specific tenants would be made public within 30 to 60 days. For more information, visit
laplazalajolla.com
---