La Jolla merchants ready Information Center for Jan. 2 opening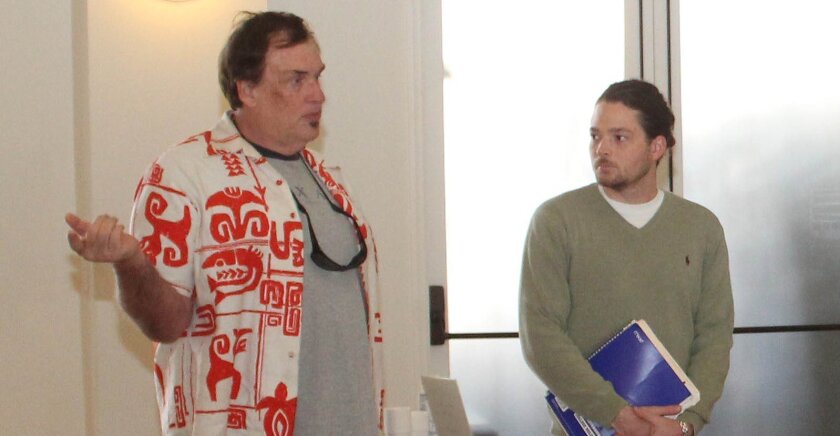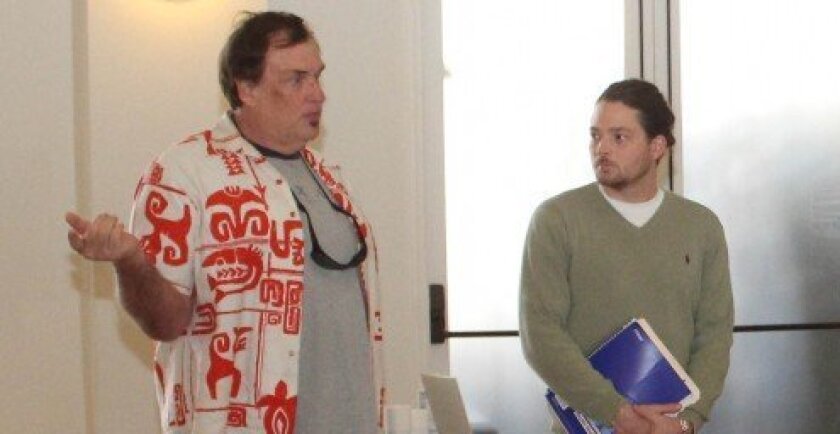 On the Web
La Jolla Village Merchants Association:
lajollabythesea.com
By Pat Sherman
The new La Jolla Information Center at 1162 Prospect St. won't just be a place for tourists to stumble into with questions about souvenirs and harbor seals. It will also be a place where the community can learn about Spike and Mike's Festival of Animation's upcoming 30th anniversary celebration or charitable opportunities, such as a police storefront renovation or the Children's Pool Sidewalk Beautification Project, said La Jolla Merchants Association (LJVMA) Board President Phil Coller at the group's Dec. 12 meeting.
"We'd love to help you promote your event," Coller told Spike & Mike co-founder Craig "Spike" Decker. "We think it's a great thing for La Jolla." The festival, Feb. 9 to March 22 at the Museum of Contemporary Art on Prospect Street, will include 11 days of screenings and early works by Disney•Pixar directors John Lasseter ("Toy Story," "Cars") and Andrew Stanton ("Finding Nemo"). For more information visit
spikeandmike.com
Grand opening:
Framing and building inspections for the space housing the La Jolla Information Center are underway, said LJVMA Executive Director Sheila Fortune, thanks to assistance from Claude-Anthony Marengo of Marengo Morten Architects.
"Who are not stepping up is the rest of the community," Fortune said, noting that though the facility's electronics have been donated, $25,000 to $50,000 is still needed for the additional renovations and furnishings. The grand opening is scheduled to take place sometime before spring break.
"If you want to donate ... no amount is too small," Fortune said, noting that advertising will be available on an array of flat-screen monitors placed strategically throughout the Information Center.
Despite the lack of cash, Coller assured the center would be open Jan. 2, "regardless."
The Information Center replaces the more modest Visitor Center on Herschel Avenue. The LJVMA is seeking city approval to relocate two 15-minute parking spaces from the Visitor Center to the street in front of the Information Center.
The LJVMA has issued a request for proposals (RFP) for landscape architects to design a prototype sidewalk and landscaping on the block encompassing the Informa- tion Center. The association hopes the redesign will set a tone and design standard to which other Village building owners will aspire.
The LJVMA also seeks to set a standard for trash receptacles, bike racks, benches, newspaper racks, lighting, tree grates, sidewalk pavers, public art, planters and crosswalk enhancements.
Proposals must be submitted by noon, Jan. 18 to La Jolla Village Merchants Association, Attn: Sheila Fortune, 1162 Prospect Street, La Jolla, CA 92037. For more information, e-mail SFortune@LaJollabytheSea.com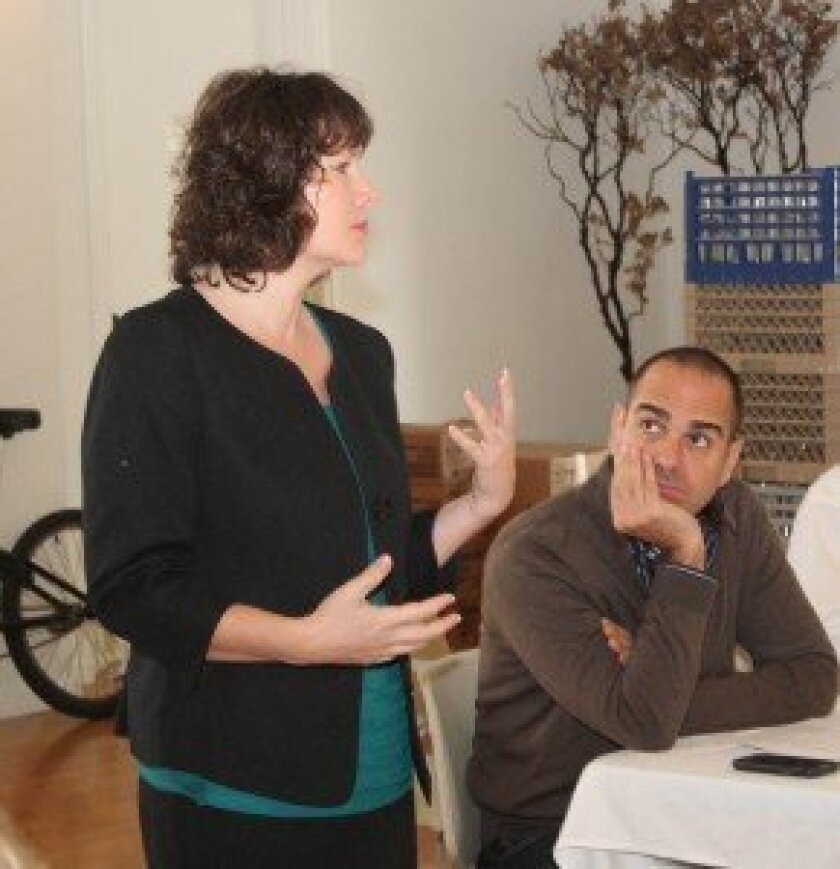 Other LJVMA news
Cove Stench:
District 1 City Council representative Erin Demorest offered an update on the problem of the stench emanating from La Jolla Cove, which seems to be on hiatus since recent storms blasted the built-up layer of bird guano on the rocks.
"Council member Lightner's office continues to work with the community and elected officials at the local and state level to find a solution to the odor problem," Demorest said. "All the stakeholders — including the Mayor's office, city staff, the Regional Water Quality Board, the Coastal Commission and state representatives — are cooperating to find a solution that is both environmentally friendly and that requires the fewest number of permits and can be achieved as quickly as possible."
Police Storefront Renovations:
San Diego Police Capt. Brian Ahearn said about $15,000 has been raised for needed repairs to a police storefront serving La Jolla and Pacific Beach.
Rotarians will complete some of the work in April, though the bulk of the repairs will take place within a two-week time span in January, Ahearn said.
"This is the last and final push," Ahearn said, noting that about $10,000 is still needed for a heating and air conditioning system.
Planned District Ordinance:
Deborah Marengo of the PDO Committee said residents are complaining about the glare of newly installed lights on the Wells Fargo Bank building on Girard Avenue.
Coastal Access and Parking:
Egon Kafka, secretary of La Jolla's newly reformed Coastal Access and Parking Board, reported that Dan Allen was elected board chair, while Nancy Gardner will serve as vice chair and Sheila Fortune as treasurer. The board is working on a valet parking consolidation plan, he said.
Belvedere Project:
Coller said the proposed Belvedere Promenade Project is progressing slowly. Thus far the LJVMA has received four positive responses from business owners adjacent the proposed project, though all 10 businesses adjacent the proposed streetscape improvements are required to submit "no objection statements" to enable the LJVMA to proceed and approach city permitting agencies.
Due to the slow response from the remaining six property owners, Coller said he is not certain the project will break ground in the coming year. The pedestrian promenade, proposed for a one-way stretch of Prospect Street between Girard and Herschel avenues, is the first major element of a larger overall planed revitalization of the entire Village, he said.
Golf Tourney:
The LJVMA will partner with the Farmers Insurance Open golf tourney at Torrey Pines, Jan. 24-27.
The association is asking all merchants to remain open until 9 p.m. to provide a captivating shopping and dining experience for guests. This year's event is expected to draw 120,000 to 160,000 visitors.
"This event will be on half-a-million TV screens," Coller said. "The whole world is watching. ... It's an opportunity that should not be missed for this community."
The partnership will include three Haute La Jolla Nights events with live music, gallery exhibitions and merchant specials.
---