La Jolla merchants group weighs fate of Haute Nights, return on events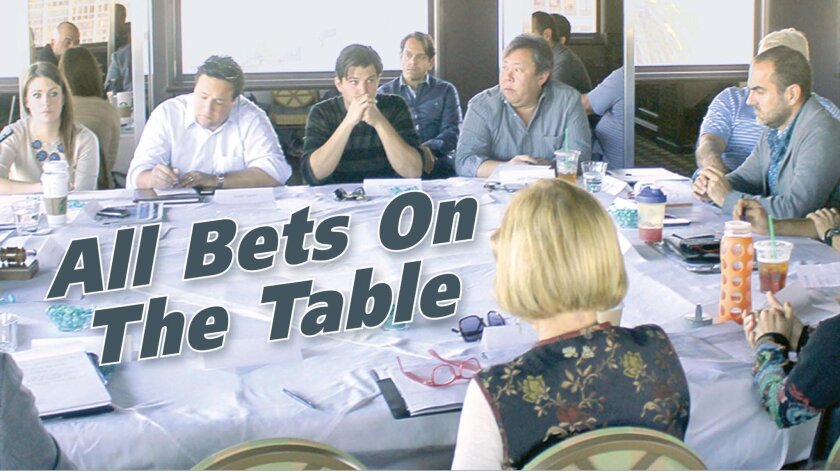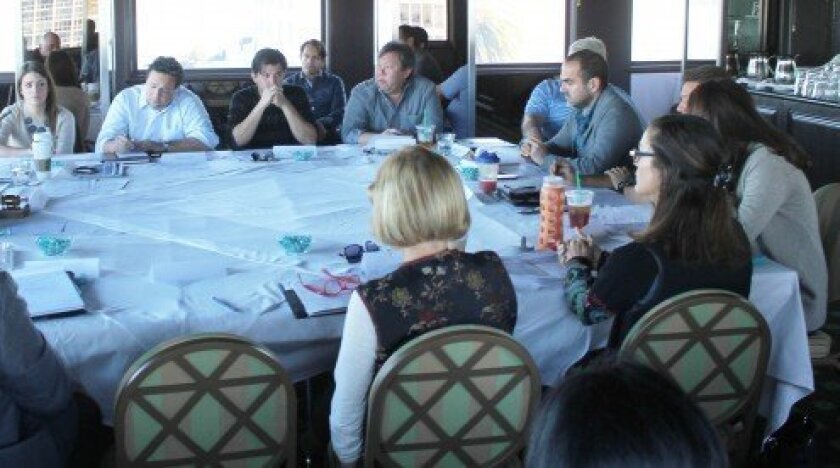 By Pat Sherman
During a special meeting held Jan. 16 at La Valencia Hotel, the La Jolla Village Merchants Association (LJVMA) continued the strategic planning discussion it began during its regular monthly meeting the week prior.
Topics broached included the future of the association's Haute La Jolla Nights music and shopping events, which LJVMA Executive Director Sheila Fortune said received dismal sponsorship last year.
Founding Haute Nights organizer Julie Matibag, who was instrumental in the success of the event during its first two seasons, has decided to end her involvement with the events, Fortune said.
While the first Haute Night of 2013 did well, even garnering a title sponsor, "after that it just turned off," Fortune said. "We couldn't get $250-$300 from people to save our lives. There are some businesses that still owe us money for participating (who) didn't pay their sponsorship fees." Last year's final Haute Night, slated for November, was canceled.
Though most board members agreed that they liked Haute Nights, each monthly event, last year expanded from three to five, cost the LJVMA $5,000 apiece to produce, Fortune said.
LJVMA board members discussed pulling the event back to only summer months, holding it quarterly, or tying them to shopping-related holidays, such as Black Friday or American Express's Small Business Saturday, "when people are already interested in shopping (and) merchants will already be staying open late," as suggested by board member Justin Stewart.
Part of the problem, Fortune said, is that some businesses promising to participate by staying open for the duration of the evening event, closed shop early.
LJVMA board president Claude-Anthony Marengo said the events brought people near businesses, but not always inside the stores.
Fortune said the business improvement district the association oversees is so large it is difficult for the event to benefit all merchants, even though the LJVMA shifted the core of the event and outdoor location of bands several times.
Board member Nancy Warwick said that instead of using larger or louder rock-style bands, the event could transition to featuring more low-key entertainment suited to shopping experiences, such as jazz ensembles. "(Then) it becomes a whole shopping environment, where people are really enjoying the music but they're not just standing there (outside listening)," Warwick said.
Stewart and others suggested adding additional "sensory stimuli," such as sidewalk statues, art contests or a chili cook-off.
Board member Krista Baroudi suggested the association hand out maps listing the location of performers, as well as merchant giveaways or discounts. Though Haute Nights may not always bring in extra revenue for businesses, Baroudi said they leave people with a favorable impression of their evening in the Village of La Jolla. "I think La Jolla really needs to get its vibe back," she said.
Marengo said the Village is in need of large anchor tenants, to promote connectivity in La Jolla and complete the retail puzzle.
"That's going to be one of my goals this year, to try to solicit (anchor tenants) and find the connection points in our Village that makes the 'L' or the 'T' shape — and start talking to the owners to see if we can find a way to drag in an anchor that then makes the connectivity like a shopping center."
Though Marengo said the Sur La Table store at 7643 Girard Ave. didn't move into as walkable of an area as he would have suggested, "it's an opportunity now to try and build around them and see what we can do to encourage the traffic."
Event payoff considered
The LJVMA board also discussed whether its participation in events constitutes an effective use of its time and resources — particularly the La Jolla Art & Wine Festival and the Concours D'Elegance auto show, the later of which the LJVMA once ran, but which no longer benefits the association financially.
The event was handed over to the La Jolla Historical Society several years ago when the LJVMA was forming from the ashes of the beleaguered Promote La Jolla, which previously managed La Jolla's business improvement district funds.
"That's where I have a little rub," Marengo said. "It's great that we lend our name to participate on an outside event, but we're not getting anything back. I'd rather give our efforts to our merchants."
Fortune said the La Jolla Historical Society wanted to hand the auto show back to LJVMA a few years ago, though they didn't have the resources to do it at the time.
"They went back to their board and just decided to grow it," bringing in a professional event promoter, she said. "It just organically stayed with them."
Fortune also suggested that LJVMA use online crowd-funding campaigns to raise money for projects in the Village that need funding (such as the $1,100 per month it spends on landscaping), or organize its own golf tourney fundraiser, something with which she said she has had five years organizational experience.
"It's an easy money-maker," Marengo concurred.
A discussion of the LVMMA's 2014-2015 fiscal year budget was delayed to give the board more time to disseminate the information to members.
"(The city) didn't want us to rush the process so they extended their timeframe to us," Fortune later said, via e-mail. u
— LJVMA meets 8:30 a.m. second Wednesdays at Cuvier Club, 7776 Eads Ave.
lajollabythesea.com
---