La Jolla Boys Lacrosse: Visiting La Jolla High edges La Jolla Country Day School, 8-6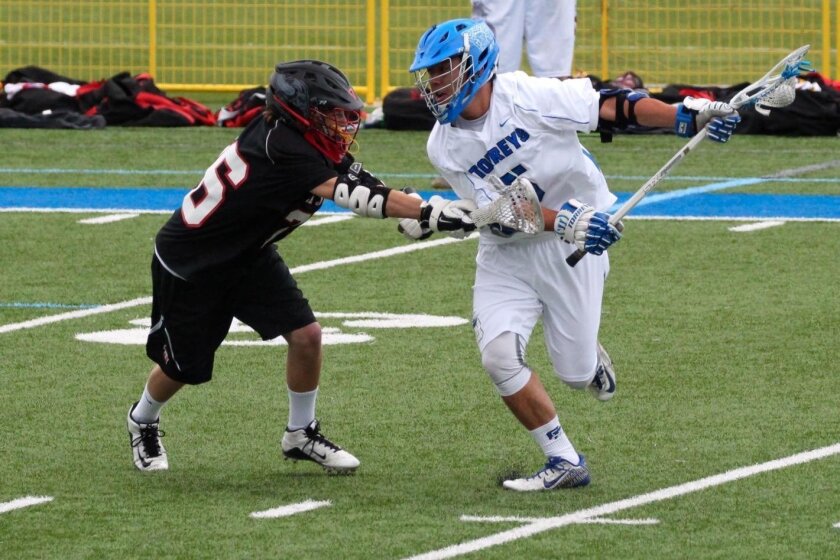 While both teams were satisfied with their play in Saturday's boys lacrosse rivalry game between La Jolla Country Day and La Jolla High, the visiting Vikings were just a bit happier thanks to their 8-6 victory.
The contest, which was between two groups of players that are very familiar with each other, went back and forth after La Jolla (9-2 through Saturday) took a 3-1 lead near the end of the first quarter. The Torreys (5-5 through Saturday) countered in the second period, eventually pulling ahead 5-4 on a goal from junior David Brewster.
With LJCD still up one entering the fourth quarter, the Vikings scored the final three goals of the game to notch the win.
"This is a big rivalry, these guys know each other and La Jolla Country Day is a good team so we were both ready to go," said La Jolla coach Tom Duerr, who has coached a lot of the players from both teams in club play.
"We started getting ground balls and face-offs in the second half and then some of our leaders stepped up and we started running team offense. At the end, we finally got some goals in the cage."
Duerr mentioned that the leadership and strong play of seniors Connor Usselman, Kyle Jetter and Christian Vincze, along with junior captain Tyler Cook, was huge on Saturday. Cook, particularly, came up big in the decisive final period, first by connecting on a leaping shot to tie the game at 6-6 with 11:21 remaining.
Just over two minutes later, he set up teammate Cavan Walsh with a nifty feed and the freshman converted to give the Vikings the lead for good at 7-6.
The final goal of the match came at the end of a nice passing sequence, junior Tanner Watson completing his hat trick with 3:28 to go.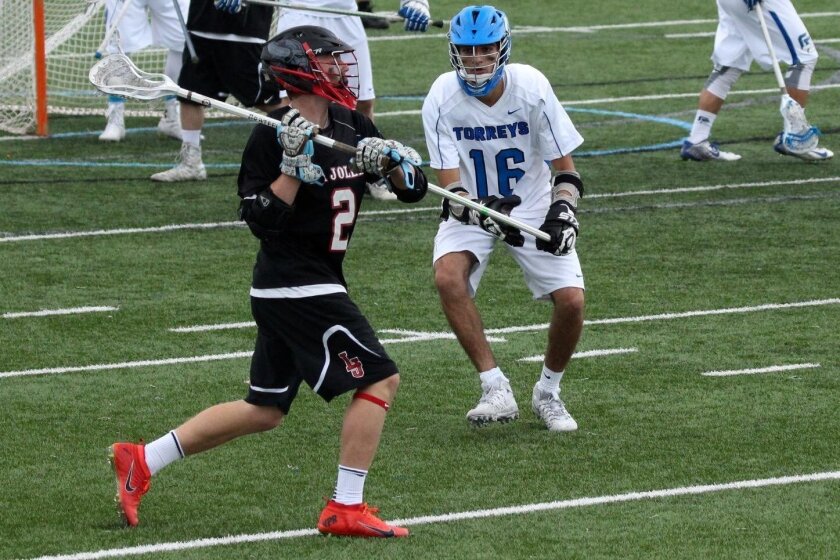 "It was all about ball movement, I have great teammates and if I didn't have teammates like these I don't think I would have gotten three goals," Watson said. "(Playing the Torreys) is really fun because we know a lot of them, they know a lot of us and it's just a great time to come out here on a Saturday and get a W."
Even with the good teamwork, it certainly wasn't easy for the Vikings — the top-ranked team among San Diego Section Division II schools — because of the stellar play of LJCD goalie Andrew Smith. The senior standout had 13 saves on the day to help his team stay close.
"Our goalie had a really nice game," said Torreys coach Rory Hyland. "It was an opportunity for a good upset for us, so for us to put ourselves in a situation like that, where we could have had a nice win over a good team, is excellent."
Smith's counterpart Morgan Watson, only a freshman for La Jolla, had eight key saves of his own including a couple of early stops to help his team take the quick advantage.
After older brother Tanner Watson opened the scoring, senior Alex Barry made it 2-0 Vikings before three minutes were gone. LJCD senior George Little got his team on the board, but Cook then made it 3-1.
Junior Alex Mow opened the second period by winning the draw for the Torreys, and that possession ended with a goal by senior Kieran Jha. Mow captured the ensuing draw and, less than 30 seconds later, Jha rattled the cage again to tie the contest at 3-3.
The Vikings briefly grabbed the lead back when sophomore Finn Walsh absorbed some big punishment while scoring to make it 4-3, but LJCD bounced back with a couple of unlikely plays.
First, it was junior defender William Pollack taking the ball all the way down the field and using his long pole to rip a goal. Two minutes later, Brewster made a similar play, taking the ball the length of the field and using a nice spin move to put his team up 5-4.
Just before halftime, however, Tanner Watson's second goal — on which he came from behind the net then bounced off of two defenders — tied the game at 5-5.
Torreys sophomore Chase Mangini scored the only goal of the third quarter — off a feed from Jha — and then La Jolla's three-goal final period sealed the win.
"The guys are just gelling really well," Duerr said after the victory. "Everything is going great, at practices, off the field and on the field, we just have to be more consistent."
The Vikings play at Bishop's on Thursday.
As for La Jolla Country Day, Saturday's close loss was the first of many upcoming games against tough opponents. The Torreys play at Francis Parker on Thursday and Carlsbad on Friday.
"The season just gets harder from here," Hyland said.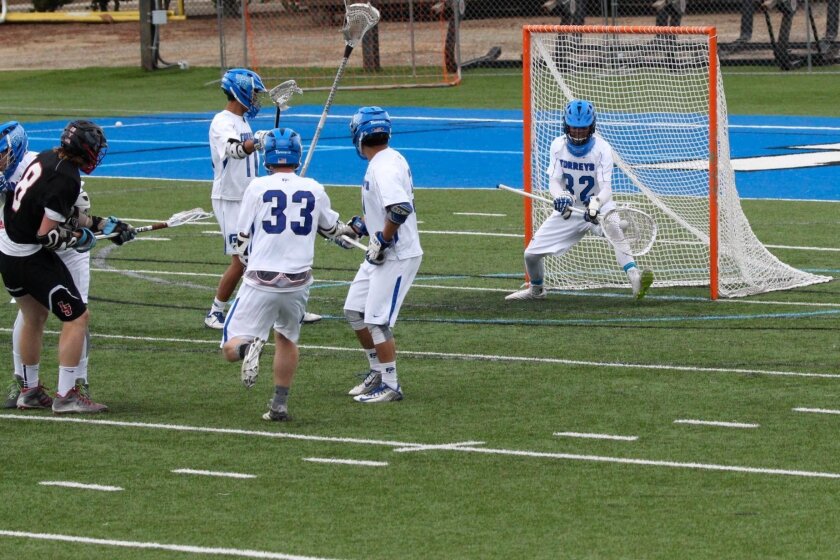 ---