La Jolla in Bloom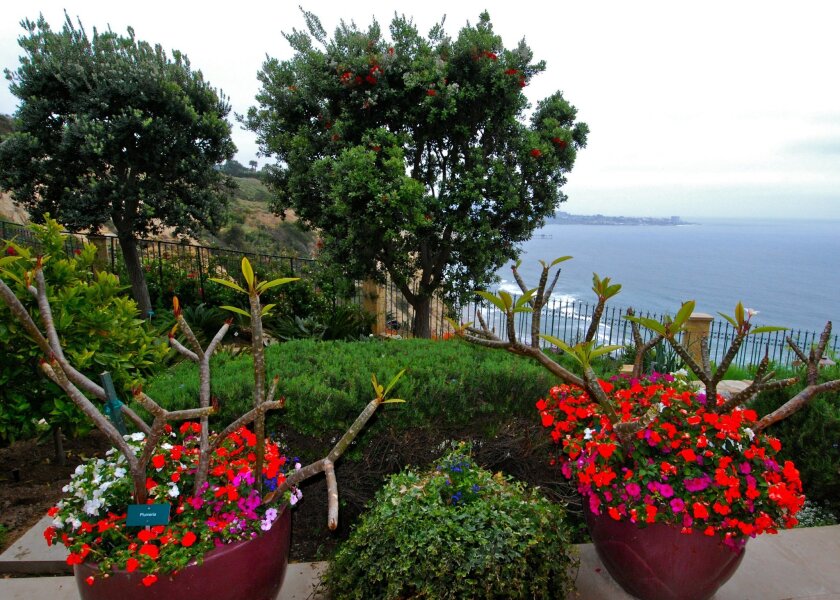 By Linda Hutchison
Can't decide what you like more — gardens, art, or music? Fortunately, those taking the 14th Annual Secret Garden Tour of La Jolla on Saturday, May 19 won't have to decide. They'll enjoy a triple treat in each garden, with landscaping and design ideas, artists capturing what they see, and musicians sharing their melodies with plants and people alike.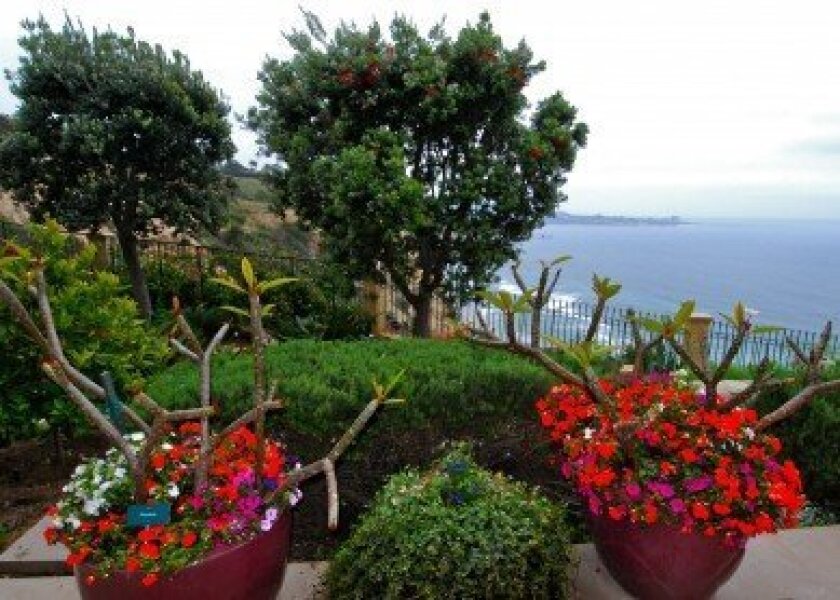 In all, the garden tour, which departs from Wisteria Cottage from 10 a.m. to 4 p.m., will include 10 artists and at least 20 musicians, in addition to garden designers and plant experts.
"We have a lot of talent in La Jolla," said local artist Dot Renshaw, who is coordinating the 10 artists appearing in this year's garden tour. Most are professional, full-time artists who live in La Jolla and have been painting La Jolla scenes and gardens for a long time, according to Renshaw.
"They are used to seeing La Jolla in all different lights," she added. "One of the joys of en plein air (in the open air) painting is being able to look at a scene and ask where is the picture that speaks to me?" Each of the artists will ask that question before the tour when they meet with the owner of the garden where they will be painting and decide on the best place to set up their easels.
After the tour, the artists will display and sell their work — ranging from colorful abstracts to realism to loose impressionism — for the month of June at Wisteria Cottage, 780 Prospect St. They will also set up their work on the walkways outside the cottage every Saturday and Sunday during June from 12:30 to 3:45 p.m.
The artists in this year's garden tour:
— Patricia Jasper Clark — a still life and landscape artist who paints exclusively in oils. Her work has been featured in the La Jolla Art Association Gallery, a six-week show at the Riford Center last year, and on the 2010 Garden Tour poster.
— Diane Estrada — a dedicated water media artist. Her artwork is known for its dramatic color and impressionistic style, ranging from abstract to realism. "Painting outdoors in a lovely garden is very enjoyable and one of my favorite subjects is flowers. To paint in the garden for the Historical Society means a great deal to me as I have lived in La Jolla for over 40 years and graduated from La Jolla High School and have seen many changes over the years."
— Jane Fletcher — works in a wide variety of styles (abstract, figurative, representational, landscape, cityscape, seascape, expressionistic, ornamental, portrait, nudes) and a variety of media (oil painting, wood carving, and glass etching).
— Andrea Gaye — paints in oil on canvas. Her figurative work includes casual portraits of children at play, nude studies, and colorful scenes of daily life in the countries in Latin America and Europe that she visits.
— Rodger Heglar — a former forensic anthropologist, he is a self-taught artist, influenced by Old Masters and early California plein-air painters. His coastscapes depict the harmony he finds in the meeting of sea and shore and his landscapes reflect the tranquility he sees in the natural world.
— Leah Higgins — specializes in personalized paintings of people and places, using the medium of acrylic or watercolor. Her paintings include houses, churches, pets, people, landscapes, seascapes, flowers and still life.
— Sharon Hinkley — works from real life in vivid watercolors in the matter of the Impressionists and plein-air painters. An award winning artist, she has had numerous one-woman shows and is also an teacher and author ("Watercolor Basics: Painting Flowers"). "I love everything bright and colorful and in a garden there is usually a vast array of color, even if it's 1000 shades of green," she said.
— Sally Irwin — a former interior designer, paints in oils and likes to work with a bold and bright combination of colors. She enjoys painting a variety of subjects including landscapes and still life and has been influenced by Fauvism (of which Henri Matisse was a leader) and the alla prima painting technique (in which layers of wet paint are applied to previous layers of wet paint).
— Salli Sachse — paints a variety of subjects in oil, including seascapes, sunsets, flowers, markets, and portraits. A former actress and counselor, her work is influenced by her travels and living in The Netherlands, where she fell in love with the light in the countryside.
n Carol Shamrock — loves using color, which is reflected in her watercolor, oil, and acrylic paintings. Using subtle to bright hues, her paintings are embellished with rich layers of transparent and opaque color. Carol's subjects range from the real to the abstract and from visual satire to the creation of a peaceful contemplative environment. She is a teacher at La Jolla High School.
Musicians
The San Diego musicians who will be playing in this year's garden tour are a highly-skilled group who love to share their music with others, especially for a good cause such as the La Jolla Historical Society, according to coordinator Dori Robbins. Many also teach and write their own music, said Robbins, a retired violinist who played with the Kennedy Center Opera House.
— Cathy Blickinstaff — plays flute and piccolo for the La Jolla Symphony and teaches music at Point Loma Nazarene University.
— Dusty Brough — is a nylon-string guitar player based in San Diego. He plays his original compositions as a soloist or with his quartet, inspired by flamenco, classical technique, jazz harmony, and Eastern European rhythms.
— Joey Carano — is a San Diego guitarist who performs live music venues, and corporate and private events.
— Ann Marie Haney — is a pianist who serves as co-chair of the Community Council for Music in the Schools, a nonprofit organization that receives donated instruments, restores them to good playing condition and lends them to students who are unable to rent or purchase an instrument.
— Betty Martin — is a retired piano teacher.
— Victoria Martino — is an international concert
violinist who grew up in La Jolla and is dedicated to the preservation of La Jolla's unique historical heritage. She performs at the La Jolla Athenaeum Music & Arts Library, and is planning a fundraising concert to help save the La Jolla Post Office.
— Valerie Norton — is a violist who plays chamber music with The Torrey Pines String Quartet. Norton is also the medical director of Scripps Mercy Hospital ER.
— Leah Panos — is a harpist and composer. Her repertoire has an emphasis on the classical, romantic, and 20th Century periods.
— Jimmy Patton — is a guitarist who has shared the stage with Grammy winners Stanley Jordan and Terrance Blanchard. He is signed with and has recorded two albums for Pacific Records.
— William Propp — plays the bassoon with Trio Divertimento, which also includes clarinet players Bob Barnhart and Katrina Schnorr. The group performs chamber music and was part of the former woodwind section of the Lyric Opera San Diego.
— Rosalind Richards — is a flutist who performs with the Del Mar Trio. She is also a composer who has released three CDs, and a teacher at Villa Musica in San Diego.
— Donald Strandberg — plays solo guitar in the finger-style manner, drawing upon traditional and folk music. He has produced several CDs, and is collaborating on a CD of country songs by Jack Phillips.
— Duo Lonato — performs music from the Renaissance and Baroque eras on recorders and Baroque guitar for educational outreach programs.
— Rob Thorsen — is a jazz bassist who performs with Steph Johnson, a guitarist, vocalist, and songwriter. Both are award-winning San Diego musicians who perform nightly and tour with original music and jazz standards.
If you go
What: 14th annual Secret Garden Tour
of La Jolla
When: 10 a.m. to 4 p.m. Saturday, May 19
Where: Wisteria Cottage, 780 Prospect St.
Why: Fundraiser for La Jolla Historical Foundation
Self-guided Tour: $50
Platinum Tour: $150
Tickets:
lajollahistory.org
(858) 459-5335
---