La Jolla High edged by Eastlake, 46-42, in Aztec tourney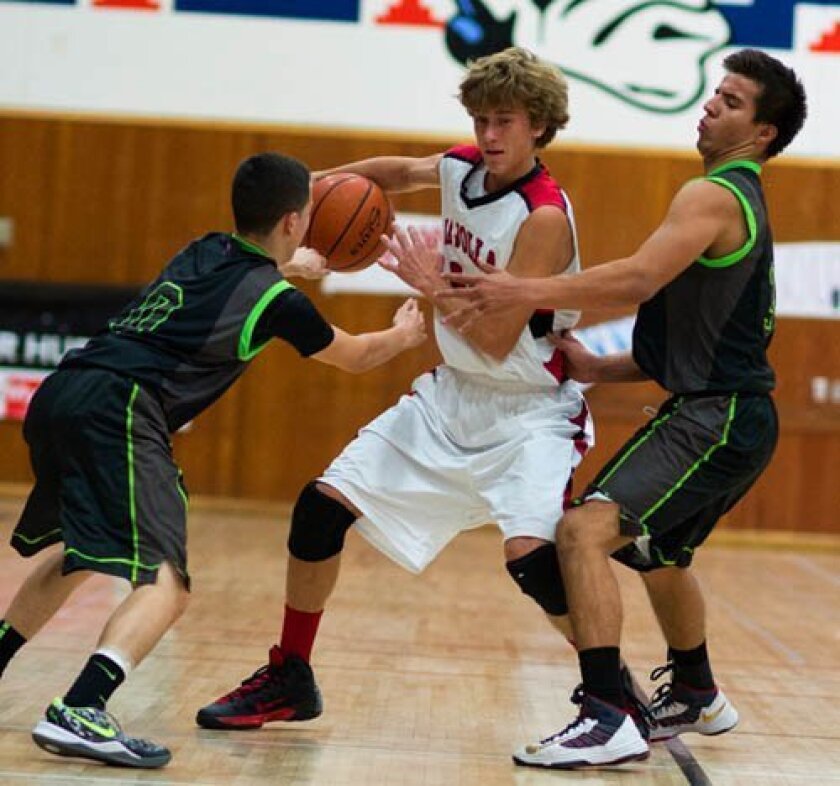 BOYS BASKETBALL:
Eastlake High School Titans 46, La Jolla High School Vikings 42
By Ed Piper
La Jolla High's boys basketball team participated in the 31st annual Aztec Classic at Montgomery High, dropping a close decision to Chula Vista's Eastlake Titans, 46-42, Dec. 26, after leading much of the first half.
The Vikings won their other three games in the tournament; entering 2014 and Western League play this week with a healthy 8-5 win-loss record.
La Jolla opened league play Tuesday, Jan. 7, at cross-town rival university City. The Vikings travel next to Lincoln, 7:30 p.m., Friday, Jan. 10.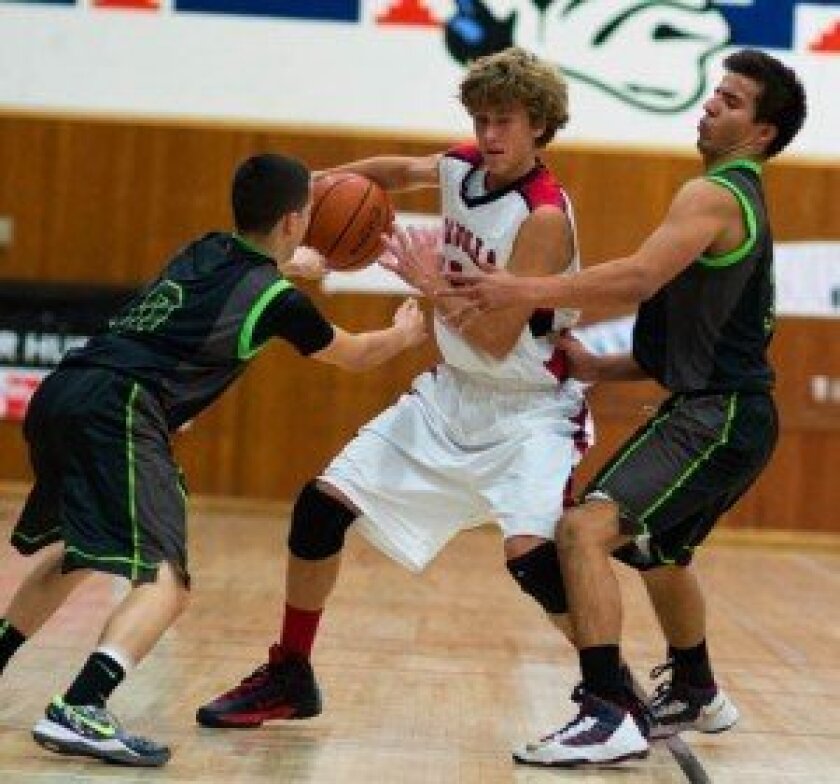 Scoring in the game against Eastlake was distributed among eight Vikings, with 6-3 freshman Reed Farley leading with 12 points, including two 3-pointers beyond the arc in the first quarter, and seniors Nic Skala and Madigan Sepulveda-Sanders with eight points each.
"It was a tough game," backcourt player Gaynor Blackmon said. "We probably need to play tougher in the middle (of the game), when we dipped down. Elijah (Kerns) played really well. Reed (Farley) started out hot. It's just adjustments (we need to make)."
The Vikings led until there was 4:02 left in the second quarter, when the Titans tied the game 22-22. La Jolla never caught up to Eastlake again the rest of the game. Vikings coach Paul Baranowski started with a quintet of Skala, Farley, Ladd Castellano, sophomore Morgan Albers and the hard-working Owen Porter. Baranowski's starting lineups were variable throughout the tournament, as he experimented with different combinations.
La Jolla led in the early going by as much as seven points, first at 14-7 and then later at 20-13. It was a stretch in which everything seemed to be going the Vikings' way. It seemed like they could keep this up the rest of the game.
Besides Farley's two 3-pointers, he had two other buckets. Kerns, a senior, popped for two more, and captain Sepulveda-Sanders added another.
But Eastlake proceeded to outscore the red and black 22-5 from the 6:04 mark in the second period until 4:00 left in the third quarter. It was too much for the Vikings to overcome.
Free throw shooting was good: Skala made four of four, ditto Sepulveda-Sanders. Castellano hit three of four.
Having made a quick transition from football, Skala has become the go-to guy for La Jolla. In crunch time as the Vikings pulled up, trailing Eastlake by only one at 43-42 in closing seconds, two times on inbounds plays the ball went to Skala. On one play, he isolated and went one-on-one, having his shot blocked with 39 seconds left. On the other, he dished off to a teammate with a beautiful pass.
"We've just got to step it up, I think," said Castellano, in a subdued postgame. "We're taking too long to get going. We'll have spans in the game when we get down, and we need to play a hundred percent the whole game."
■ LA JOLLA HIGH SCORING (42 Points):
Farley 12, Skala 8, Sepulveda-Sanders 8, Kerns 6, Castellano 3, Albers 2, Porter 2, Polger 1, Blackmon 0, Duffy 0, Rawdin 0
---