La Jolla High comes from behind to beat Bishop's in Western League opener
GIRLS WATER POLO: La Jolla High School Vikings 6, The Bishop's School Knights 4
■ First victory by Vikings over the Knights in 17 years
By Ed Piper
Taylor Bertrand scored the tying and go-ahead goals in the third quarter as La Jolla High School's girls water polo team came from being down 3-1 to defeat The Bishop's School, 6-4, in both teams' Western League opener at Coggan Pool Jan. 9.
The victory marks the first time in 17 years that La Jolla has defeated Bishop's in girls water polo. That's the length of Doug Peabody's tenure as coach at Bishop's. It also was, of course, the first time La Jolla's elated seniors had defeated Bishop's in their four years of high school, dating back to winter 2011 of their freshman year. The two teams have a rematch Jan. 30.
"This is the most amazing feeling. We did it in our own pool. I am so happy, my heart could just burst," gushed La Jolla senior Sarah Young, in melodramatic form. She supplied two goals. Scarlett Hallahan and sophomore Lexi Atwell scored the other two La Jolla goals.
Power player Natalie Chun scored two goals for Bishop's Knights, Jill Bushman and Hannah Carrillo one apiece.
Young said practice at 5:30 a.m. before school the preceding week, plus 2:30 p.m. practice after school, helped on conditioning.
Bertrand, from her offensive position to the left of the Bishop's goal, turned and skipped her second goal in. "It's kind of a change of pace," she said. As a result of the bounce, which is intentional, not an accident, the ball eluded goalie Maddy Kafka-Asper of Bishop's for the score. That broke a 4-4 tie, from which the Lady Knights never came back.
Said Hallahan, with Bertrand, Young, Ariana Vazquez, and goalie Lauren Silver the starting seniors: "I think the key was team defense and swimming (conditioning). I think we were more in condition and able to swim them down. Swimming them down the pool and getting them tired, finishing our shots."
The crosstown rivals rank among the top teams in CIF, as well as in their league. So the outcomes of the two teams' in-league meetings help determine the landscape for not only the league championship but also the CIF Division 3 brackets for the first round of playoffs that begin Feb. 19.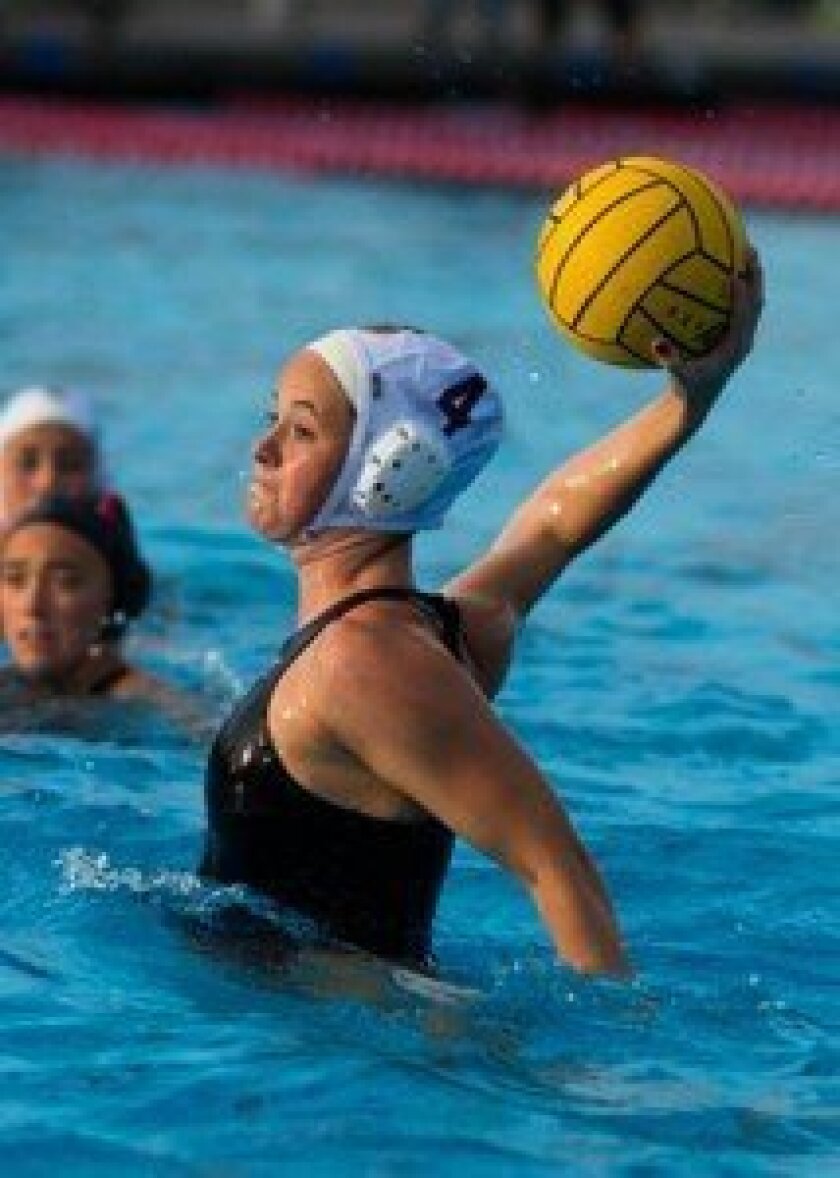 "It was a great game. It's great for high school water polo in San Diego, 6-4, their home game, a bipartisan crowd. Their girls played well," Coach Peabody said.
Two days after the match, an obviously disappointed Kafka-Asper said, "We really didn't play a good game. I hate to say this, but maybe it was a good thing that we lost. The intensity since then has been much higher."
Knight Carrillo took the view that about half the positions are set, including players who won an AAU club national championship with Coach Peabody, the other positions not totally settled, and that factor contributed to the loss. She agreed that intensity had increased since the defeat.
Said Viking Hallahan of goalie Silver, "She was killing it." Silver made a great save of a Bishop's shot attempt with 1:25 left in the match on the right side of the La Jolla goal. This predicament resulted from La Jolla getting a little sloppy in trying to hold onto the ball and run out the final 1:44 after gaining the two-goal lead on Young's second score.
There are only four teams in the Western League — Coronado and Cathedral Catholic are the other two. All are strong, so the fur flies early and often in the tiny league.
This year will be a catfight. Bishop's won the CIF championship last year. Bishop's travels to Cathedral Catholic, Jan. 16, while La Jolla plays at Coronado the same day. Both matches begin at 3:30 p.m. Next week, Bishop's is at home against Coronado, Jan. 23, with La Jolla hosting Cathedral Catholic at Coggan Pool the same day.
---