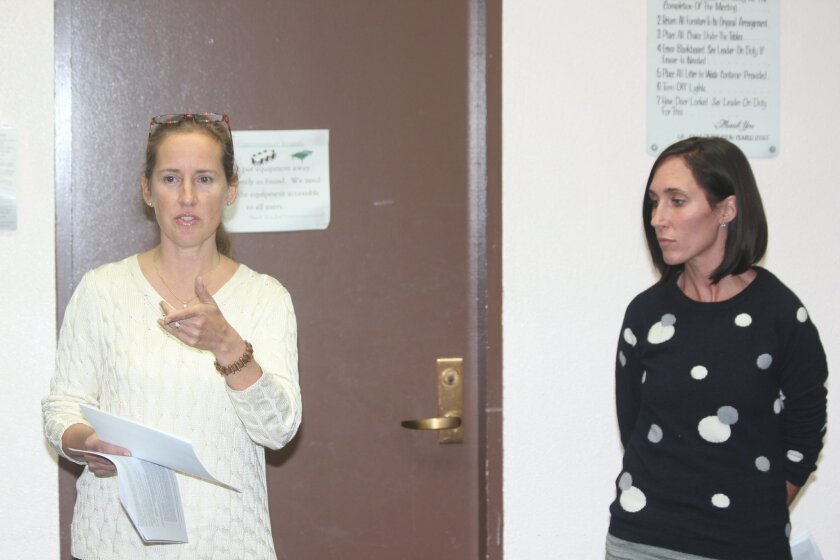 Development Permit Review group ponders unwieldy development in Bird Rock, plus Village gas station conversion
During its November meetings, the Development Permit Review Committee (DPR) considered what some Bird Rock residents view as the "mansionization" of their community, as well as the proposed conversion of a 76 gas station on Pearl Street into a mixed-use condo project, and construction of an arched entry gate on La Jolla Rancho Road.
The mansionization of Bird Rock, residents say, is largely due a provision in San Diego's Land Development Code that exempts some developers of residential home additions along the coast from obtaining a Coastal Development Permit and also allows them to sidestep the typical discretionary review process — which includes presenting project plans to the DPR.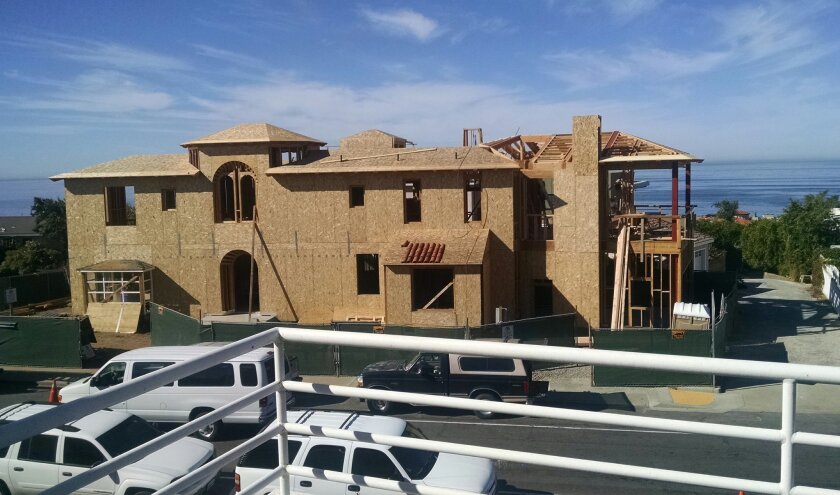 The DPR reviews projects for conformance to the La Jolla Community Plan and then sends its recommendations to the La Jolla Community Planning Association (LJCPA) for ratification and submittal to the City of San Diego's Development Services Department as the community's official recommendation.
Many project applicants seek "categorical exemptions" under the city's "50 percent rule," which grants them an over-the-counter (ministerial) permit — with no required vetting by the DPR or other La Jolla advisory groups — as long as the new development retains 50 percent of a home's existing walls.
"As a result," said DPR member James Ragsdale, "when the construction starts it's a surprise to see what's going on. If there had been better communication, or at least an opportunity for some communication, the answer might have been a way to soften some of the problem areas that we see on some of the buildings going up."
Residents say new homes sprouting up in Bird Rock are often two to four times the size of the original residences, made of inexpensive materials and incorporate cookie-cutter architectural styles and materials where the La Jolla Community Plan calls for variation and innovation in design.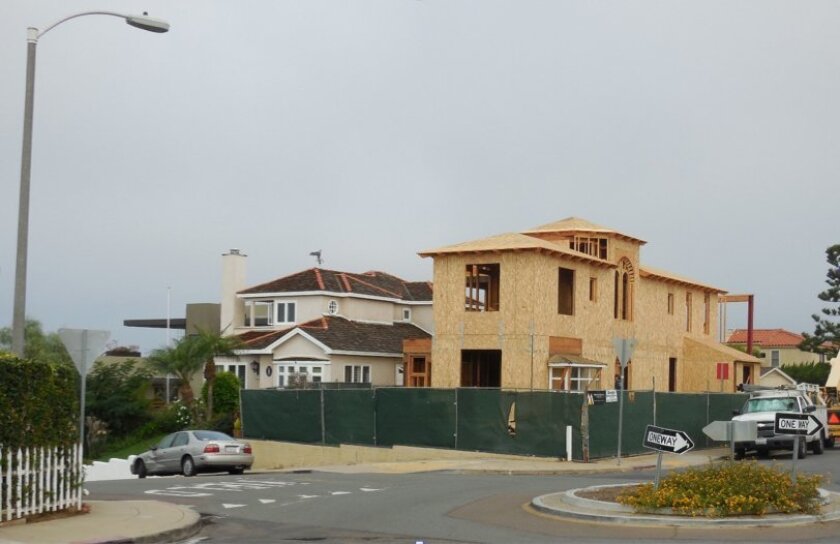 DPR member Mike Costello read a letter from LJCPA trustee and architect Phil Merten, addressing his concern with exemptions that open the door to behemoth buildings, such as a home expansion on a narrow lot at the northwest corner of Bird Rock and Chelsea avenues, which qualified for the 50 percent exemption.
A carport and covered deck atop it were exempt from being counted in the structure's gross-floor area (GFA), because they are open on several sides.
"The covered deck and carport are roughly 20 to 25 percent of the total floor area, but by definition are not counted in the GFA," Merten wrote. "The definition of what is included in GFA needs to be changed to include areas like these."
As the generation that originally settled in Bird Rock passes on, more homes will change hands and be purchased by "speculators," making the problem more pronounced, said Bird Rock resident Sharon Wampler.
"There's been a growth in development over the past five or so years — an explosion in Bird Rock," she said. "We're not anti-progress, we're not anti-development, but we want to have a vision. … When you lose open space, when you lose land, when you lose character, it's pretty much gone forever."
Beaumont Avenue resident Dana Williams said developers are "totally following code," although city code allowing the 50 percent exemption is being used in a manner in which it was not intended. She thanked the developer of several Bird Rock home additions employing the 50 percent rule — in attendance — for showing her and her neighbors plans for a 2,500-square foot home on her block before construction began.
"Not being from the school of architecture, for an average person to look at a plan I had no idea what was really happening," Williams said. "Because of the 50 percent rule, it happened very quickly and I, literally one day, came back and there was a 30-foot wall inches from our fence."
Ragsdale noted the city is undertaking its ninth revision to the land development code, including scrutiny of the 50 percent rule.
A revision to the rule the city is considering — presented to and rejected by the DPR several years ago — would reign in the 50 percent rule by requiring that "single dwelling units utilizing the categorical exclusion would be limited to 90 percent of the maximum height and 80 percent of the maximum floor-area-ratio (otherwise) permitted by the underlying base zone."
However, the memo notes, "Action to approve the (new) categorical exclusion language has since been delayed by California Coastal Commission staff," which issues coastal development permits.
Despite any issues with the Coastal Commission, LJCPA president Joe LaCava said he believes the city is amenable to implementing these regulations. "This certainly is in line with the mayor's position of streamlining regulations, making it easier to do business with the city, so I would imagine that the mayor would embrace this as well," he told La Jolla Light.
In other DPR news
Gas station conversion redux: Revised plans to convert a 76 gas station to a mixed-use project with 12 condos, four retail units, a restaurant and underground parking received favorable nods from DPR members, although the committee ultimately felt the revisions did not make enough concessions for the project's bulk and scale — particularly what permit reviewers regard as little discernible transition from the project to the low density homes just south on Eads Avenue.
The project would include a two-story building fronting Pearl Street (including the retail, restaurant and one second-story condo), and two three-story condo buildings at the rear of the property.
"This is not planned to be a casual progression into a housing area," said Eads Avenue resident Connie Branscomb during the meeting, requesting the applicant use story poles to illustrate the impact to nearby residents.
"It's very stark," Branscomb said. "It's important to have the story poles to really see what's going on."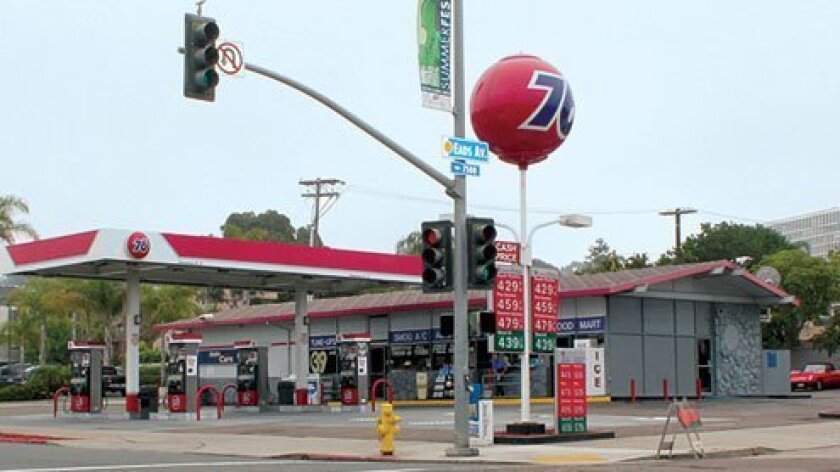 During his presentation, project representative Joe LaCava said the city has signed off on noise and traffic studies for the project, the latter indicating traffic to and from the property would be similar to that of the existing gas station.
Revisions since the project was last presented to the DPR more than a year ago include dividing the rear building into two structures; relocating condo entrances to the interior of the project (instead of at its southern edge, facing a single-family home); and adding articulation to the blank wall along Bishops Lane, an alley where deliveries will occur, to improve the view for motorists traveling west on Pearl Street.
LaCava said La Jolla's former community planner, Lesley Henegar — whom he characterized as "perhaps the most staunch defender at City Hall of the La Jolla Community Plan" and who is still overseeing the project — sent him an e-mail before the meeting expressing her satisfaction with the current design (she previously had many issues with it, he noted).
LaCava said he once considered removing the rear, third-story, though he said Henegar suggested the rear building instead be split in two to soften its impact. "We took her recommendations very seriously," he said.
Contamination from single-wall underground gasoline tanks installed in the 1960s was cleaned up when double-wall tanks replaced them in the '80s, LaCava said. He added there are some minor amounts of contaminated soil left to remove, though the San Diego County Department of Environmental Health has signed off on a plan to convert the gas station and will oversee the work to minimize potential health and safety risks.
In the end, the DPR requested that the applicant return with the following for a final review of the project: a more detailed relief of blank walls; a copy of a geotechnical report that demonstrates remediation of the previous fuel leaks from the gas station; a copy of a noise study conducted that showed no mitigation is necessary; exterior color renderings; more landscaping or design flourishes for the interior courtyard and garage entry off Eads; a possible reduction in the number of units or project density; and a demonstration of how trucks would enter and exit the alley for deliveries.
Gate approved: After making its way before the DPR several times, committee members ruled findings could be made to approve modifications to an entry gate at 1860 La Jolla Rancho Road on Mount Soledad. The applicant modified his design, moving the proposed stone gate structure from 26 feet to 40 feet away from the front property line. Its height was increased from 8 to 18 feet. In lieu of a wall surrounding the project (as used on adjacent residence entries), the applicant will use a barrier of greenery, trees and shrubs to create a meadow effect.
---