La Jolla couple brings one man's spiritual journey to O.B. stage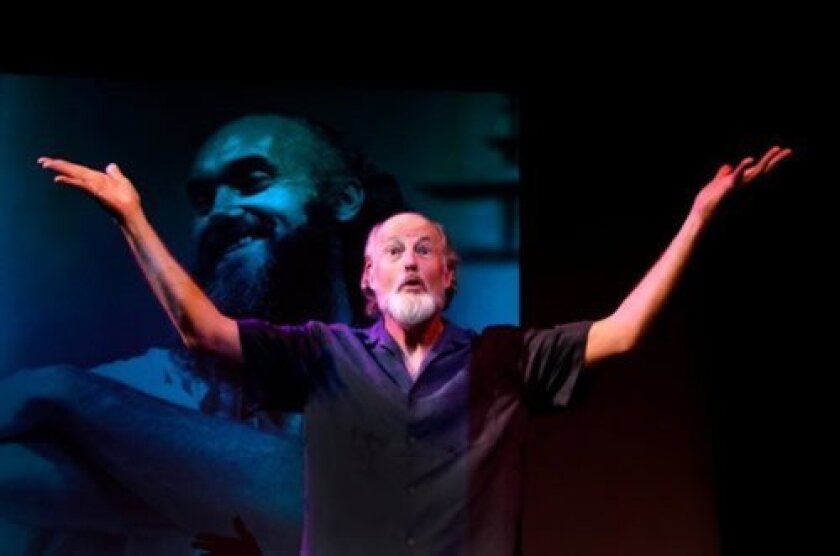 By Lonnie Burstein Hewitt
For those not old enough to remember the 1960s and '70s, Ram Dass was the spiritual seeker who introduced thousands of young Americans to the path of enlightenment with his hip, square-cut paperback "Be Here Now," published in 1971.
That was less than a decade after he was known as Richard Alpert, the Harvard psychologist who, with Timothy Leary, made LSD a mind-opener for college students and got kicked out of Harvard in the process. In between, he took a trip through India, where he found a guru, a new life, and a new name, meaning "Servant of God."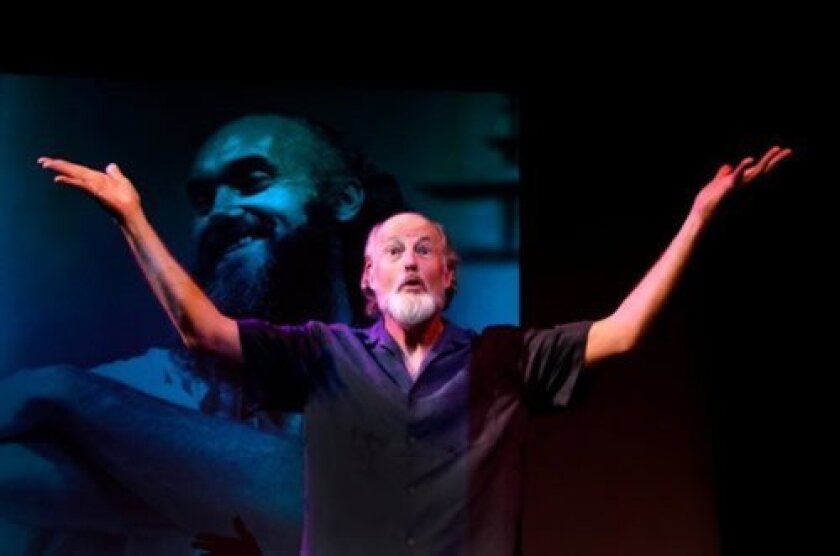 Ram Dass has practiced and taught service and compassion ever since, even though a crippling stroke left him wheelchair-bound and speech-impaired in 1997.
"Be Here Now: The Journey of Ram Dass" is playwright Lynne Kaufman's take on all the phases of his life, coming Aug. 15-17 to the Ocean Beach Playhouse. It's a one-man show, originally seen here in 2011, in an earlier version at the North Coast Repertory Theatre, under the title "Acid Test."
The current show stars Warren David Keith, who looks remarkably like the real Ram Dass, now 83 and living on Maui. Keith, like Kaufman, is based in the Bay Area; he has played the part to sold-out crowds in San Francisco and New York, and will be in San Diego thanks to La Jollans Dori Salois and Robert Salerno, who have produced pop-up, site-specific shows with their non-profit Vantage Theatre for more than 20 years.
"We first found out about the play from our daughter, who performs with ACT (American Conservatory Theater) in San Francisco, as part of their MFA program," Salois said. "Robert and I have read all of Ram Dass' books, and have always been grateful for his teachings, so naturally, our interest was piqued."
The head of the ACT-MFA program happened to be Keith's wife, but the play was heading for its New York production, and the time wasn't right for Vantage. Still, Salois persisted, until finally, things fell into place.
"It's karma that we're doing this play," she said. "Not only did we get to know Warren David Keith because of our daughter, but Lynne Kaufmann turned out to have a connection to Robert: she babysat for him when she was a student at Hunter College, helping Robert's mother — a pediatrician — set up her first practice in the Bronx!"
Kaufman agreed to change the play's title — a good idea, since it's almost a half- century since Ram Dass was the acid-testing Dr. Alpert. And Salerno found the perfect venue in the O.B. Playhouse: "With art work from the '60s and paisley-pillowed lounging couches, it's the perfect place to enhance the theatrical experience," he said.
Not that the play is just a flashback to the '60s. It's an intimate look at an iconic figure whose life has been long, full and open to self-reinvention.
"I was deeply drawn to Ram Dass' resilience, and his spiritual search," said the playwright. "He's a good man—not a saint—but a good man who is struggling to become his higher self. I hope that, by following his journey and seeing how human he is, how flawed and funny and courageous and kind, we recognize the spiritual underpinning of our own lives."
For related events, including Performance Yoga, chanting, music and Story Theater visit
vantagetheatre.com
IF YOU GO:
"Be Here Now: The Journey of Ram Dass," 8 p.m. Friday, Aug. 15; 2 and 8 p.m. Saturday, Aug. 16; 2 p.m. Sunday, Aug. 17, Ocean Beach Playhouse, 4944 Newport Ave. Free parking behind theater. Tickets $30-$40 at (858) 859-2281. vantagetheatre@gmail.com
---