La Jolla community planners grapple with board election challenge, appeal revised Whale Watch Way project ... and more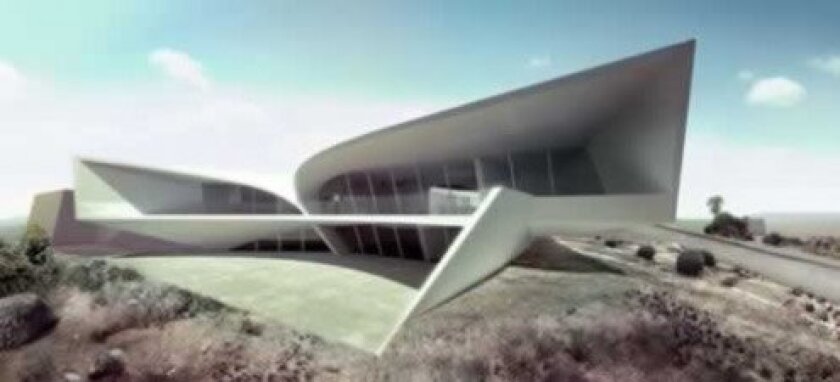 By Pat Sherman
During a July 9 special meeting of the La Jolla Community Planning Association (LJCPA), the group announced the results of its July 3 special election, in which standing members voted to fill two open seats on the group's 18-person board of directors.
Cindy Greatrex
, the La Jolla Town Council's immediate past president, received 52 votes, while former LJCPA trustee
Mike Costello
, who presently serves on the LJCPA's Development Permit Review committee, received 43 votes. Architect
Michael Morton
received 15 votes.
Greatrex and Costello are to be seated at the beginning of the group's August meeting. However, whether Costello retains his seat is pending the results of a challenge to the LJCPA's March trustee election, which was filed with the mayor's office by Bob Whitney of the La Jolla Association. During its August meeting, LJCPA trustees will discuss the city's response to the challenge, and the city's recommendations for corrective action — chief among them, that Morton be seated as LJCPA trustee.
Although Morton ran for a trustee seat in March, also receiving the fewest votes (14), a June 26 response letter to the LJCPA from Bill Fulton, the city's Director of Planning, Neighborhoods and Economic Development, includes a recommendation from city staff that Morton be seated as a trustee. If Morton were seated, he would occupy the seat the LJCPA would otherwise confer to Costello next month.
The crux of the challenge: current LJVMA board president
Joe LaCava
was re-elected in March, receiving the most votes of any candidate (68), although he now exceeds the LJCPA term limit of six years (or two consecutive three-year terms). Per the LJCPA's bylaws, a candidate may exceed term limits by two years if there are not enough viable candidates running for available seats, and they receive two-thirds majority of the vote, which LaCava did in March. He ran again at the urging of fellow trustees who say they respect his commitment to LJCPA and capacity to head the group as board president.
However, Fulton's letter said the LJCPA should have stated on its election ballot that "new candidates (Morton) have priority over candidates exceeding term limits." In April, LJCPA trustees disagreed with that assessment, opining that as long as a candidate is exceeding term limits with two-thirds of the vote, no candidate should receive priority.
According to LaCava, the city's response to the election challenge is merely advisory, as outlined in City Council Policy 600-24: "The city does not direct or recommend the election of specified individual members, nor does the city appoint members to planning groups, or recommend removal of individual members of a planning group."
However, LaCava noted, there are ramifications in that policy for not following the city's advice: "Where a planning group does not cure a violation by itself, it may forfeit its status as a recognized advisory body." (The LJCPA makes recommendations to the city in regard to land use, planning and infrastructure projects in La Jolla).
Responding to other issues raised in the election challenge, Fulton noted that the LJCPA's failure to publicly appoint and have trustees ratify its election subcommittee in advance was satisfactorily remedied by ratifying the election committee during the group's April meeting.
A question in regard to whether trustee
Rob Whittemore
(a March write-in candidate elected with 58 votes) had attended the required three LJCPA meetings within the previous year was resolved to the satisfaction of city staff.
LJCPA secretary Helen Boyden noted that several people who showed up at La Jolla Rec Center to vote on July 3 were not registered LJCPA members.
"That has happened before. You're entitled to attend meetings without signing in, but only by providing proof of attendance can you maintain membership or become eligible for election as a trustee" and be granted voting privileges, she noted.
La Jolla Light
will report further on the election challenge following the LJCPA's August meeting. View correspondence between the LJCPA and the city in the LJCPA's July 9 meeting agenda
here
, and scroll down to page 36 (Fulton's response). Whitney's original challenge is on page 47.
In other LJCPA news
Whale Watch redux:
A futuristic home proposed for 8490 Whale Watch Way — which the property owner ostensibly abandoned two years ago following a legal challenge — has reemerged with a modified design that LJCPA trustees say does not change its boxy appearance or its negative impact on the neighborhood.
The applicant is seeking coastal development and site development permits to demolish an existing single-family residence and construct a 7,001-square-foot, two-story home with basement on a 20,093-square foot lot.
In 2012, a group of residents organized as La Jolla Shores Tomorrow filed a lawsuit in San Diego Superior Court seeking to block the project, challenging its compliance with the California Environmental Quality Act, San Diego Municipal Code, the La Jolla Community Plan and the La Jolla Shores Planned District Ordinance.
Shortly after, the property owner submitted a letter to the city terminating the project application, although the plans, designed by famed Iraqi-British architect Zaha Hadid (first female recipient of the Pritzker Architecture Prize), were later resubmitted, with the addition of a basement, which moved some of the 12,700-square-foot project's elements below ground, giving it a new gross floor area ratio of 7,001 square feet.
"They reached inside the box and took half of the stuff out and pushed it down into the basement," trustee Phil Merten said, adding that the building far exceeds the floor area allowed for its lot size.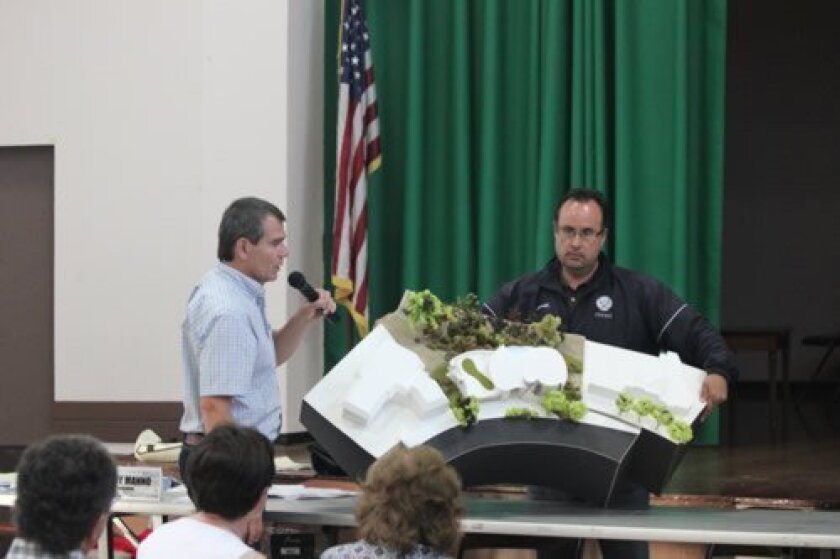 Merten said the redesign did nothing to reduce the project's exterior bulk and scale, adding that it still "disrupts the architectural unity of the neighborhood," which he said is typically comprised of one-story, ranch-style homes.
In the end, LJCPA trustees voted 14-0-1 to file an appeal of a city hearing officer's June 25 decision to approve the project.
The La Jolla Shores Permit Review Committee voted in January that findings could not be made to approve permits for the project.
Wu Residence:
Trustees also considered a home rebuild at 7615 Hillside Drive on Mt. Soledad, which was pulled from the LJCPA's June consent agenda for further discussion by Myrna Naegle, who felt the project was "totally out of character" with surrounding homes.
In May, the La Jolla Shores PRC approved the plans, with Naegle in opposition and Janie Emerson abstaining because she felt the project's "basement" actually constituted a third story.
Trustee Merten, who voted in favor of the project on the PRC, noted that, when viewed from the street, the home is smaller than one of the homes adjacent to it.
Project architect Francisco Mendiola of Concepto Design Group International, showed trustees a rendering of a three-story home directly across the street from the project.
The new home, which would dip below the street to 36 feet, is only 21-feet tall when measured from the street, Mendiola said.
Merten said he didn't understand why some trustees were overly concerned with the lower level space, because it would be there anyway, whether the owner used it as a crawl space, basement or for pillars to prop up the home (as the existing home is designed). Mendiola said the owners will use the lower level as three bedrooms for visits by their adult children.
"It's a steep lot. They're choosing to use it," Merten said, making a motion that the findings could be made for the project, which was seconded by LJCPA vice-president Bob Steck. The motion passed 12-2-1 with trustees Emerson and Bob Collins in opposition.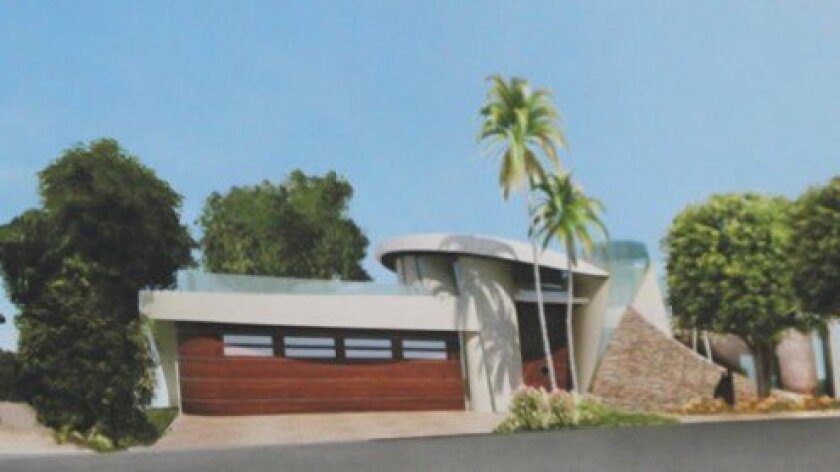 Items held over:
Trustees pulled two subcommittee-approved projects from the LJCPA's July consent agenda for discussion at a future meeting: a proposed home remodel at 8151 Calle Del Cielo, including the addition of a 2,856-square-foot second floor, basement and three-car garage (Laska residence); and a home remodel with a 2,085-square-foot, second-story addition at 6101 Camino De La Costa that some neighbors oppose (Hart residence).
La Jolla Boulevard condo conversion:
Trustees briefly considered a proposal to convert four units under construction at 6633 La Jolla Blvd. into condominiums, which was approved last month by the Development Permit Review subcommittee, following some back-and-forth discussion about the bedroom count and parking spaces.
Claude-Anthony Marengo of Marengo Morton Architects requested that the item be placed on the agenda, although he decided not to offer a presentation because a neighbor with concerns about the project did not attend the meeting, and may no longer have concerns, he said.
A motion to approve the project by trustee Collins (seconded by Patrick Ahern) passed with trustee Whittemore abstaining.
City Council updates
Shores tower:
Justin Garver, a representative with the office of District 1 City Councilmember Sherri Lightner, said the La Jolla Shores lifeguard tower has been repaired to fix glare issues and is again in use. Questioned about the cost of the repair, Garver said he thought it had a pricetag of about $150,000. According to Mónica Muñoz with the city's department of public works and engineering, the job cost $167,750.
Cove odor management:
Garver said another round of bird excrement-eating microbial foam was applied to the bluffs at La Jolla Cove this month to help manage the odor issue there, which he said "hasn't really been an issue" as of late. "We haven't been receiving many complaints, so hopefully these consistent treatments are working well," he said.
Oversized vehicle ordinance:
Garver reported that the city's new oversized vehicle ordinance goes into affect Aug. 1, prohibiting vehicles at least 10 feet in height and 27 feet in length from being parked on city streets from 2 a.m. to 6 a.m. without a Temporary Overnight Recreational Vehicle Permit. The permits are available online at sandiego.gov/parking/permits/torvp/index.shtml
Sewer repair job:
A representative from the city offered information on the Skylark Canyon Sewer Replacement project, which will repair 1,390 linear feet of existing sewer mains and laterals in the canyon along La Jolla Mesa Drive, between Deer Hill court and Baja Mar. The roughly $500,000 job is expected to begin in September and be completed by March 2015. No vehicles will be permitted to enter the canyon; all equipment will be brought in via wheelbarrow or hand.
View corridor inventory:
President LaCava confirmed a database would be compiled of all future view corridors adopted as part of new development, and protected by recorded easements.
"I'm going to recruit some folks to be able to do that because I don't know every project that comes through on consent that has a view corridor, but I think it's a fabulous idea," LaCava said. "The database will initially be populated with new easements as they are approved through discretionary coastal permits," LaCava explained later, via e-mail. "The goal is to research all such easements that have (already) been recorded and add them to the database (to be hosted by the LJCPA)."
Fay Avenue stop sign woes:
Trustee Fran Zimmerman expressed concern about a stop sign to be added next week on Fay Avenue (at West Muirlands Drive), which she and trustee Ray Weiss said would back up traffic along Fay near La Jolla High School, where cars exit the Coggan Aquatic Complex parking lot. Weiss suggested that someone contact the city and ask that installation be postponed until LJCPA has a chance to discuss the sign's impact, which LaCava said he would look into.
Pier lights dimmed:
Trustee Whittemore reported that Scripps Institution of Oceanography has responded to concerns about bright lights shining on the beach from Scripps Pier and "being so bright that they competed with the moon." Following an inquiry from trustee Weiss, the lights have been dimmed by as much as 80 percent, Whittemore said.
---