La Jolla comes from behind to win Homecoming game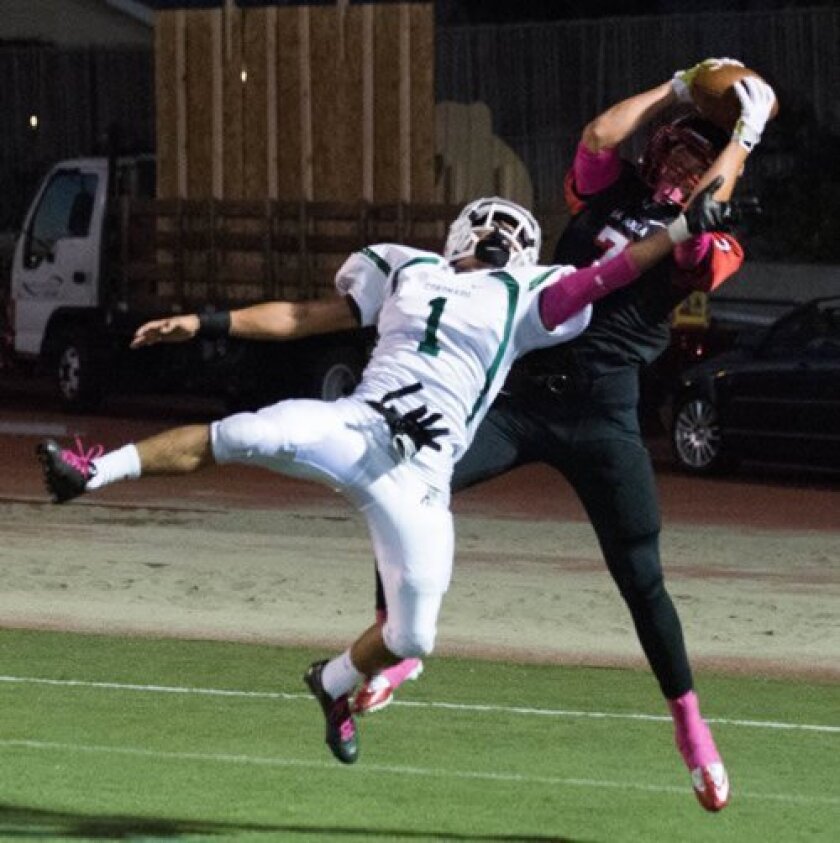 La Jolla Vikings 27, Coronado Islanders 22
By Ed Piper
With just over seven minutes remaining, La Jolla High School trailing 22-21 in its own Homecoming game, LJHS strong side linebacker Tyler Smith noticed that Coronado's running back was focused on fellow Viking linebacker Bret Schuman, the outside linebackers blitzing. So Smith slipped in and sacked the Islanders' quarterback, dropping him for a seven- yard loss on first-and-15 back to Coronado High's own 19-yard line.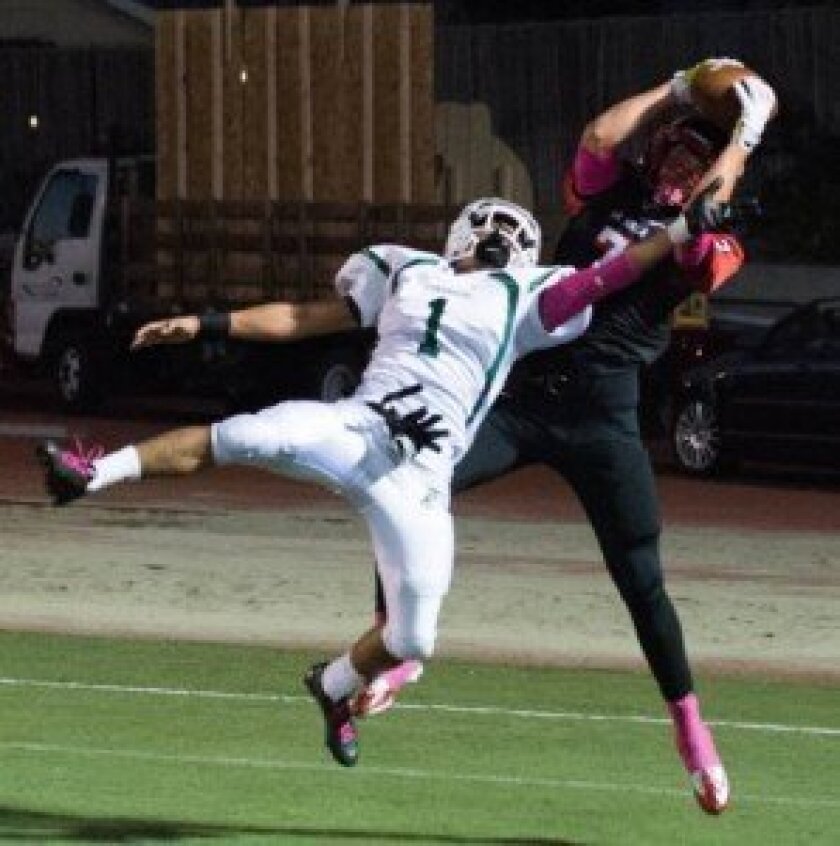 That set up Viking cornerback Connor Hayden for an interception and short return on the next play. When La Jolla's offense took over, three plays led took them to the end zone and a 27-22 lead that the defense held the remaining 4:46 of the game for a gratifying, hard-earned win Oct. 4.
"I just did my job," said Smith. And, like Schuman and Hayden (a senior in new coordinator Junior Leoso's defensive line), "I did it right."
The huge home crowd at Edwards Stadium let out a roar on the sack by Smith, as it watched the red-and-black defense — humbled only two weeks earlier in a 66-34 loss to Santa Fe Christian — bounce back and help move La Jolla to a pre-league record on the season of 2-3. Coronado dropped to 2-4.
Hayden said of his game-changing interception and return to the Coronado 19-yard line with 5:49 remaining in the game: "We were in cover three (each player covers a third of a deep zone). The defensive line's rush was textbook- perfect, pressuring the quarterback. So I was able to pick off the pass."
Head coach Jason Carter and his staff used the Vikings' off week to simplify the defense. As senior defensive end Ian Beed explained, "We are making sure everything we do is understood by each individual player." Seemingly effective against Coronado, this simplicity of pass coverage was accompanied by an emphasis on making sure to wrap up on tackles during the extra week of practice.
During the game, the Vikings got on the scoreboard early, with running back Reid Martin carrying four times, and Martin and wide receiver Nic Skala each taking down quarterback Collin Rugg's passes in the opening drive of the game. Rugg's 26-yard pass play in combination with Skala's effort put La Jolla up 7-0 at 9:22 of the first quarter. La Jolla then followed up on its next possession with a great one-handed snag by receiver Carlton O'Neal, good for 20 yards, and Martin powering through Coronado's line with two 20-yard runs before Brandon Bonham leaped for a pass lofted by Rugg into the back right corner of the end zone for a touchdown. Sophomore Trenton Fudge's kick made it 14-0.
Rugg completed 18 of 29 passes for 186 yards. Martin rushed 18 times for 104 yards, and caught five passes for 55 yards. O'Neal snagged five catches for 57 yards. Running back Eric Tims scored on touchdown runs of two and five yards.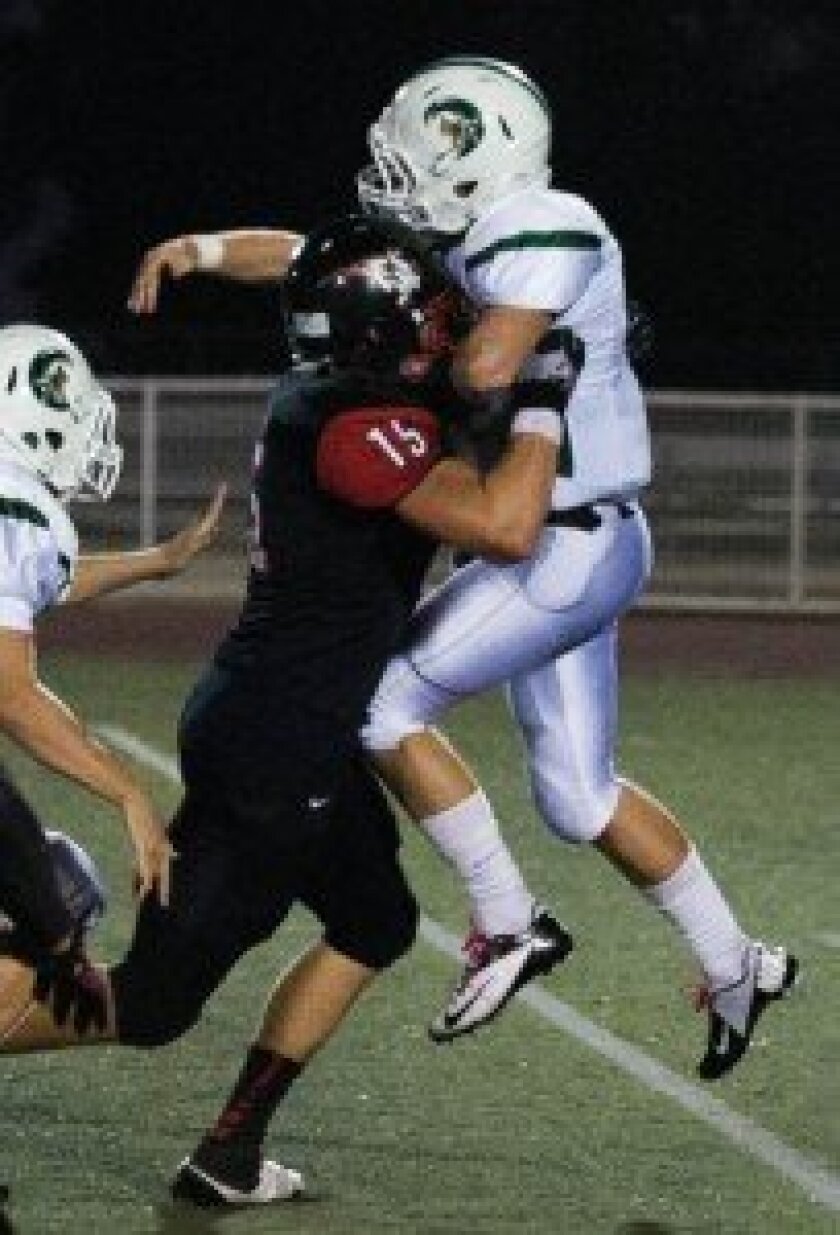 In the defensive corps, Guard Justin Cook and linebacker Anthony Stanley each racked up eight tackles. Cook had four TFL (tackles for a loss of yards). Outside linebacker Schuman and free safety Demarco Bland each had five and a half tackles. Beed had three solo tackles. Beed, Smith and Schuman each had a sack.
Carter, looking pretty pleased with the second victory of his first season as head coach, said, "I thought we were in total control. The defense bounced back and played well. We spread it out on offense, and it was effective."
On Oct. 11, La Jolla plays its last non-league game at University City at 6:30 p.m. before four consecutive league contests to finish the regular season.
Vikings among league stat leaders
La Jolla quarterback Collin Rugg continues to lead Western League players in passing, while receivers Brandon Bonham and Nic Skala rank second and fourth respectively, in receiving yards.
Six weeks into the season, Rugg leads passers with 98 completions in 163 attempts, a .601 percentage, for 1090 yards, an average of 218 yards per game and 10 touchdowns. All of these place the 6-foot-3 junior far ahead of anyone else in the Western League.
Bonham has 19 receptions for 364 yards. Skala has caught 32 passes for 310 yards. Carlton O'Neal ranks seventh, with 20 receptions and 210 yards, while Reid Martin has 11 catches for 126, placing him 10th among Western Leaguers.
Said Vikings Coach Jason Carter of his quarterback: "I give Collin a lot of freedom. He gets to call a lot of the plays. Most people don't know that." Regarding Bonham, he commented: "He's got a lot of physical skills. He has great ball awareness."
---