La Jolla Coast Walkers are making their way up to Oregon and welcome new walkers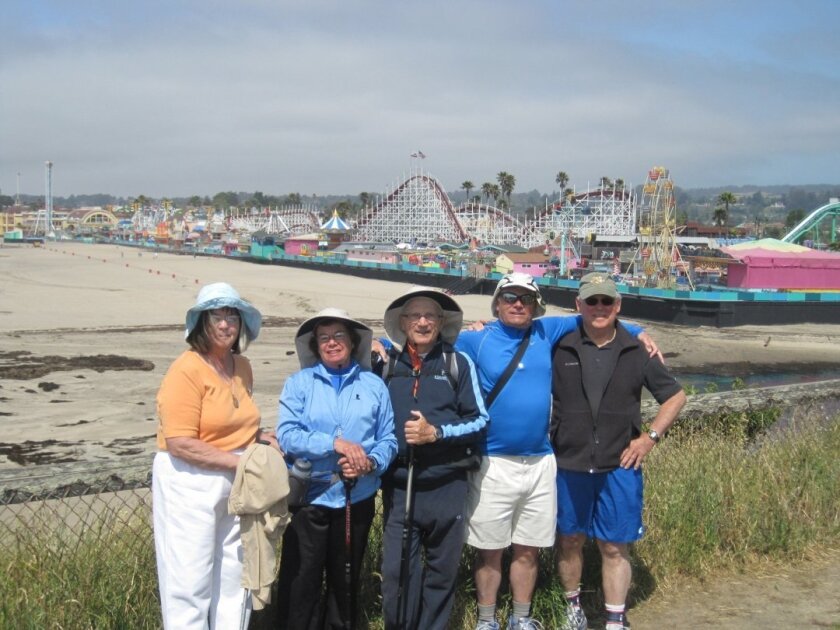 By Kirby Brooks
A group of La Jollans who call themselves "The Coast Walkers," rack up 50 miles per year on their goal to perambulate from Southern California to Oregon — not bad for trekkers age 65 and older. Group leaders Ron Williamson and Nick Haritatos have been strolling around San Diego every Sunday for the past 15 or 16 years, and dreamt up the idea of walking beyond town — with their wives in tow — 10 years ago.
"We have had our feet in every hill, mountain and beach in San Diego," Haritatos said. "So we decided to see more and walk from south of Imperial Beach, near the Mexico border, all the way up to the California/Oregon border."
Williamson chimed in, "Our walks have shown us why people say California is different. There's no other place where you can walk all day and never run out of beach."
Both ex-pilots, Haritatos and Williamson said they relish in planning their biannual trips with the Coast Walkers, using GPS, satellite images, and a California Coastal Trail book to map out their journeys.
But even though they carefully set their daily mileage goals, make no mistake, the Coast Walkers are all about fun! They stay in hotels and eat at restaurants during their weeklong excursions, "we want to keep our wives happy, after all," Haritatos joked.
Their days on the road begin at 7:30 a.m., when they meet for breakfast at their hotel (they try to stay two nights per stop if possible) and discuss any issues they might encounter that day. They begin walking at a "nice pace" at 8 a.m. and stop throughout the day to eat and gaze at their surroundings.
Walkers are free to stop at any time. They have a driver following with a First Aid kit and other necessities. Those who don't want to stop walking wrap up their day at 6 p.m. when the group reunites for dinner.
The Coast Walkers pick hotels located along the coast and try to walk against traffic to reduce the risk of injury. They plan their route so by lunchtime they are near a state park or town where they can rest and refuel.
On Oct. 31, the Coast Walkers (eight total so far) will embark on a trek from Greyhound Rock Beach (Santa Cruz) to Golden Gate Bridge. They also have their spring trip on the horizon, with 14 people confirmed to participate. In mid-May, the Coast Walkers will make their way from San Francisco Bay to the Russian River, located South of Fort Ross.
"I am 70 years old, so I want to reach the Oregon Border on our walks before I meet my maker," Williamson joked.
Not missing a beat, fellow walker Haritatos quipped, "We're all younger than he is."
Ten years into their odyssey, and having reached the mid-point at Santa Cruz, they now plan two walking vacations each year so they can reach their goal by 2015 or sooner.
To Join Coast Walkers
• The next weeklong trip starts at the end of October. Newcomers are welcome by calling Nick at
(858) 405-7476
or Ron at
(858) 245 9338
, e-mail
rww@williamsonbrownlaw.com
• If you join, van transportation and motel reservations will be made for you on a share-the-cost basis.
---