La Jolla business hosts launch party for Wish Upon A Wedding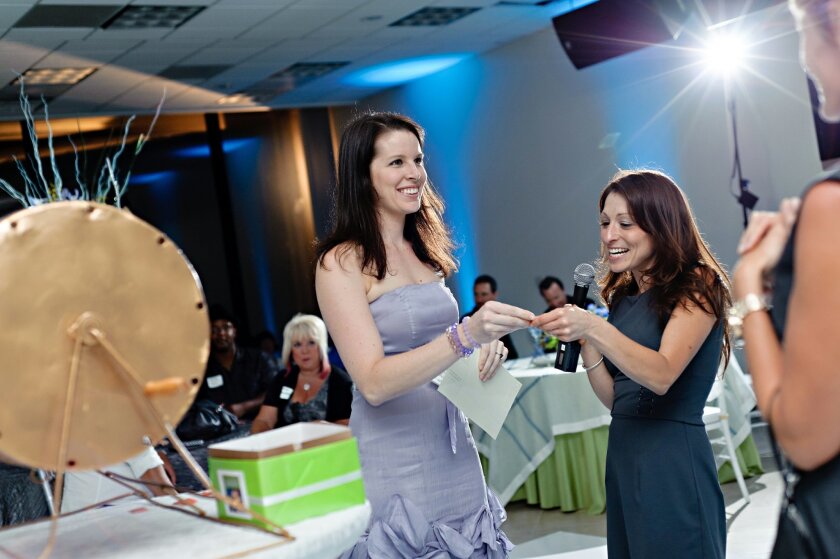 By Liz Schneider
From the elaborate decorations to the acoustic guitar music in the air, the June 28 launch party for the San Diego chapter of Wish Upon A Wedding at the Ocean Travel and Business Center in La Jolla, had all the makings of a fairy-tale event. For those in attendance, however, the evening was all business.
The organization, which grants weddings to people who are terminally ill or have other life-altering circumstances, was both celebrating the start of its San Diego chapter as well as recruiting "wish granters," the wedding-industry professionals whose donations of goods and services allow the celebrations to take place.
"This is a wonderful foundation, and it's representative of what all of us San Diego vendors want to do, which is give back to people who can't afford the wedding of their dreams," said Jesika Leszewski, of Indulge catering. "It's just awesome that all these vendors are able to give back to people who are less fortunate."
Indulge was one of many companies that donated their services to the party, which ended up being the biggest launch gala in the organization's history, with more than 300 people attending.
"It's really grown like wildfire," said Liz Guthrie, founder of Wish Upon A Wedding. "It's only been 18 months and it's just spread at an incredible rate."
Guthrie, a wedding planner in the Bay Area, said she started Wish Upon A Wedding in January 2010 after running an online contest to give a deserving couple their dream wedding.
"We were looking for somebody who had faced challenges: illness, loss, or hardship," she said. "But when the entries started coming in, I was bummed out that we could only give it to one couple. There were just all these people who I wanted to help."
The generosity Guthrie experienced from the wedding industry – she gathered more than 40 vendors who were willing to contribute to the contest – inspired her, and Wish Upon A Wedding began to come together. As word spread about the unique organization, wedding professionals from across the country and around the world expressed interest in starting chapters.
"We have inquiries coming in from Malaysia to the UK," she said. "We're expanding into Canada next year, and we're trying to go international in the next five years."
But while the organization has plans to spread across the globe, it's also excited about the future of the 21 chapters already in existence. Amy Harrick, president of the San Diego chapter and the publisher/editor-in-chief of
Ceremony
magazine, says she is eager to bring this one-of-a-kind organization to San Diego.
"I went to the Orange County/Los Angeles Wish Upon A Wedding gala, and I decided this was the charity that I wanted to help out," she said. "Through knowing a lot of the wedding vendors in San Diego, I thought I would be able to get a lot of people to donate."
And with scores of vendors already committed to participating, it looks like San Diegans' wishes will be coming true in no time.
"We're industry people – we can whip up a wedding next week," Leszewski said with a laugh. "So I'd say things will probably start happening quite quickly."
Want to know more?
• Website:
wishuponawedding.org
• Phone:
(877) 305-9474
---