Checkmate! La Jolla boys are chess champs after only months of play
La Jolla Elementary School students Jack and James Kinsey took first and third place respectively in the beginner division of the March 1 Mountain Lakes Chess Academy Chess tournament in Clairemont Mesa. More than 100 children participated, but the Kinsey boys endured, winning match after match in the five-and-a-half-hour event.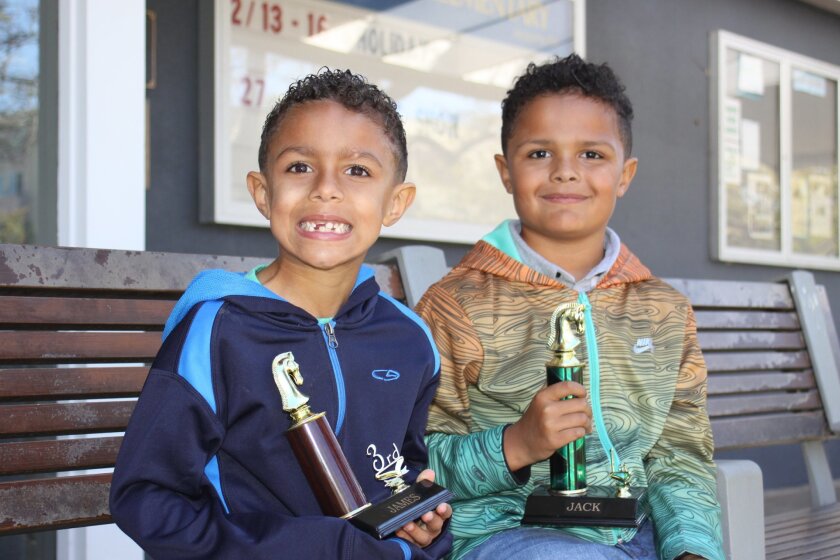 Dads Kurt Kinsey and Jason Iuli-Kinsey of La Jolla both said they are proud of their sons' accomplishments, considering they just started playing chess in August 2014.
Eight-year-old Jack said, "At first I thought chess was hard, and I wanted to master a hard game," so he joined the school chess club (though having friends in the club didn't hurt either). Six-year-old James soon followed.
Before long, they were developing strategies and methods. Iuli-Kinsey explained, "James' strategy is to use his queen to get the king and everyone in the way of the king. Jack's strategy is pick apart the opposition's defense, so you'll see him go after the smaller pieces first. His games take a lot longer because he doesn't go for the kings right away; he goes for rooks and the pawns. Once he's taken all of them, he goes in for the kill."
Mid-interview, the boys begin debating their strategies and which one is better.
As to who would win between the two of them, Jack quickly and confidently exclaims "me!"
"No, me!" counters James.
The Kinsey boys' have already surpassed their parents and typically win when they play. Kinsey said, "They're bored playing against us," and added that both boys defeat adult opponents about half the time.
Their enthusiasm and love for the game served them well during the Mountain Lake Chess Academy tournament. Chess instructor Larry Evans, who hosts chess clubs and enrichment programs at schools across the county, said, "To get first and third place in their division is fantastic. Chess is an excellent intellectual pursuit. Kids get smarter when they play chess, they learn deductive reasoning and critical thinking and it makes them better academically."
The La Jolla Elementary School chess club meets Wednesdays.
---