La Jolla BID group (Village Merchants Association) votes to take over July 4 fireworks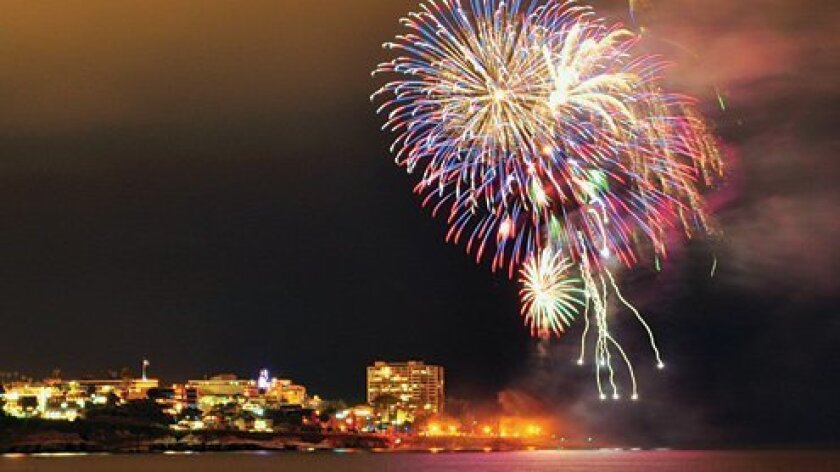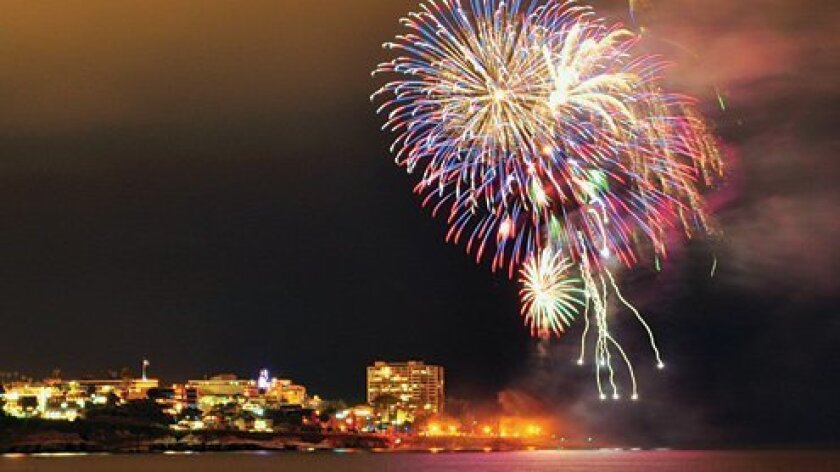 By Pat Sherman
During the July 9 La Jolla Village Merchants Association (LJVMA) meeting, trustees voted to explore taking over production of La Jolla's annual Fourth of July fireworks display from the La Jolla Community Fireworks Foundation (LJCFF), the grassroots effort launched in 2009 by businessman Adam Harris and Deborah Marengo, wife of LJVMA board president Claude-Anthony Marengo.
Since inheriting the fireworks from restaurateur George Hauer — who produced and funded the event during its first 23 years —Deborah Marengo's group has been subject to legal challenges from Coast Law Group, which claims debris and noise from San Diego's fireworks shows have a detrimental effect on the environment that must be carefully mitigated (read more about the lawsuits at lajollalight.com).
Deborah Marengo has also had difficulty raising enough money from the community to stage the fireworks, she said, and has for the past three years announced her intent to cancel the show weeks before the event — eventually pulling it together at the 11th-hour.
Board president Claude-Anthony Marengo said he asked his wife if she would be "willing to let our organization take the lead (on the fireworks) and put her as a chair of some sort.
"We would have to (create) a separate foundation so that we wouldn't be mixing funds (with the LJVMA)," Claude-Anthony said, touting the opportunity for the merchants to grow the event and include such things as a grilling competition in Ellen Browning Scripps Park, where each year people arrive early the morning of July 4 to claim prime viewing spots. He said vendors sell light sticks and other merchandise in Scripps Park, which are sales and promotional opportunities that the LJVMA should be capitalizing on.
"I call them poachers," Claude-Anthony added of what he said are likely non-licensed vendors. "Those things should be coming from us, they should be controlled by us."
Addressing trustees July 9 Deborah Marengo said the LJVMA could apply for grant money from the San Diego Tourism Authority to help fund the event. "The Fourth of July weekend is only a success because of the fireworks, and it benefits your merchants," she said. "If you'd like to consider taking it over I will work with you."
LJVMA board secretary Krista Baroudi (of La Jolla Cove Suites) said her hotel occupancy was "way down" due to this year's cancellation scare and would have been "seriously impacted" had the show not occurred.
"The entire Village would have been impacted without this show," Baroudi said. "If you take that show out of La Jolla, the Village has nothing to offer on the Fourth of July weekend. The hotels run three-day minimums, which are basically bringing the tourists in for a block of time to enjoy the Village."
Although several hotels contribute to the fireworks, Claude-Anthony said he feels Village business owners should take a greater stake in the event. To date, the majority of sponsorship for the typically $30,000-plus show has been from residents, he said.
"We can make it something that's inclusive of the businesses and make it a full-day event … a bigger weekend extravaganza," he said, noting that businesses who donate could be given a sign to place in their windows labeling them as a "proud sponsor."
"It becomes frustrating to hear that merchants are not attaching themselves to this fireworks show. They're just going, 'Oh, it's going to happen,' " Claude-Anthony said.
Board vice-president and attorney Mark Krasner said he thinks the fireworks are "integral" to the community, but has concerns about the recurring legal challenges, which, despite a $250,000 settlement the city paid Coast Law Group this year, could be ongoing, Deborah Marengo said. "There is always that threat," she added.
Krasner said if the LJVMA takes on the fireworks "the board needs to understand that that exposure can then be directed at us — unless there's a lawyer or law firm that wants to defend the La Jolla Village Merchants Association pro bono," he said. "We have to realize the cost of that (litigation) is not in our budget."
Deborah Marengo noted that the law firm Latham & Watkins has, for the past several years, represented LJCFF against the legal challenges at no cost, although it is unclear whether it would continue to do so under the LJVMA's auspices.
Trustee Trenton Bonner said that because board members have jobs and other responsibilities, organization of the fireworks should "almost be a hired position."
Trustee Nancy Warwick expressed concern that a lack of donations to produce the event could leave the LJVMA footing the bill for the difference.
Baroudi suggested the LJVMA start soliciting funds now for next year's event. "We should have contracts by the end of the year, guaranteeing us our underwriting dollars. We should not be collecting money two or three weeks before the display," she said.
Claude-Anthony agreed there should be a cutoff of January established to raise funds for the following year's show, with communication to the community that it must have the money by then, or cancel the show.
"We don't have liability in terms of finances," he said. "It either raises capital or it doesn't."
Krasner said he fears the LJVMA also assumes a public relations risk if it cannot raise funds for the show. "If the merchants do not commit to whatever extent they can to provide funding … or solicit sufficient funding far enough in advance, then the lack of fireworks will fall on the merchants," he said. "We will receive the blame and our businesses will suffer."
Krasner nevertheless followed his caveat with a motion that the LJVMA "investigate taking over the annual Fourth of July Fireworks display," which was seconded by trustee Kevin Smith and passed unanimously (with Claude-Anthony abstaining from the vote).
The LJCFF's status as a nonprofit 501(c)(3) Corporation, filed by Adam Harris in 2009, was suspended in August 2012 for the organization's failure to file tax returns, according to the California Secretary of State and IRS (Harris is no longer associated with LJCFF). The fireworks foundation has periodically used the nonprofit status of the La Jolla Town Foundation (under the auspices of the La Jolla Community Center) to pay fireworks vendors minor amounts, for those who wanted a tax write-off for their donations.
Coast Law Group and its Coastal Environmental Rights Foundation sent La Jolla Community Fireworks Foundation a notice on July 7 that it violated the terms of its settlement agreement, which LJCFF disputes (read more about the issue in the July 24 issue of
La Jolla Light
).
In other LJVMA news
Collecting merchant dues
: The LJVMA is moving forward with its effort to inform the city of business owners that have not filed for a business tax certificate (business license), through which a fee is assessed that funds the LJVMA — the business improvement district group contracted by the city to undertake efforts that promote business in the Village. The group considers that lost revenue crucial to its efforts to boost business for its merchants.
The group has thus far sent the city a list of roughly 600 businesses operating in the Village of La Jolla that have not obtained a business tax certificate. LJVMA continues to collect the information, although its executive director, Sheila Forutne, noted that some businesses may have filed for a license under a different name, adding a wrinkle in their efforts to assess who is compliant.
Claude-Antony said the City Treasurer's department is already moving forward with information it has received from the LJVMA.
"The city's doing their share, which we're very happy about," he said, adding that most of the non-compliant businesses they've been in contact with said they didn't understand that they had to file or were misinformed of their obligation by city staff.
"We don't want to make a 'bad guy list,' because I don't think they're bad guys," Claude-Anthony said. "We want to make sure this is positive reinforcement. Otherwise, we just look like we're here with a hammer, and we're really here to represent."
Fortune urged trustees and those in attendance to let their associates know they are required to have a business tax certificate posted at their place of business, noting that one business was just assessed with fines for not filing in previous years.
Although the amount "wasn't outrageous," Fortune said "it could be outrageous for some small businesses … so make sure that you spread the word and help us help them."
Board candidates sought
: Fortune said she is in the process of sending self-nomination forms for as many as 10 trustee spots that will be up for grabs at the LJVMA's annual election, held in-person during the group's October meeting. The two-year positions are open to all of the LJVMA's merchant members — or those who have a current business tax certificate (business license) on file with the city.
Current trustees will also help solicit candidates. Claude-Anthony said he already had a list of about 40 potential candidates he would be speaking with. "It doesn't mean they're going to accept," he said, noting the challenge of recruiting board members in the past.
La Jolla-opoly on hold
: Due to a lack of initial funding and merchant interest, the LJVMA's La Jolla-based board game fundraising project was put on hold. Fortune said she would continue efforts to bring the game to fruition this week. Any La Jolla merchant wishing to have their business listed on the board game should contact her at sfortune@lajollabythesea.com or (858) 454-5718.
New employee
: Heather Vrana, a former fire department volunteer from Ellicott City, Maryland, has been hired to replace Kaylie Boden as a full-time LJVMA staff member. Vrana will also manage part-time employees and volunteers at the LJVMA's Information Center on Prospect Street.
Visit LJVMA online at
lajollabythesea.com
---