Something for Everyone! La Jolla Art & Wine Festival expands, debuts Brew Fest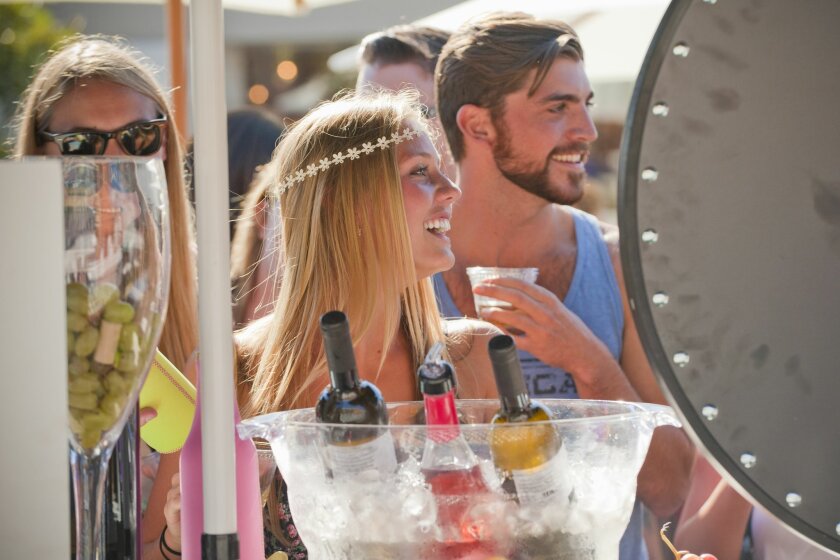 This year's 6th annual La Jolla Art & Wine Festival (LJAWF) will be bigger, better and beer-ier.
In addition to growing by an extra block along Girard Avenue, the Oct. 11-12 festival will have its first night event with the inaugural BraveCort Brew Fest and Masskrugstemmen (beer stein holding contest).
"It should be a fun evening that celebrates San Diego's craft beer scene and introduces a whole new audience to the Art & Wine Festival and shows what La Jolla has to offer," said Brew Fest chair Andrea Dahlberg, noting that LJAWF organizers have long discussed a nighttime event, since their permit covers the whole weekend. Although LJAWF is free and open to the public, the Brew Fest is for those 21 and older and costs $35. With admission comes unlimited tastings. At least a dozen brewers are lined up — including URBN St. Brewing Co., Coronado Brewing Co., Helms Brewing, Green Flash, La Jolla Brewing Co., Golden Coast Mead and New English Brewing Co. — and each will bring two types of beer to sample. Many breweries will also serve during LJAWF.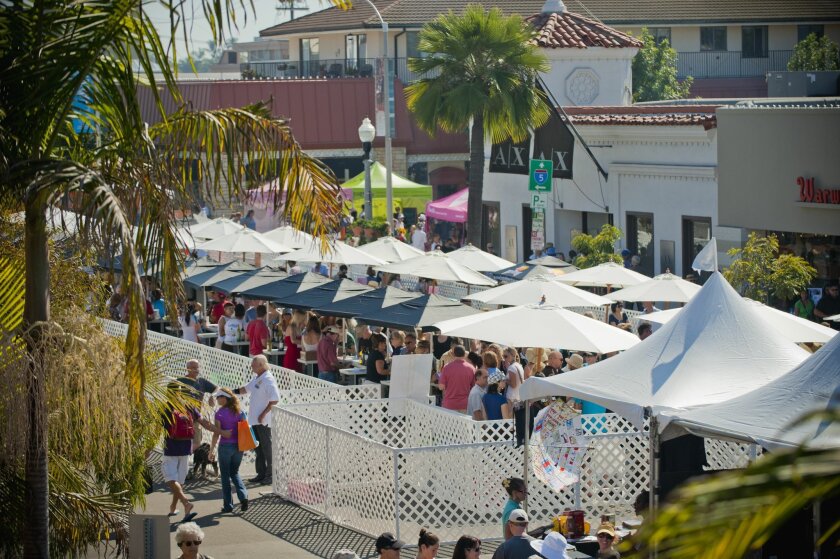 "One of the breweries, URBN St. Brewing Co., brewed a BraveCort dry Irish stout just for the event," Dahlberg said. "They are going to tap that beer for the first time at the Brew Fest."
While proceeds from LJAWF still benefit La Jolla Elementary, Bird Rock Elementary, Torrey Pines Elementary and Muirlands Middle schools, proceeds from the Brew Fest event are earmarked for pediatric brain cancer research. The event, produced by the BraveCort Foundation under the auspices the of LJAWF, is held in honor of Dahlberg's son Cort, who lost his battle with a rare form of brain cancer two years ago when he was 8 years old.
The Brew Fest runs 8-11 p.m. Saturday, Oct. 11 on the LJAWF grounds along Girard Avenue. During the Fest, the beer stein holding contest will pit individuals against each other to see who can hold a one-liter stein of beer in one hand the longest. Those interested can sign up to participate at BraveCort.com
The Main Event
The two-day LJAWF (expanded by an extra block this year), runs along Girard Avenue between Prospect Street and Torrey Pines Road. "Last year, we stopped at Kline Street, but because of interest by the artists and merchants on that remaining block, we decided to expand the festival and bring the crowds down there, too," Dahlberg said.
The children's art section and roaming entertainment has been stepped up, too, said festival founder Sherry Ahern. "There will be Cirque (du Soleil) type performances throughout the day, along with Stomp-style percussion dancing, the La Jolla High School Marching Band, dancers from the Ooh La La Dance Academy and singers from all over," she said, hinting that some flash mobs might pop up.
The Geppetto's Family Art Center, located on Wall Street, will have art stations for the little ones in different media — photography with Outside the Lens, cooking with Sur la Table, fragrance-making with Tijon parfumerie, face painting, photo booths and, of course, painting a car donated by Witt Lincoln.
For the adults, vino will be available from more than 40 wineries from San Diego and the Valle de Guadalupe region of Baja.
"Because of the size of it, we have some- thing for everyone of every age," Ahern said. "It could take you all day to see everything."
A jury of artists, authors, critics and collectors handpicked the participating artists, who will show paintings, sculptures, ceramics, jewelry, fine glass, woodwork, mixed media and photography.
Ahern added there would also be a silent auction, to which almost every artist contributes. Last year, the auction raised a record $26,000.
Proceeds from the festival will be used to underwrite school programs such as art, music, science, physical education and technology. Since its inception in 2009, the festival has raised $338,000.
6th annual La Jolla Art & Wine Festival
■ When:
• 10 a.m. to 7 p.m. Saturday, Oct. 11
• Brew Fest 8-11 p.m., Saturday
• 10 a.m. to 6 p.m. Sunday, Oct. 12.
■ Where: Girard Avenue between Prospect Street and Torrey Pines Road
■ Benefits: La Jolla Elementary, Bird Rock Elementary, Torrey Pines Elementary and Muirlands Middle. Brew Fest benefits local pediatric brain cancer research.
■ Admission: Free
■ Perks: Valet parking at La Jolla High School, with all-day shuttle service to the festival.
■ Website: ljawf.org
---