Keeping it Simple: La Jolla native has Sumi-e, Japanese-art exhibit in Balboa Park
By Ashley Mackin
Sumi-e art is all about simplicity, said La Jolla native and artist Lauris Phillips. The strokes are minimal to show the "essence" of a subject.
Even the word is simple, when broken down. Sumi means "ink" in Japanese, she said, and adding the –e changes the meaning to "ink painting."
The process to make the ink is basic. "It's made from soot, which is one step away, evolutionarily, from picking up charcoal out of a fire and writing on a cave wall," she said. The soot, made from burnt wood, is mixed with animal fats to make a paste that can be dried for easy storage, and rehydrated to become black paint.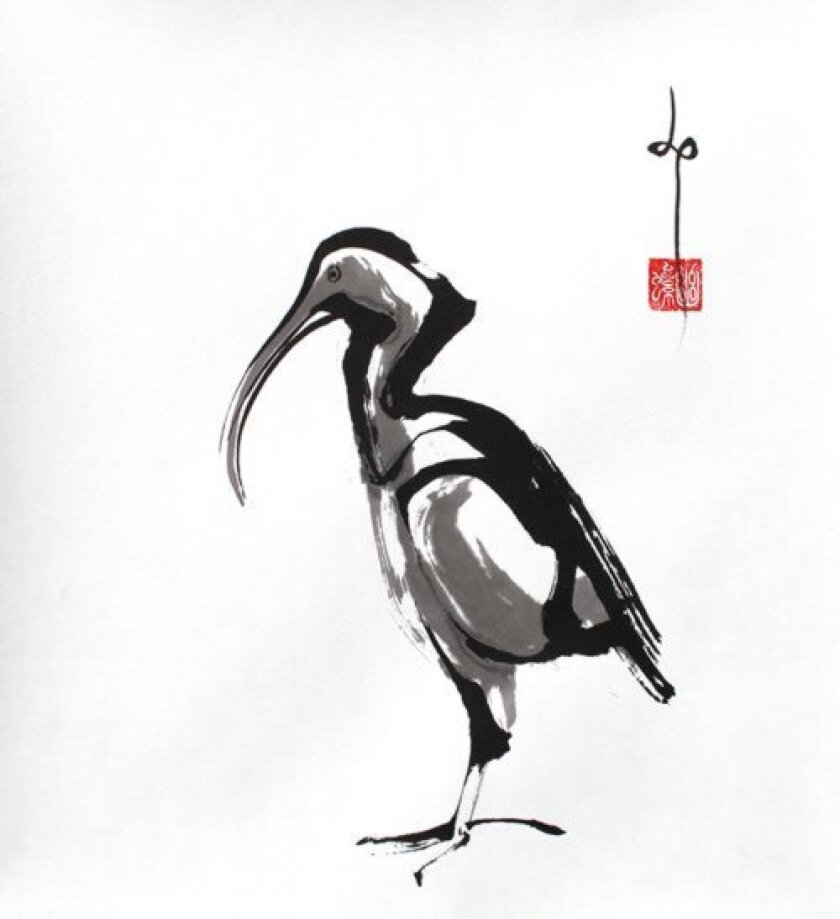 It was the purity of the paint that made the medium appealing for Phillips. "One question I asked myself is how I could make art that is beautiful, challenging and non-toxic to me and to the world?" she posed. "I did a lot of oil painting and printmaking, but the solvents and carriers in the paints would give me a respiratory reaction."
A practicing Buddhist, she met a Sumi-e painter at her temple in her now home of Humboldt County, who mentored her and taught her the meaning behind the practice.
Sumi-e primarily uses black and gray tones (depending on how diluted the paint is), but Phillips sometimes mixes watercolors into her pieces, which are on display at the Japanese Friendship Garden in Balboa Park through Aug. 3, and are inspired by animals she saw during trips to Mexico.
Marisa Takeuchi, exhibit coordinator for the Friendship Garden, said staff wanted to showcase Phillips' work for its "unique motif." "What's really interesting about her work is that she depicts animals and creatures from the Baja region," Takeuchi said. "Typical Sumi-e motifs are of koi fish or bonsai or elements of Japanese gardens or landscapes. So the fact she chose a different landscape was interesting to see. She's taking this traditional art form and making it her own."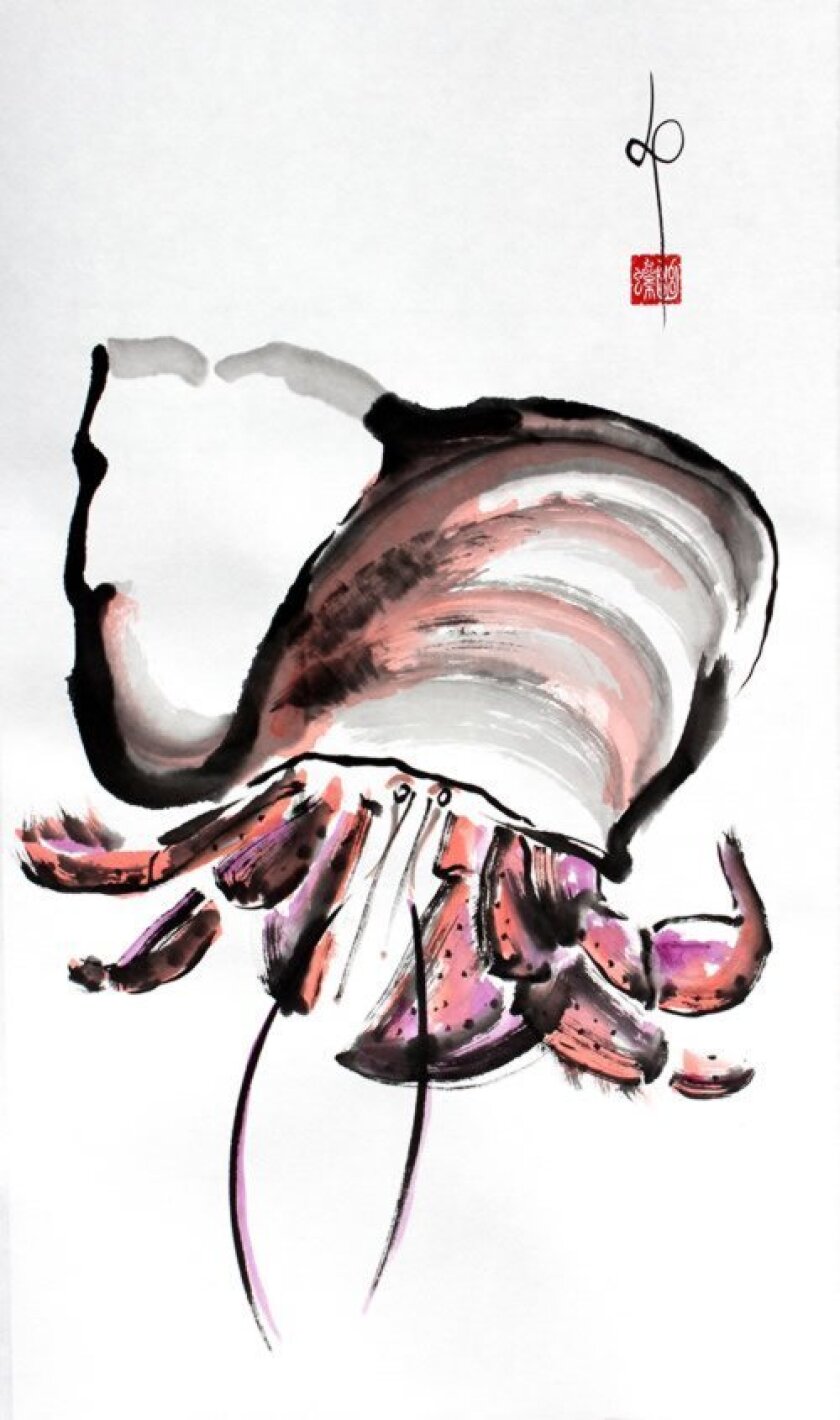 Phillips spent 10 childhood summers in Baja with her family while her father, Richard Phillips (deceased), was geologically mapping the region for his Ph.D. project for Scripps Institute of Oceanography. She resumed summer trips as an adult with her boyfriend (now husband) Jay Pelz.
One summer, she decided she was going to paint an image of a snail. She explained there is a snail native to southern Baja called Plicopurpura Pansa, whose secretions have been used as a dye for years.
"If you take the snails off the rocks where they reside and aggravate them by poking or blowing on them a little bit, and then putting them right back, of course, they secrete this white fluid that is a neurotoxin they use for hunting. It turns out this fluid is a photosensitive dye that starts white, but turns this brilliant purple in the sunlight," she said.
So each morning, she would collect a few drops of the secretion and use it to paint a portrait of the snail. "I call it a self-portrait," she joked. With limited paint supply, each stroke mattered that much more. The two paintings she is happiest with are in the Friendship Garden exhibit.
When painting with the more plentiful Sumi, she might attempt an image 40 times before she gets it right. "Thirty-nine out of 40 will end up as kindling in my stove," she said, "But then, all of a sudden, there is a magic that happens. You'll look at one and think 'that one looks alive.' "
Another Sumi-e tradition is to draw the eyes of a creature into the painting last because "the eyes give it life," she said.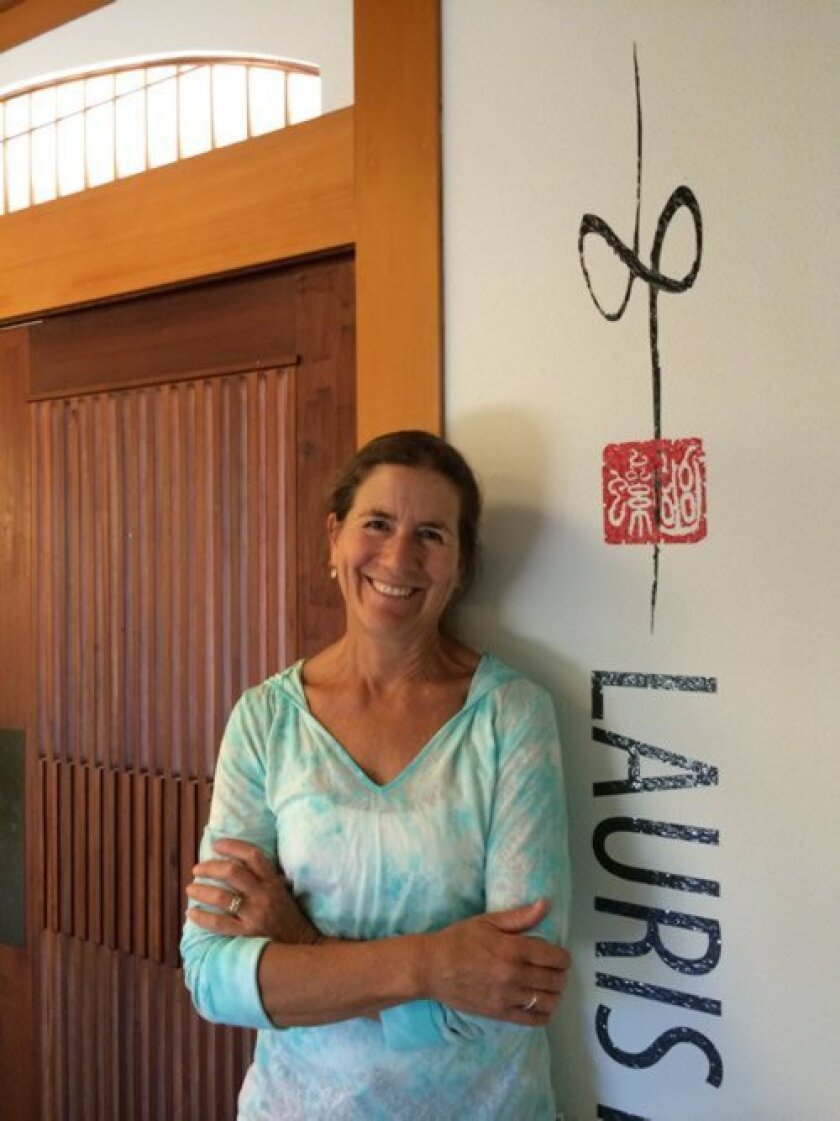 For this exhibit, she did a four-part sequence of a bird in motion, having the eyes of one of the birds face forward, appearing to be looking at the viewer.
Her interest was piqued with the bird sequence, and she might pursue more of those in the future, but, in general, "I follow my nose when it comes to what's next."
If you go:
The exhibition is on display at the Japanese Friendship Garden, 2215 Pan American Plaza, Balboa Park, through Aug. 3. Hours are 10 a.m. to 3:30 p.m. Monday-Sunday. Last admission at 3:30 p.m., the garden closes at 4:30 p.m. Admission: $6. (619) 232-2721.
LaurisPhillipsArt.com
or
niwa.org
---