Josefas Cocina Mexicana opens in La Jolla
• ON THE MENU:
Juan Carlos Gomez's family of restaurants has a new addition. Josefas Cocina Mexicana (which joins eateries El Agave (two locations), Iberico Spanish Bistro and Mola Gastro Bar) opened Sept. 16 at 909 Prospect St.
"We are excited to be in La Jolla and bring our culinary innovation to this beautiful city," said Executive Chef Omar Ramirez in a news release. "This new concept is a treat for both us, and those who visit our eclectic kitchen. La Jolla locals and visitors alike will be able to enjoy layers of flavorful, traditional Mexican dishes in a young, bright and casual atmosphere."
The indoor setting is vibrant and whimsical, while on the outdoor patio, guests are treated to views of Prospect Street and a glimpse of the nearby ocean.
As they pore over the menu, they will discover an abundance of selections, and according to General Manager Luis Cardenas, the fare touches upon all regions of Mexico. Concurrently, guests can nibble on chips and dip — whether it's green tomatillo and red tomato sauces — or guacamole (extra charge).
Many patrons will kick off their visit with one of the handcrafted margaritas. The top of the line is the Cadillac Margarita, a powerful and smooth blend of El Agave Artesanal Reposado, lime and orange juice with a float of Grand Marnier.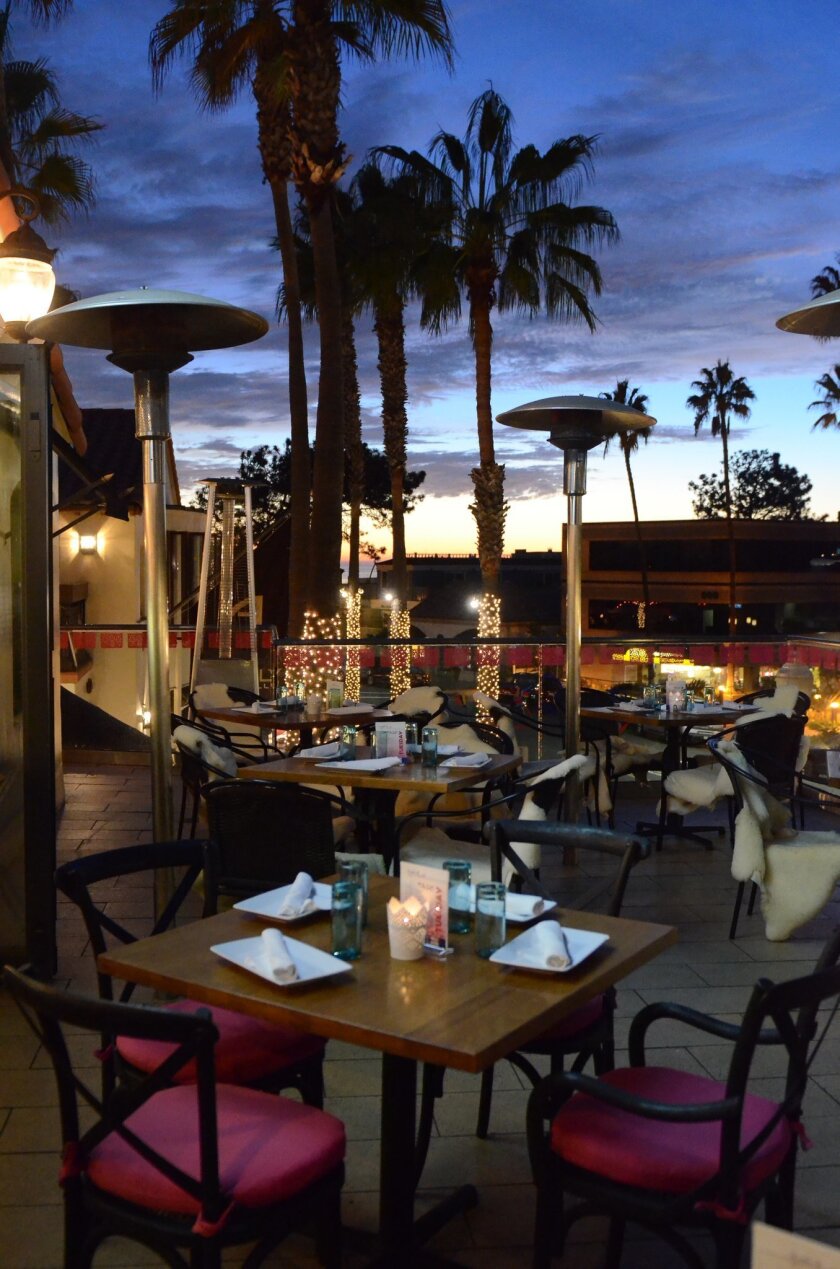 There's also the spicy Apocalypto Margarita, with serrano-infused tequila and tamarind nectar for a hint of sweetness.
Josefas offers antojitos (street food) such as sopes, which are essentially Mexican pizzas with toppings like sautéed shrimp with chorizo, and achiote citrus stewed shredded pork; and quesadillas, loaded with cheeses, meats and vegetables. Another choice is the tostadas – mini corn tortillas piled with shredded chicken in a smoky tomato sauce, beans, lettuce, sour cream and pickled onions. Special prices can be found on Taco Tuesdays, when street tacos stuffed with ingredients such as Baja-style shrimp and grilled chicken are priced $1.49 and $2.49.
For patrons in the mood for several courses, they can start with one of several types of ceviches, or perhaps the zesty Pulpo Loreto Style, a bowl filled with octopus pieces sautéed in chile-infused oil, with pico de gallo and avocado dressing.
When it comes to the main course, there's everything from salads, tacos and tortas, to burritos, enchiladas and fajitas, ranging from vegetarian varieties to entrees beefed up with steak, chicken and seafood. One that combines the best of everything is the Molcajete Cielo, Mar y Tierra, a sizzling centerpiece of food with cactus paddles, shrimp, rib eye and ranch-style chorizo draped over the sides of a hot stone mortar. The bowl is filled with a choice of spicy red tomato salsa or green tomatillo, and the strips can be piled onto corn tortillas that are served on the side.
To bring the dining experience to a close, there are sweets such as Homemade Ice-Cream and Flan de Queso, a cheese custard topped with caramel sauce and manchego cheese, and accented with berries, apple slices and candied walnuts. Guests may find further contentment by ordering espresso to accompany their dessert.
— Josefas Cocina Mexicana
Open Since: 2014
The Vibe: Casual, Contemporary
Address: 909 Prospect St., Suite 209, La Jolla
Web: JosefasRestaurant.com
Phone: (858) 454-1961
Signature Dishes: Pulpo Loreto Style, Pescado al Pastor
Hours: 11:30 a.m. to 10 p.m. Monday-Thursday, 11:30 a.m. to 11 p.m. Friday, Saturday
Reservations: Yes
Patio Seating: Yes
Takeout: Yes
Happy Hour: 3-6 p.m. daily
— RECIPE of the WEEK: Josefas Cocina Mexicana's Guacamole
• 1/4 onion, diced
• 1/4 tomato, diced
• 4 avocados
• 2 Tablespoons salt
• 2 Tablespoons black pepper
• 1 lime, juice
• 1/2 bunch of cilantro, chopped
• 1 roasted serrano, sliced
Mix all the ingredients in a bowl and muddle.
---