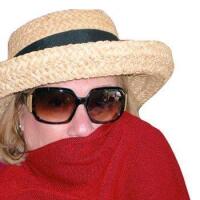 Inga
Latest from this Author
Is it just me or is upselling reaching new heights?

In previous years, it was always our hope to have the company of our four preschool grandchildren over the holidays.

It was not auspicious that 11 hours into the new year in 2022, our dog blew out her right knee.

Thank you, Southwest Airlines. You have convinced me to never travel by air again.

In my perfect world, there would be no bill that could not be paid by check.

Inga figured we were due for a warm and fuzzy Christmas story, so she's republishing this column from early 2019.

I had a milestone birthday last week and I'm trying not to feel downright old.

Though Olof and I have been married for 27 years, I still find myself locked in the mindset of the 12 years between my two marriages when I lived a truly penurious existence.

It was the Monday of Thanksgiving week 2015, three days before the kids and grandtots would be arriving, when my kitchen suddenly smelled like a marlin had died on the countertop.

One of my greatest joys in retirement is to read at least three books a week, as opposed to the two pages a year I read during my 12 years of divorced working momhood.

You never really know how annoying people can be until you actually live with them.

Despite five decades of clean driving records, Olof and I were required to take a written test to renew our driver's licenses, since we're over 70.