Masters of Musicals: Alan Menken, Stephen Schwartz lead creative team bringing U.S. premiere for 'Hunchback of Notre Dame' to La Jolla Playhouse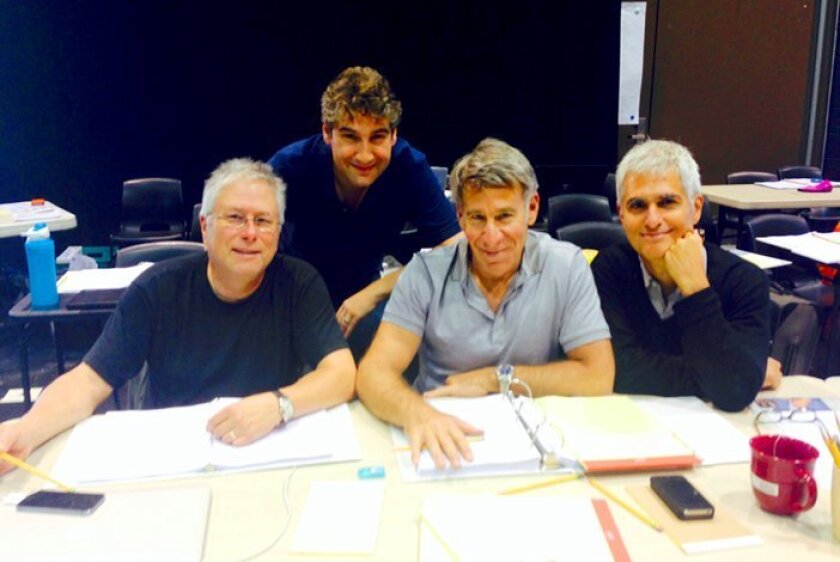 The famed bells of Notre Dame Cathedral will soon ring in La Jolla in the form of the U.S. premiere of "The Hunchback of Notre Dame" musical. Giving birth to the likely "Disney-animation classic turned into a future Broadway smash" is the multiple Oscar, Grammy and Tony Award-winning team of composer Alan Menken and lyricist Stephen Schwartz, featuring a book by Peter Parnell and directed by Scott Schwartz.
Produced by special arrangement with Disney Theatrical Productions, the musical will run in La Jolla Playhouse's Mandell Weiss Theatre in La Jolla, Calif., Oct. 26-Dec. 14, 2014.
• All-Star Creative Team
Based on Victor Hugo's classic 1831 novel and featuring an Oscar-nominated score from the 1996 Disney animated film, "The Hunchback of Notre Dame" is the only stage collaboration from two masters of American musical theater — composer Alan Menken and lyricist Stephen Schwartz — although both previously teamed up for three Disney films: "Pocahantas," "Enchanted" and "The Hunchback of Notre Dame."
Menken, 65, has won 11 Grammys, eight Oscars, seven Golden Globes; received five Tony nominations (finally winning for "Newsies") and is best known for composing the stage-and-screen scores for "Beauty and the Beast," "Aladdin," "The Little Mermaid," and "Little Shop of Horrors." Menken said the La Jolla Playhouse production of "Hunchback" contains several new songs and will be darker and more character-focused than the animated film.
Stephen Schwartz, 66, has received four Grammys, three Oscars, a Golden Globe; received six Tony nominations and possesses Broadway fame as composer and lyricist for "Wicked," "Pippin" and "Godspell." He said a U.S. stage adaption of "Hunchback" was inevitable after the 1996 Disney film was first created into a German-language musical in 1999 as "Der Glöckner von Notre Dame" (translated in English as "The Bell-ringer of Notre Dame") utilizing the Menken/Schwartz score.
"With great anticipation, I look forward to collaborating with the powerhouse creative team of Alan Menken, Stephen Schwartz, Peter Parnell and Scott Schwartz to bring Victor Hugo's classic story to life," La Jolla Playhouse Artistic Director Christopher Ashley said. "I am particularly intrigued by the musical's themes of love and aloneness, obsession and heroism — themes that still resonate with our audiences today."
New York-based actor Erik Liberman — who plays Clopin, the King of the Gypsies, in Hunchback — said it's an honor to perform in a new, American musical by Menken and Schwartz. "I don't know how these men do it, but they craft a perfect marriage of lyric and melody that really penetrates the heart. I don't think anyone will go away from the show feeling anything less than blown away from what they've accomplished. They're two geniuses; two masters of the American musical, both on Broadway and in cinema. It's very rare to be in a room with so many titans," said Liberman, who compares the experience as "I can only imagine when they were making 'West Side Story' and there was Leonard Bernstein and Stephen Sondheim, or a Hal Prince."
Director Scott Schwartz — who is also the son of Stephen Schwartz — but already making a name for himself said the production will be highlighted by the music's orchestral power and choral beauty in a retelling of the famous love story. "The score will be the central focus and the essential means of the storytelling," said Scott Schwartz, who directed La Jolla Playhouse's "Jane Eyre" and Broadway's "Golda's Balcony." "A community of voices comes together to re-enact the story of Quasimodo, and as they sing, they summon the world of medieval Paris and Victor Hugo's rich characters."
• Sounds from San Diego and Broadway
Enhancing the score will be San Diego's young-and-stylish choral group, SACRA / PROFANA. "I am so excited to work with SACRA / PROFANA, noted for their bold approach to new music and choral singing, as a central part of the community that brings our story to the stage," Scott Schwartz said.
Ashley said while the Playhouse has a national reach, "We are deeply committed to and rooted in our own community. There is enormous excitement about partnering with SACRA / PROFANA, not just because they are an acclaimed and extraordinary group in their own right, but also because it allows us to continue building on our meaningful partnerships with local artists and organizations across San Diego."
Five San Diego-based actors will also be part of the ensemble: Lucas Coleman, Mary Joe Duggan and Anise Ritchie, along with UC San Diego MFA students Brian Smolin and William Thomas Hodgson.
The cast will be led by Michael Arden (Broadway's "The Times They Are A-Changin'" and "Big River") as the scorned-and-deformed bell-ringer Quasimodo; Patrick Page (Broadway's "Spider-Man: Turn Off the Dark," "The Lion King" and "How the Grinch Stole Christmas!") as Frollo, the Archdeacon of Notre Dame and Quasimodo's master; Ciara Renée (Broadway's "Pippin" and "Big Fish") as the beautiful-and-suppressed gypsy Esmeralda; Andrew Samonsky (La Jolla Playhouse's "Little Miss Sunshine" and Broadway's "The Mystery of Edwin Drood") as Captain Phoebus; and Erik Liberman (Broadway's "Lovemusik") as Clopin.
Liberman has nothing but praise for his fellow cast. "What's great fun about being in this business is that you get to see and work with fellow actors through the years and watch them grow and change — just as you grow and change," said Liberman. "They're all just terrifically talented, as is the entire ensemble. There's not a weak link in the bunch — that just serves to raise the game for all of us."
Considered a San Diego favorite by audiences with numerous, prior roles at The Old Globe Theatre, Page will portray the antagonist Frollo; adding another villainous role to his impressive Broadway credits, including Dr. Osborn/Green Goblin in "Spider-Man: Turn Off the Dark," Scar in "The Lion King" and the Grinch in "How the Grinch Stole Christmas!"
Loving the Disney animated version of Hunchback when it was first released, Page said: "As an actor, you sort of know what you'd like to play, and I immediately felt that with the role of Frollo. First of all, there are so few roles written for a bass-baritone singer, so I immediately felt that it would be something that I would like to do one day, having no idea if ever a show would be made of it."
Liberman said Disney has an incredible way for bringing universality to stories. "This has so much passion and so much danger, which is intriguing; the light side and the dark and how those things balance each other out," he said. "I loved the film with great music and very compelling characters — all of whom undergo a transformation by the end, which is very fulfilling for the audience. I know the film has meant a great deal to millions of people."
• Not a "Kiddie Play"
But Liberman adds that the La Jolla Playhouse production, written by Peter Parnell ("The West Wing" and "On a Clear Day You Can See Forever") is a new take on Hunchback. "What we're bringing is different from the (Disney) movie and different from the novel. It's an adaptation of all of those things — it's a stagework — and they're really doing it great justice," he said. "Anyone who has read the Victor Hugo novel realizes there are major themes in it that wouldn't probably be appropriate for a child, but speaks to adults and young adults. It's not a kiddie film, not an animated film — it deals with the real human struggles that these people were undergoing and many of us are still undergoing today."
Additionally, Liberman previously worked with Hunchback director Scott Schwartz in the stage production for "Somewhere in Time," an adaptation of that film and novel, at Portland Center Stage. "Scott is one of the warmest and most compassionate directors around," Liberman said. "He is really great in bringing new material to life on stage. He's a great collaborator, values everyone's opinion equally — and for that reason, you have a sense we're all in this together — that's where we have to start to build something new."
Team members behind the Hunchback musical say its classic themes, characters and story will still relate to modern audiences. "I don't think there is a moment in the show that is unrelatable — we've all felt at some point ugly, shameful or an outcast ourselves," Liberman said. "We've all hopefully at some point taken a stand for something we've believed which wasn't popular and had to make a sacrifice for that. Like all great shows, it captures people at any stage of their life; they will be able to see themselves in it — fragmented through the various characters."
In Disney's animated version, Clopin acts as both a a narrator and a character. In the stage production, Liberman said Clopin is again a "figurehead that ties many of the story elements together in terms of the overall arcing story structure. Within the story itself, he is the King of the Gypsies. He represents those without a voice in this medieval community in Paris — the disenfranchised, the ostracized, the poor — who are driven to criminal acts because they are basically not allowed to make a living legally, but he also represents the antithesis of what Frollo, who is the antagonist of the play, stands for — which is the oppression of the church, the oppression of human desire, which actually is what makes this community turn on its ear. You have the hedonism of what the King of the Gypsies represents pitted against the piety of the church, which is actually in this case dishonest."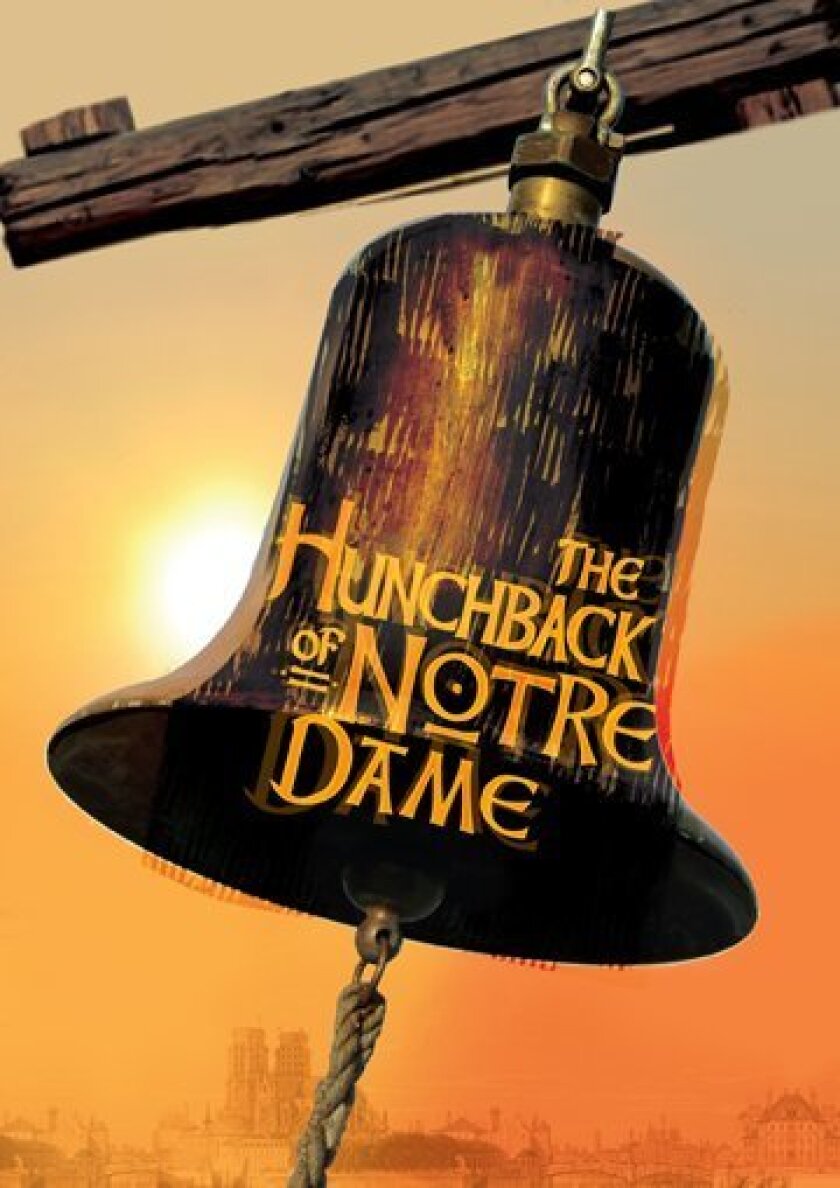 • Setting the Stage
The scenic design by Alexander Dodge features an elaborate recreation of Cathédrale Notre Dame de Paris. "Anyone who has experienced the grandeur of the Notre Dame Cathedral will be awe-inspired because the set is allegiant to the size and power of that monument and what it represented at that time," Liberman said. "The power that something like a mega-church would have now in the midwestern United States is the hold of what Notre Dame or the Vatican would have had on people then and still has on some people now — that battle between the government and the church — which some people want separated or united. The set is very glorious and does justice to the size and scope of the church."
Complimenting the detailed set will be costumes by designer Alejo Vietti. "The costumes are sensational; they're so authentic, colorful and versatile — it's wearable art," Liberman said. "All of those elements — the scenic elements, the costume elements — they all converge to hopefully create the reality that the audience will give itself over to when they see the show. It's a collaboration of many accomplished and visionary artists — and they make it really great fun to go to work."
After performances end Dec. 14 in La Jolla, "The Hunchback of Notre Dame" will move east in March 2015 to Millburn, New Jersey, at the Paper Mill Playhouse, which is co-producing Hunchback with La Jolla Playhouse.
— IF YOU GO: "The Hunchback of Notre Dame" runs Oct. 26-Dec. 14, 2014 at La Jolla Playhouse's Mandell Weiss Theatre on the UC San Diego campus, 2910 La Jolla Village Drive, La Jolla. Tickets at (858) 550-1010 and lajollaplayhouse.org
---