Hotel Parisi in La Jolla closes doors after 14 years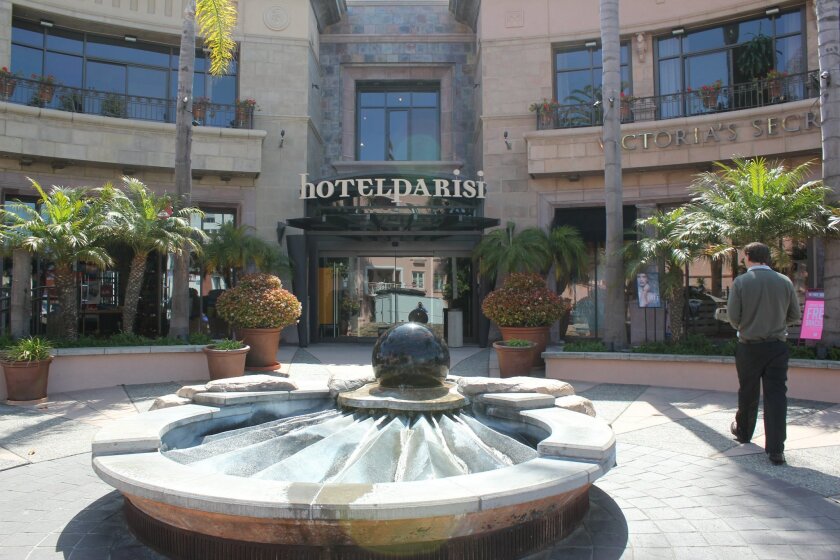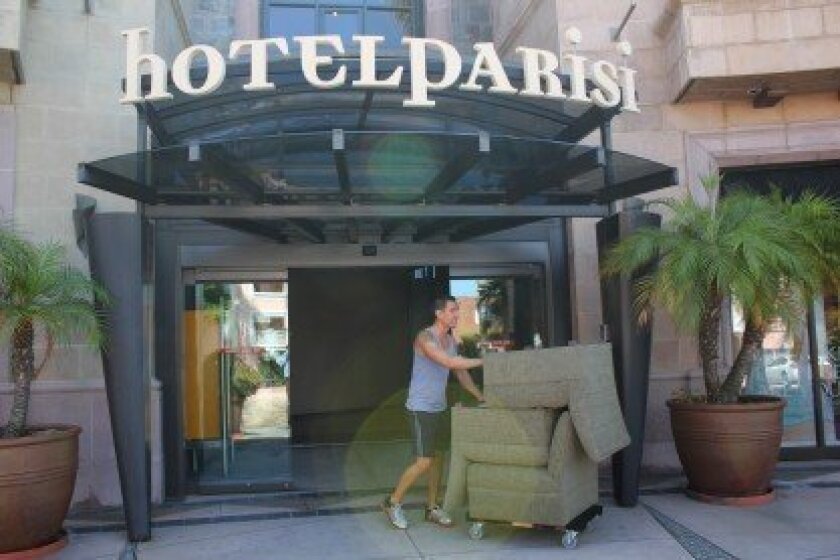 By Pat Sherman
La Jolla bid farewell this week to the upscale, 20-room boutique Hotel Parisi, at the corner of Prospect Street and Herschel Avenue.
A note on the hotel's website referred former and prospective La Jolla guests to the Grande Colonial, which it referenced as "another property in the heart of the village with similar values and customer service as ours."
Workers and soon-to-be former employees of the 20-room boutique hotel were busy sorting and moving everything from furniture and pillows to holiday decorations Thursday morning, May 2.
"It was great working here all these years," said Jon Shyp, Hotel Parisi's operations manager of more than eight years, and one of 20 staff members. "It was a really nice property, but it's on to new things."
Sue Wagener, wife of Hotel Parisi owner Peter Wagener, told the
La Jolla Light
, the lease was up and she and her husband decided to exit the hotel business. The now-vacant space will revert back to office rentals, which it had been before Peter Wagener remodeled the property. The hotel was named after Del Mar-based interior designer, Stephanie Parisi, who decorated the space.
"He had the vision," Wagener said of her husband. "He's the mastermind of all this."
Wagener said a new tenant has already committed to lease the space, but declined to say who that tenant is.
"The lease was up and it was time for us to decide whether we wanted to do this for another 15 to 20 years or whether we wanted to change over," Sue Wagener said. "We do property management (in La Jolla) and we'll continue to do property management." (Hans Peter Wagener is owner and president of La Jolla-based PHP Management).
With its spacious suites of up to 600 square feet, the Hotel Parisi attracted many celebrities, including Madonna, reportedly.
"It made us feel good that we did a really good job at what we did,"Wagener said, noting the hotel's inclusion on
Condé Nast Traveler
's "Gold List," as well as
Travel + Leisure
magazine's Top 100 Hotels in North America. "It was a wonderful run. We had an absolutely fabulous time doing it."
Wagener said she and her husband had no prior experience in the hospitality industry.
"We learned from the ground up," she said. "But the industry was changing at the same time. With the advent of the Internet it was much easier to market ourselves as a small hotel."
Renate Nishio, of Networkers Holistic Home Services, which offered in-room massage and holistic health services exclusively for Hotel Parisi, said the closure came as sad news.
"It was wonderful," she said. "The feeling that the hotel brought to La Jolla cannot be replaced. It was a one of a kind accommodation … built according to the Chinese five elements (wood, fire, earth, metal and water), very Zen-oriented, feng shui. It just merged perfectly with our intention to provide holistic services."
Wagener said she is most proud of her European-style continental breakfasts in the second-floor Piccolo room, something she said many hotels in the village do not offer.
"It was beyond upscale," she said. "It had everything from egg soufflé to bread pudding to homemade strawberry jam … Bread & Cie breads, meats and cheeses and fruit plates. It was a full-on smorgasbord."
---