Home Interiors—Choosing your Materials from the Ground Up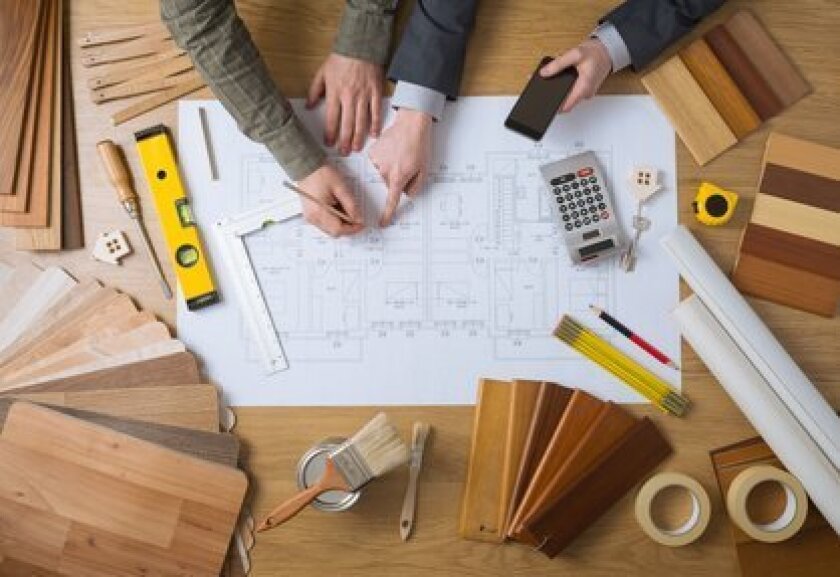 In February's column, I discussed what to consider when purchasing materials such as roofing, siding, windows, and doors, and landscaping materials for the exterior of your building project. This month, the process shifts from the criteria of primary function, style, and quality to a set of more personalized and exciting decisions to be found when selecting your interior materials.
Because interior materials are more about you, the decision making process becomes more personal and therefore more complex. Decisions, both large and small, influence cost, style, and quality when selecting surface materials for flooring, countertops, and walls. Appointing architectural details, such as moldings, staircases, railings, built-in bookcases, and entertainment centers are details integral to the structure, while fixtures, cabinetry, appliances, and hardware are part of the furniture that will influence your overall budget and stylistic outcome of your home.
Cost, style, and quality are three of the many factors that come into play when shopping for materials for your home building project. Therefore, it is best to plan carefully for this in your initial budget, as there are broad differences in prices for these materials. Our strategy at GDC is to appoint the entire project prior to breaking ground. Creating allowances in this design stage is critical to maintaining your budget and will provide for a cohesive design and smooth schedule.
Whether your project is a traditional or contemporary style home, the material choices that contribute to the overall style of your home are endless. So let's start from the ground up and pose the question. How does you choose a floor surface?
When shopping for flooring of any kind, you can visit showrooms to view completed floor sections and take samples home for review. This is true of wood, stone, tile, and laminate flooring, which all come in different surface finishes, colors, species, and price points. Characteristics vary dramatically with flooring, but durability, scale, and pattern are key factors to consider when appointing this material throughout the home.
Today many homeowners are electing to put wood in the kitchen areas, as a continuum of the living room; however, tile and stone surfaces are more commonly used for their durability. Depending on your preference, tile and stone materials come in multiple sizes, finishes, and colors. There are many options to choose from, and these materials are often tied into wall and countertop selections in the bath and kitchen areas.
A primary design consideration when selecting a floor, no matter what material you choose, is the pattern. Wood planks come in sizes from 2 – 8" wide by 4' – 10' in length. Engineered wood, which is a 1/8" veneered wood species adhered to a board, comes in board lengths and can also be selected in a variety of patterns, such as herringbone, parquet, Versailles, and other decorative designs.
Tile and stone flooring are typically found in a square format, although oblong, rectangular, and decorative shapes are also available. Here the application, size, and configuration of the room play an import role in the selection process.
Scale is also an important characteristic to consider when selecting materials for your floor. Depending on the room, flooring should be considered as the base of your interior design, and the proper scale of decorative pattern, size, and shape are critical.
In the next column, we will look at how interior architectural features contribute to the overall design and look of your home. For further information you are welcome to call us at 858-551-5222.
---