Head in the Clouds: Aviator and La Jollan Bill Gibbs celebrates 103 years, lifetime of achievement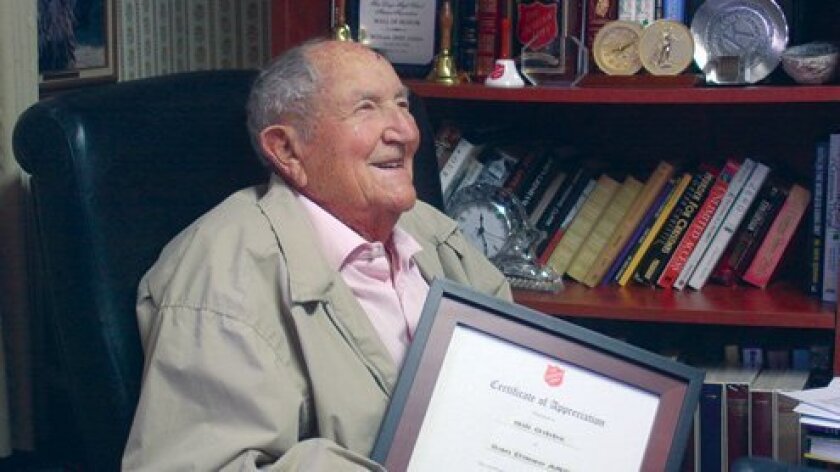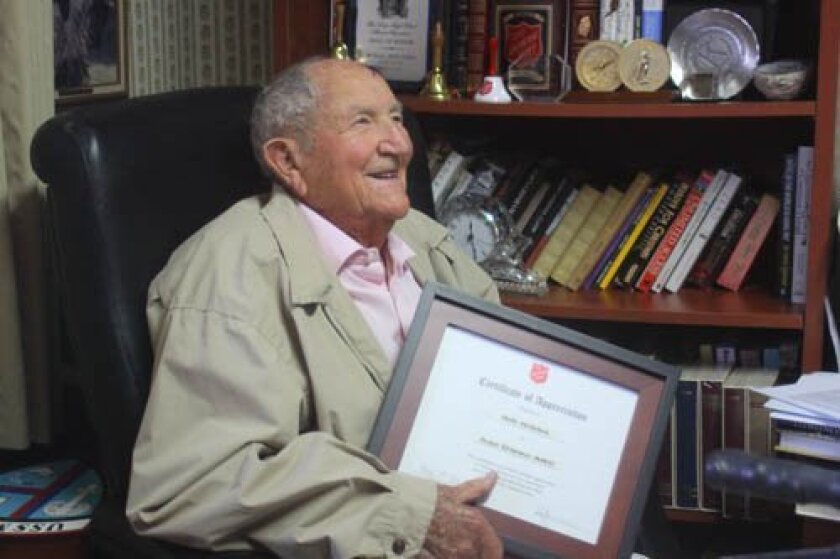 By Ashley Mackin
To say that Muirlands resident William "Bill" Gibbs is accomplished is a bit of an understatement. Gibbs, who recently celebrated his 103rd birthday, owned and operated Gibbs Field airport, now known as Montgomery Field in Kearny Mesa. He was inducted into the 2011 San Diego Air and Space Museum Hall of Fame. He has received several awards from community groups such as the Salvation Army and the Kiwanis Club. He raised a loving family that includes three great-grandchildren.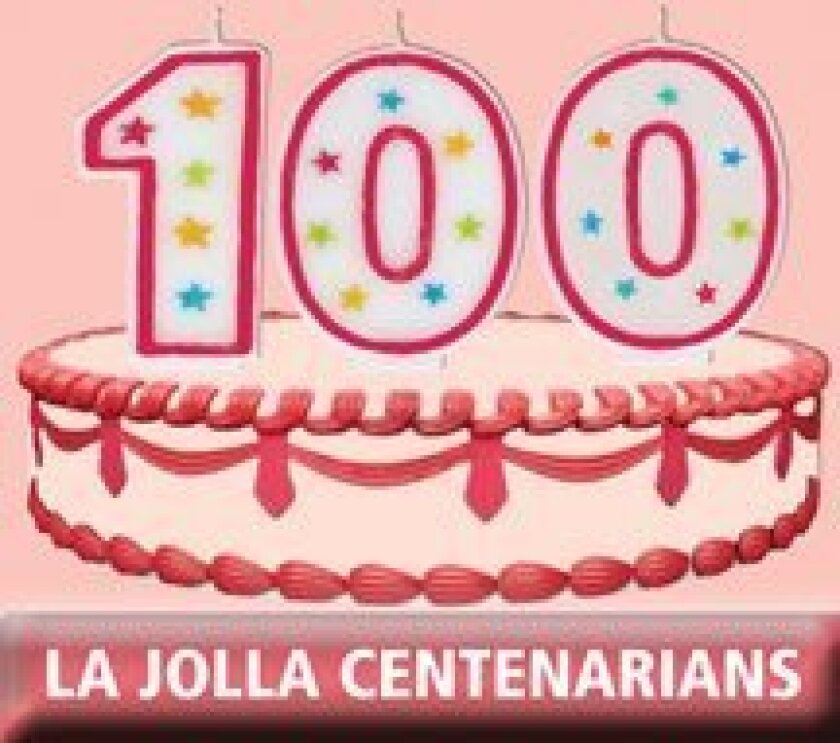 "They say I'm an aviation pioneer," he joked, pointing to a poster given to all San Diego Air and Space Museum Hall of Fame inductees. His induction statement reads, in part, "His aviation career started in 1931 and has continued ever since."
In 1930, at age 20, before his official aviation career got started, Gibbs was working at a junk yard where cars were destroyed for 25 cents an hour. Nearby, a lone aviation instructor gave flying lessons. Gibbs decided to take his pay and hand it right over so he could learn to fly.
It didn't take long before Gibbs mastered flying, and invested in land to build an airport. "In 1938, I went out to Kearny Mesa and bought 25 acres for $250 — $50 down and $25 every three months," he said, no test to his impressive memory. "In 1940, I leased my airport to the Ryan School of Aeronautics to teach cadets how to fly. I got $200 a month for them to use it five days a week, and I got to use it the other two days." (The City of San Diego purchased the field from Gibbs in 1947 for $108,000.)
In the 1940s, Gibbs also offered to teach cadets how to fly, which in draft-driven World War II, was a great military service. "The school went from 160 cadets to 720 cadets, with 250 planes and 200 instructors," he said. "They needed pilots."
He was inducted into the Air Corps and continued to teach for his military service for four-and-a-half years during the war. During that time, he worked out of a building constructed for the Ryan School. He worked on the third floor of the three-level building, but to get there, he had to cross a landing on the second floor that connected to stairs leading to the third floor. At the end of the landing worked a young secretary named Barbara.
"That's where I first met her," he said of his would-be wife. "We were married for 52 years, two months and seven days. I had a very good wife. I don't know how she stood me the first 18 years, after that I was a good boy."
It was Barbara who brought the Gibbs family to La Jolla. After living in Mission Beach for 14 years, Barbara (20 years deceased) wanted to move to La Jolla. So in 1959, she started looking, and when she found their Muirlands home, she told Bill, "I found it." He's been there ever since.
Soon after they moved to La Jolla, Gibbs wanted to take aerial shots of their new neighborhood to send to people as postcards. But when he flew up, he saw there were so many vacant lots surrounding his home, he decided to try again in a few years.
"La Jolla has more people now than when I moved here," he said, wondering if the population had doubled or even tripled. "But I think that's a really good thing. They've done a good job of maintaining the ambiance of La Jolla."
Gibbs was a member of Kiwanis Club of San Diego — whose mission is to conduct service projects that respond to community needs — for 28 years, and he recently received the Duck Award, for "ducking" club presidency the longest of anyone.
He also serves on the advisory board for the Salvation Army San Diego, and has for more than 45 years. He was awarded a Certificate of Appreciation for his work with the Salvation Army's Adult Rehabilitation Center, as well as several porcelain bells thanking him for his frequent times as a bell ringer to Salvation Army kettles.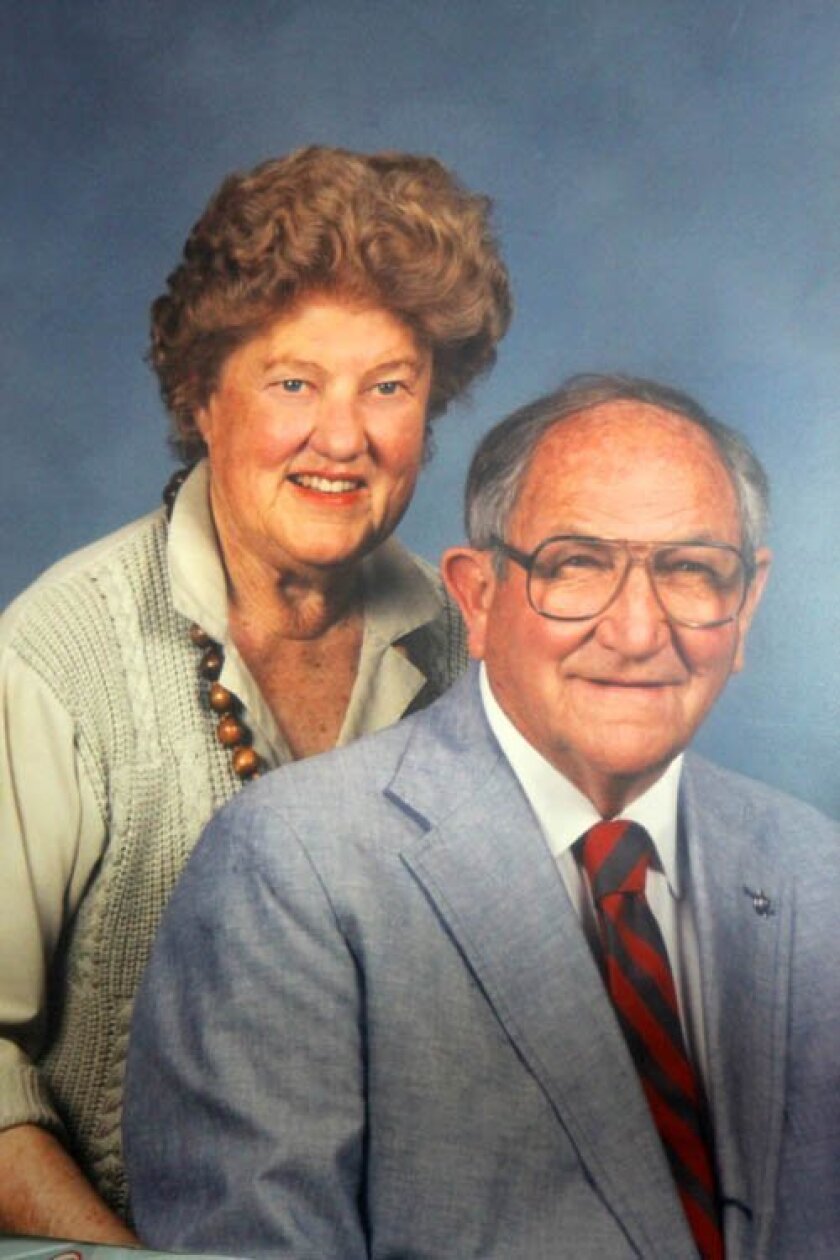 Gibbs also established, through the Air and Space Museum, the Bill Gibbs Endowment Fund, which offers scholarships for those with aviation aspirations.
Having long since retired, Gibbs now enjoys spending time with his family, including sons Buzz and David; grandchildren Joanna, Elizabeth, Brant and Katharine; and great-grandchildren Madeline, Will and Josie.
Much to Buzz Gibb's chagrin, he doesn't think genetics are the secret to his father's longevity. Instead, he poses, it could be his dad's attitude.
"He is extremely friendly, he goes out and meets people all the time," he said, adding that Bill Gibbs outlived most of his brothers and sisters, and the two who remain (despite being much younger), are not in the same shape he's in. "It's not just genes, they have to be meshed just right," Buzz Gibb's said. "Dad just happened to be put together well."
---