'Hands on a Hardbody' crazy idea, sensational show
By Diana Saenger
Let's Review!
The focus is on hands for La Jolla Playhouse's world-premiere musical, "Hands on a Hardbody." Hands of contestants that must remain fixed on a truck until the last one standing wins the truck, and hands of an opening night audience that could not stop clapping after every brilliant song written exclusively for the show.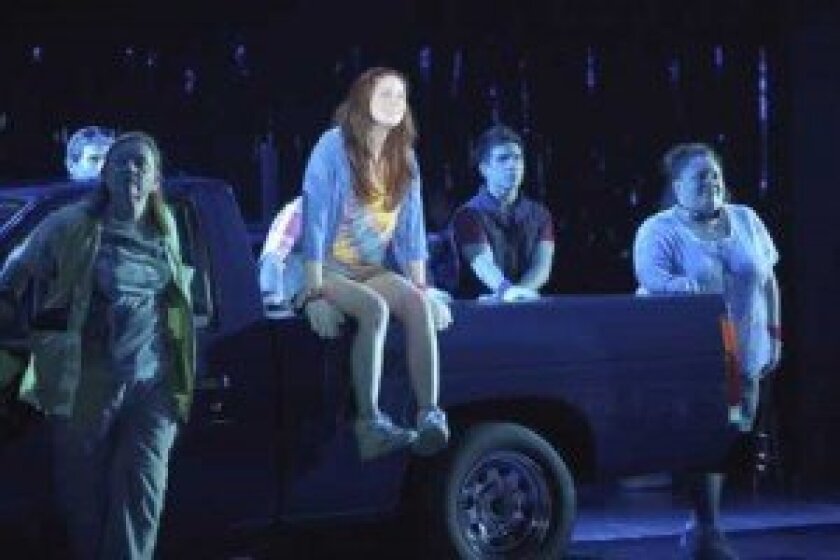 Pulitzer Prize-winning playwright Doug Wright ("I Am My Own Wife," "Creditors") has once again harnessed his creative genius to turn a 1997 documentary about a car dealership's promotional contest for wannabe truck owners into a smart, funny and poignant play commissioned by The Playhouse.
Many other virtuoso hands helped deliver solid entertainment in the production. Amanda Green (music and lyrics) and Trey Anastasio (amazing rock music) did their homework in fitting fun and great lyrics into tunes that capture the essence of every character who sings them. Each tune tells the story of why he/she
really needs that truck.
In "Master Benny's Winning Strategies," Benny Perkins (Hunter Foster) tells JD (Keith Carradine) how to win from his own experience of winning last year. Kelli (Allison Case) sings why she desperately wants a new life in "I'm Gone," while contestant Greg (Jay Armstrong Johnson) looks at her with moon-pie eyes. Jesus (Jon Rua) wows us with his story of discrimination and love for his dog in "Born in Laredo." Chris (David Larsen) who has just returned from a tour of duty in Afghanistan puts it all into his song, "Stronger."
Each story, loosely based on those of the actual contestants from the real contest in Texas, comes alive through the passionate performances of the excellent cast. Carradine's JD strikes a somber chord revealing his martial and physical problems. Janis (Dale Soules) lets us know what a real soul mate is all about in "It's A Fix." Win or lose, Norma (Keala Settle) knows her future is in God's hands as she testifies in "Joy of the Lord."
With a set that's mostly just a shiny new blue pickup truck, it would be easy to park it and go. But not so for The Playhouse's creative team. The truck easily becomes another dance partner through the choreography by Jason Fowler. The musical staging by Benjamin Millepied could not have been any more appropriate.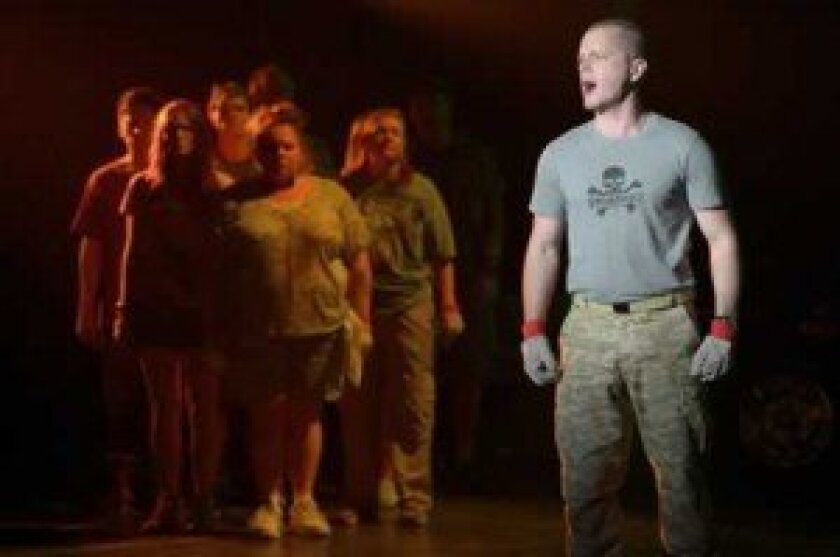 Director Neil Pepe wore many hats to bring this great production to the stage. All the ducks are in a row in the delightful and energized "Hands on a Hardbody." Don't miss it.
If you go
What:
World premiere musical "Hands on a Hardbody"
When:
Matinees, evenings to June 17
Where:
La Jolla Playhouse Mandell Weiss Theatre, UCSD campus
Tickets:
From $40
Box Office:
(858) 550-1010
Website:
lajollaplayhouse.org
---