Halloween Happenings In and Around La Jolla October 2014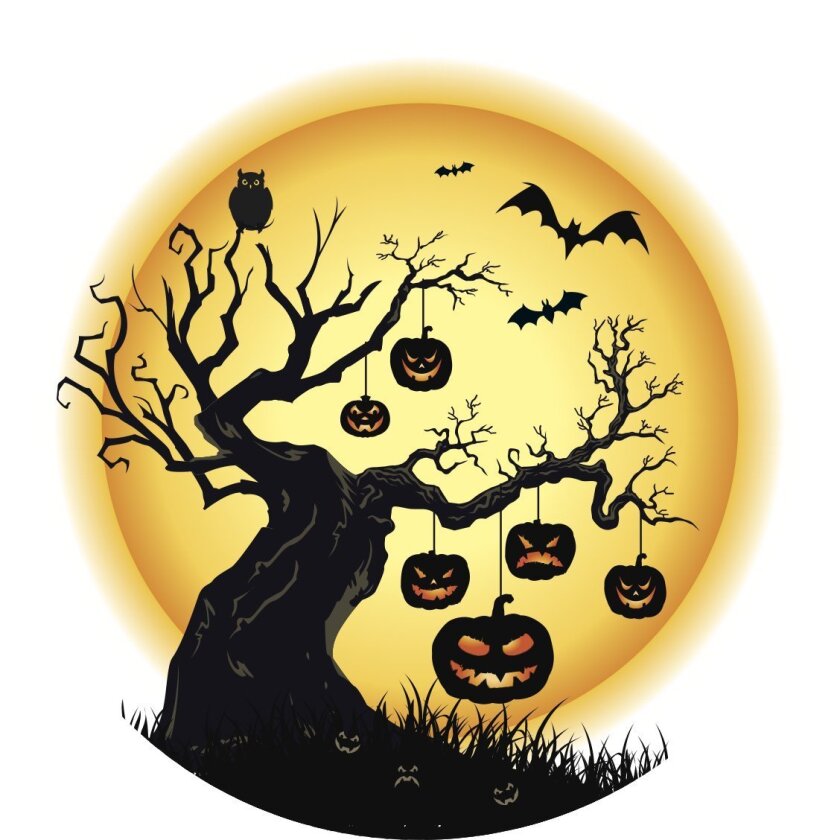 Happenings in La Jolla
Barbarella Spook-a-thon Dining: Dare you to walk by the restaurant at 2171 Avenida de la Playa in the Shores without having a fright attack, reservations recommended, (858) 454-7373.
Bird Rock Window-Painting: Children are invited to come out and paint the storefront windows of approximately 20 businesses 10 a.m. to noon, Saturday, Oct. 25, along La Jolla Boulevard. Adults who want to volunteer or have their kids participate, may contact the Bird Rock Community Council at info@birdrock.org
Family Harvest Festival: Bounce houses, crafts, pumpkin decorating, game booths and prizes, plus free hot dogs, chips, lemonade, cotton candy, and popcorn. Organizers request all costumes be child-friendly. Free admission, 5-7 p.m. Friday, Oct. 31. La Jolla Community Church and Eastgate Christian School, 4377 Eastgate Mall, east of Genesee. (858) 558-9020, ext 208. ljcommunitychurch.org
Halloween Festival: Carnival games, costume contest, pony rides, inflatable jumpers and more, 1-4 p.m. Saturday, Oct. 25, La Jolla Recreation Center, 615 Prospect. Game tickets 25-cents each. (858) 552-1658. sandiego.gov/park-and-recreation/pdf/14lajollahalloweenflyer.pdf
Halloween Potluck: Who says Halloween is just for kids? Dress up and enjoy lunch and prizes, when you bring a dish to share, 12:15 p.m., Friday, Oct. 31, at La Jolla Community Center, 6811 La Jolla Blvd. Free to members, $10 non-members. RSVP: (858) 459-0831.
Haunted Aquarium: Discover what lurks beneath the surface with close encounters of the fishy kind and explore wreckage for sunken treasures. Wander the aquarium's galleys for tricky treats and discover a sea of glowing creatures. Come in costume, 6-9 p.m. Friday or Saturday, Oct. 24-25: Birch Aquarium, 2300 Expedition Way. Tickets: $12-$17. RSVP: (858) 534-7336 or aquarium.ucsd.edu
Open Aire Market Harvest Festival: Guess the weight of the giant pumpkin and you'll take it home, plus potato sack races, mini pumpkin decorating, soccer fun, dancing, music and prizes, 10 a.m. to 1 p.m. Sunday, Oct. 26 at the farmers market, Girard Avenue and Genter Street. lajollamarket.com
Pet Costume Party: Treats and games for four-legged guests and refreshments for "parents." Mutt Mingle and photos, bobbing for biscuits, costume contest, treat for best trick, 4-6 p.m. Saturday, Oct. 25, Muttropolis, 7755 Girard, La Jolla. (858) 459-9663.
Pillage the Village: Trick-or-treating throughout the Village, 3-5 p.m. Friday, Oct. 31. Hosted by La Jolla Village Merchants Association and REBA, beggars should look for merchants with "Pillage" posters in the window. Details at pillagethevillage.info
Shores Fall Family Fest: Seventh annual event hosted by the merchants along Avenida de la Playa in La Jolla Shores, 4-7 p.m. Wednesday, Oct. 22. Music, raffle, face painting, food, costume parade, jumper and more! Tickets: $5. lajollashoresmerchants.com (619) 840-3482.
Silent Horror Spooky Films: Watch some 16mm silent surprises with hauntings, vampirism, demons and ghosts, 7 p.m. Oct. 31 in the Seuss Room at Geisel Library, UC San Diego. The Teeny-Tiny Pit Orchestra will perform music and sounds as these silent films roll. The audience will help underscore the action with percussion instruments from exotic lands, hosted by soundscape artist Scott Paulson. Free. (858) 822-5758. artslib.ucsd.edu
UCSD Monster Pumpkin Drop: Students will toss a 400 pound
candy-filled pumpkin from the 11th story of Tioga Hall, the tallest building on the Muir College campus, 12:30 p.m. on Thursday, Oct. 31. Inside the pumpkin will be an assortment of individually wrapped candy which all scurry to claim. The pumpkin's "splat" is measured each year. The largest splat in the history of the drop occurred in 1995, when a 398-pound pumpkin spewed over 100 feet.
Village Carnival: Although not a Halloween event per se, the La Jolla Town Council's first "Village Carnival" will be packed with seasonal fun for all ages, 10 a.m. to 4 p.m. Saturday, Oct. 25 at the Rec Center, 615 Prospect St. Free admission. Game tickets for purchase. (858) 454-1444. lajollatowncouncil.org
Balboa Park's Halloween Family Day: Sixth-annual event treats kids (age
Happenings Worth a Drive
Boomont Park: The creators of San Diego's most iconic haunts, "The Haunted Hotel," "The Haunted Trail of Balboa Park" and "The Scream Zone," have teamed up with Belmont Park to create a family-friendly Haunt Boomont Park. The Halloween- themed beachfront amusement park has activities for all ages. Free admission and parking. October trick-or-treating 6:30-7:30 p.m. Fridays; 1:30-2:30 p.m. and 6:30-7:30 pm. Saturdays/Sundays. 3146 Mission Blvd. boomontpark.com
Botanic Garden Fall Festival: 10 a.m. to 2 p.m. Saturday, Oct. 25, for ages 2-6. Halloween-themed activities and crafts, 230 Quail Gardens Drive, Encinitas. Free to kids under age 12. Small fee for some crafts. RSVP: (760) 436-3036, ext. 222. sdbgarden.org
Day of the Dead: Nov. 1-2 tour the museums and shops within Old Town San Diego, most have dramatic and festive Day of the Dead altars. Folklorico dancers and live performances celebrating this traditional Mexican holiday will be featured on the Fiesta de Reyes stage. Come early and enjoy dinner in Old Town.sddayofthedead.org
Harvest Festival: Oct. 17-19 the Del Mar Fairgrounds. Arts and crafts show with dealers from the southwest, stage and strolling entertainment, and festival food. 10 a.m. to 6 p.m. Friday, Saturday, 10 a.m. to 5 p.m. Sunday. Admission: $4-$9. harvestfestival.com/delmar
Haunted House Visits: The Whaley House Ghost Hunting Tour runs 10:30 p.m. to midnight Oct. 17 and 18 at 2476 San Diego Ave. in Old Town. Must be age 12 or older. Hear the history behind the legendary spirits that haunt the house, learn how to use paranormal investigation tools and techniques to hunt for ghosts and discover why the Whaley House has been called the "Most Haunted House in America." Attendance is limited to 20 each night.
Tickets: $50. (619) 297-7511. whaleyhouse.org
Legoland Party Nights: 5-9 p.m. Saturdays in October. Free with a paid one-day admission. Brick-Or-Treat Trail (costumes encouraged) with candy, snacks, surprises and a bonus treat station at SEA LIFE Aquarium, BOO Crew will boo-gie down to live music, mad scientists and monster hunters at Ghost Cruise Scavenger Hunt, fireworks.
(619) 233-5008. legolandcaliforniaresort.com
Halloween Time at Disneyland Park offers seasonal overlays to the popular attractions, Space Mountain Ghost Galaxy and Haunted Mansion Holiday, inspired by Tim Burton's "The Nightmare Begore Christmas," during regular park hours. Kids can come in costume for Disney villain encounters, photo ops, creepy crafts and family activities at the park's Big Thunder Ranch. disneyland.com
OId Town's Fall Festival: Seasonal crafts and children's activities a la San Diego in the 1870s will be held, noon to 4 p.m. Saturday, Oct. 25 in the central plaza at Old Town San Diego State Historic Park. Many merchants surrounding the park will have activities, too. Park trick-or-treating 4-6:30 p.m. Oct. 31. oldtownsandiegoguide.com
Pumpkin Station: Activities, rides, inflatables, slides, petting zoo, carnival games, pumpkins for sale, and more throughout the park through Oct. 31, 9 a.m. to 7 p.m. daily, 9 a.m. to 9 p.m. Friday-Sunday, 15555 Jimmy Durante Blvd. Del Mar. (858) 481-4254. pumpkinstation.com
Scream Zone at the Fairgrounds: In its 16th year, the presentations are not recommended for children younger than age 10. New: Zombie Paintball Safari. Haunted Hayrides, too. Enter off Via de la Valle between Jimmy Durante Boulevard and the Coast Highway, 7-11 p.m. weeknights, open to midnight Friday and Saturdays in October. Tickets: $15. thescreamzone.com
SeaWorld's Halloween Spooktacular: Weekends in October. Catch silly and spooky shows and trick-or-treat alongside huggable SeaWorld characters. Event included with park admission. (800) 25-SHAMU. seaworldsandiego.com
Happenings at Your House
ABC Family Channel's "13 Nights of Halloween": 16th annual series runs Oct. 19-31 with family-friendly films airing, including "Nightmare Before Christmas," Tim Burton's "Batman" (1989) "Batman Returns" (1992);
"Beetlejuice" (1988); "Teen Wolf" (1985); Disney/ Pixar's "Monsters, Inc." (2001); "Harry Potter and the Deathly Hollows: Part 1" (2010); "Harry Potter and the Deathly Hollows: Part 2" (2011); and "Casper" (1995).
American Classic Movies Fear Fest: Scary films are screening Oct. 17-31, including John Carpenter's "The Fog," where Californians (Adrienne Barbeau, Hal Holbrook, Janet Leigh) are haunted by corpses from a 100-year-old shipwreck. The Halloween films marathon plays Oct. 30-31.
Horror Films on Turner Classic Movies: Tune in Friday, Oct. 31 to view "Carnival of Souls" (1962); "Night of the Living Dead" (1968); "House of Wax" (1953); "I Walked With A Zombie" (1943); and "Poltergeist" (1982).
Halloween Night Playlist: "Monster Mash" (Bobby Pickett);
"Thriller" (Michael Jackson); "GhostBusters" (Ray Parker, Jr.): "Pet Semetary" (Ramones); "Somebody's Watchin' Me" (Rockwell); "Don't Fear the Reaper" (Blue Oyster Cult); "Werewolves of London" (Warren Zevon); "The Time Warp" from "Rocky Horror Picture Show"; "Highway to Hell" (AC/DC); and "Requiem in D Minor" (Mozart).
---