Fundraising work fills the days (and nights) for Hillary Brendzel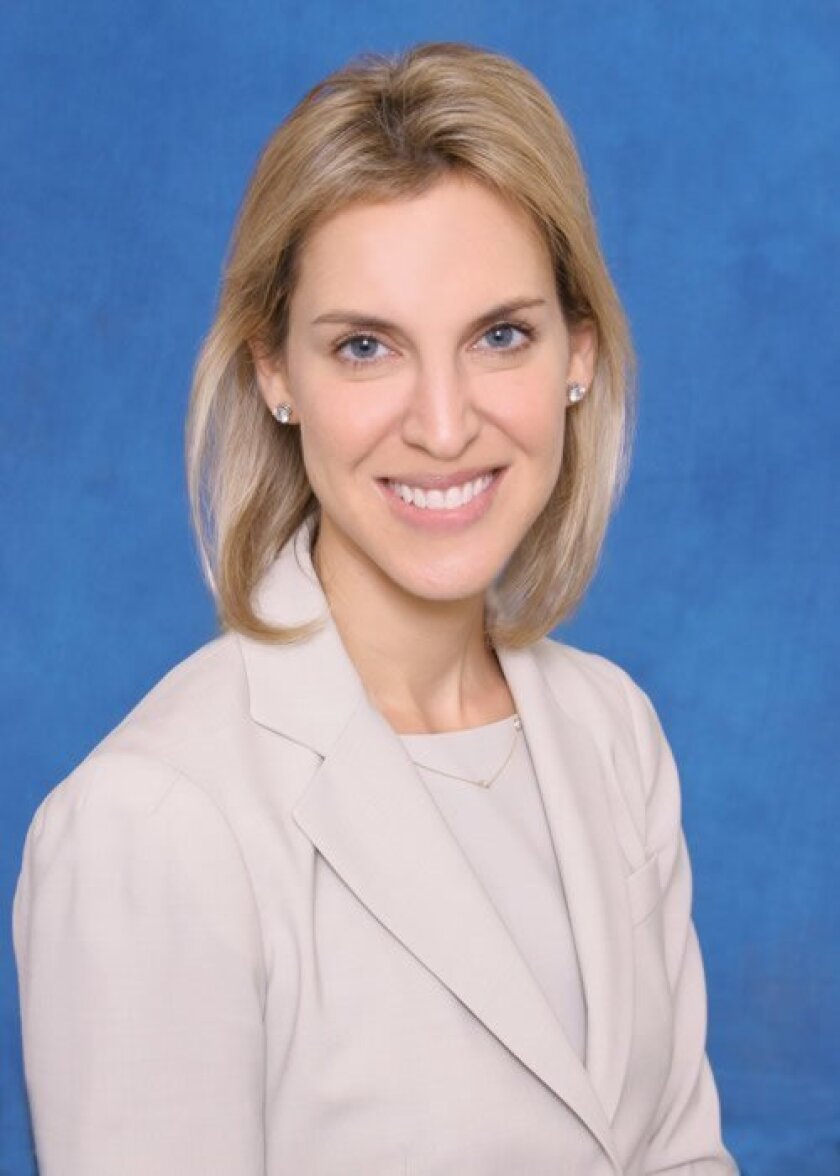 Hillary Brendzel is director of development for Scripps Health's Campaign for Cardiovascular Care, a $180 million capital campaign to raise funds and awareness for the new Prebys Cardiovascular Institute and Scripps Clinic Anderson Medical Pavilion. Prior to Scripps, Brendzel worked in Washington, D.C. for the U.S. Senate, American Heart Association, Junior Achievement and the Advisory Board Company. After her 10-year career in D.C., she decided it was time for a change of scenery (and weather) and moved to San Diego.
Brendzel grew up in Laguna Hills and attended high school at Phillips Academy Andover in Andover, Mass. She holds a bachelor's degree from Emory University and completed her graduate work in non-profit management at Georgetown University. In addition to her work at Scripps, the avid sports fan serves on her school's local alumni executive committees and is a member of the San Diego Women's Foundation.
What brought you to La Jolla?
I grew up in Orange County but left for prep school at the age of 14. Since then, my education took me to Boston, Atlanta, Buenos Aires and, most recently, Washington, D.C. Although I loved my time on the East Coast, the horrendous D.C. winter of 2010 made me realize it was time to move back home! Being close to my family, and a great job offer from Scripps, made the decision easy.
What might you add, subtract or improve in the area?
I would like to see more nightlife in La Jolla. Not necessarily late night clubs, but hip wine bars and jazz lounges with amazing live music.
Who or what inspires you?
I am constantly inspired by the women I meet through the San Diego Women's Foundation. They have a passion for improving our community and I am honored to be associated with these ladies. We are launching an under 40 initiative, which is an effort to engage younger women by reducing the dues requirement. Everyone can have an influence, no matter what age or station in life!
If you hosted a dinner for eight, whom (living or deceased) would you invite?
Elizabeth I, Ronald Reagan, Benjamin Netanyahu, George Washington, Hillary Clinton, Eva Peron, Abraham Lincoln and Moses. I strongly identify with a political party, but one of my great passions in life is to facilitate bi-partisan discussion and debate.
What are you currently reading?
I am reading "This Town," by Mark Leibovich. It is a witty, entertaining and very accurate portrayal of life inside The Beltway. You can take the girl out of D.C. ...
What is it that you most dislike?
Unauthentic people and cloudy days in San Diego!
What is your most-prized possession?
A Chanukah menorah passed down through my family for generations. In a fire, I would grab my purse, cell phone, important papers and that menorah.
What do you do for fun?
Since moving to La Jolla, I try to live my life outdoors and enjoy spending time hiking, paddleboarding, and playing tennis. I was exposed to the symphony, opera and Broadway at a young age and have season tickets to all ... it keeps me busy! I consider myself a "foodie" and enjoy cooking and checking out new restaurants. And how can I not mention frequenting La Jolla beaches? We live in one of the most beautiful spots in the world!
What is your motto in life?
MIH: Make It Happen!
What would be your dream vacation?
Three weeks in Italy, starting with the main cities and the tourist sites, and then driving throughout the countryside to experience the local life and fare.
---