Four newcomers share latent art passions at La Jolla exhibit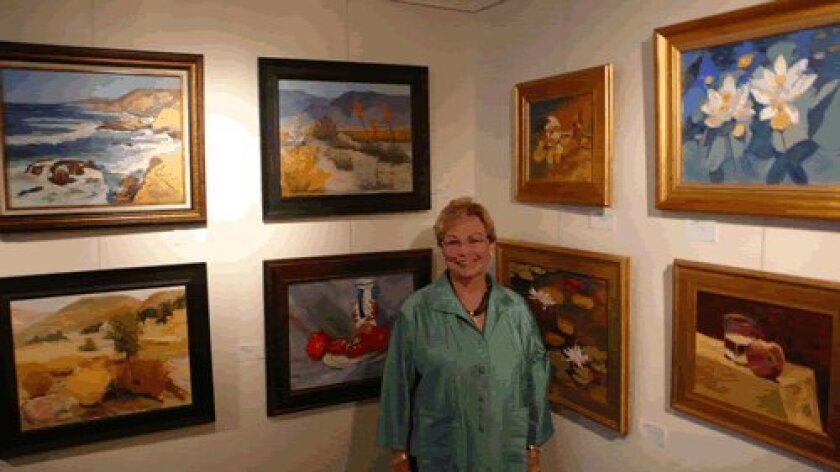 By Will Bowen
Last week's exhibition at the La Jolla Art Association (LJAA) galleries was all about artistic passion and the importance of pursuing and expressing one's creative spark. The lesson is that despite age or occupation, creativity can emerge as a force in our lives.
The show was decidedly eclectic. It featured the work of two female painters and two male photographers.
The women, Pat Hunter and Jacquie Wade, both became serious about painting somewhat late in life, in spite of having very time-consuming careers. This was the first exhibition for each.
The photographers, Michael Huff and Robert Conaway, are both newcomers to the art world as well, using their cameras as a creative outlet in their after-work hours.
■ Pat Hunter
A realtor in Escondido who has painted on and off for 40 years, Hunter said she only became serious about her artwork in the last five years, pursuing lessons under teachers Perrietta Hester and Rae Ann Marks, former students of the late Sebastian Capella.
At the LJAA reception for the artists on April 27, Hunter explained: "I am at the time of life when I can finally spend time doing what I really want to. I am trying to let my inner artist out. I love looking for beauty and trying to paint it. It's a complete escape to stand before a white canvas with a brush and paints and try to let these tools speak in a meaningful way. It was a great deal of work for me to do this show, but it feels so rewarding to have all these people here — I sold a piece of art to boot!"
■ Jacquie Wade
Wade is a friend of Hunter's and a lawyer who works out of offices in San Marcos and Carlsbad during the day, focusing on estate planning, trusts and wills. She said Hunter talked her into taking a drawing class.
"I started painting and drawing when I was little. I didn't do it for 38 years but I always knew that someday I would," Wade said. "I still have to work and can only paint about three days a month, but eventually I want to be able to paint every day.
"I like to paint kids and people the best. There is something about a moment when I can see a person's heart come out. I try to cap- ture that feeling and as I paint, I can hold onto that feeling in me for a long time and I can share it with others.
"For the future, I want to continue to paint, to show more and to sell more, although I do feel pangs of self-doubt. I did sell two paintings today. This is definitely the next thing I will do with my life. Today's reception was just a little teaser!"
■ Michael Huff
Fine art photographer Huff said he finds his artistic outlet with a Nikon camera, shooting landscapes and surf scenes. During the day, Huff works as a supply chain manager for CM Distributors, which handles jobs for Sempra Energy and SDG&E.
"I took up photography because I needed a creative outlet to balance my work-a-day job. I used to work as a recording engineer in Los Angeles. I worked on 13 No. 1 records — two with Grammy nominations. That was a very creative job but after a while I felt I needed a change.
"Photography is a very creative art form. You have to consider composition and lighting. You search for that perfect visual moment and try and capture it on film. My heroes are the great Ansel Adams and Aaron Chang, the surf photographer in North County. I like anything to do with water, that's why I call my exhibit 'H2O.'"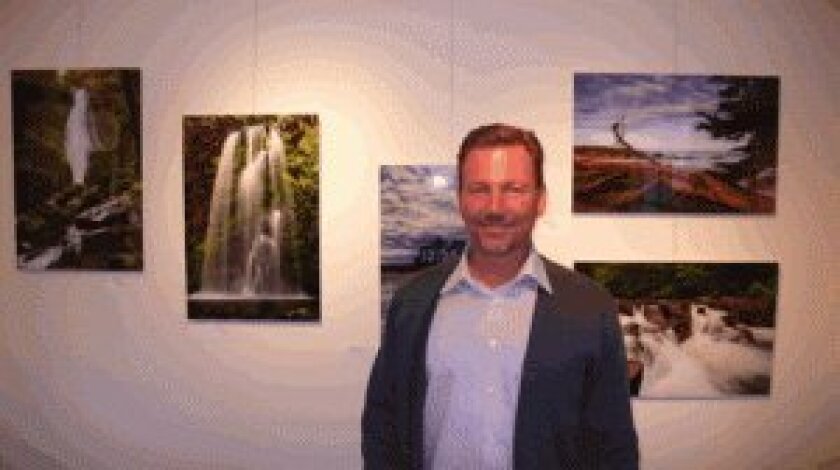 Huff has an incredible photograph of the Golden Gate Bridge in his show titled "The Golden Good Bye." He said he took the shot on the way back from releasing his sister's ashes at sea near San Francisco.
"It was a solemn moment and as our boat was passing under the Golden Gate Bridge, a humpback whale breached and I saw this opportunity for a shot of the bridge, which I took in black and white because it seemed appropriate for the moment."
Currently, Huff is working on a collection of black and white photographs of San Diego's homeless population.
"I assumed the pictures would be tragic and sad, but what is coming out of the camera are these shots of homeless people kind of at peace in some way, even though they are destitute. You see it in the pictures!"
■ Robert Conaway
Photographer Conaway works as a chef at Porta Vista Hotel in Little Italy during the day. He grew up in El Cajon and attended the California Culinary Institute in San Francisco. (He created an incredible minted split pea soup with bacon foam for the LJAA reception.)
He worked internationally at the Furuma Resort on China Beach in Vietnam, and in Dubai at the Moven Pick Hotel. "In Dubai, as an outlet for my 90-hour work week, I would walk around with my Pentax camera and take pictures of buildings. One of my pictures in the show is of the world's tallest building."
Conway said he now shoots with a 1976 Leica R3 and a 1960 Hasselblad.
"My plan for the future is to take long-exposure shots of San Diego that blur out all the activity and traffic. It's an attempt to call attention to the days when San Diego was less crowded," he said.
---