Former scientist-turned-sculptor Ed Hujsak makes his La Jolla front yard his gallery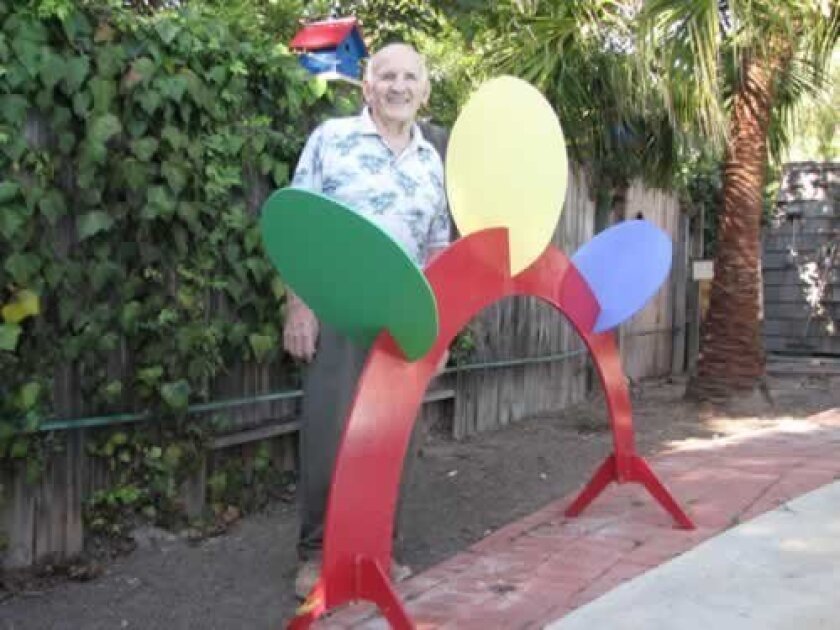 By Ashley Mackin
Ed Hujsak spent much of his adult life around metal. A rocket engineer by training, the 88-year-old La Jolla resident now makes metal sculptures and re-landscaped his front yard to showcase them.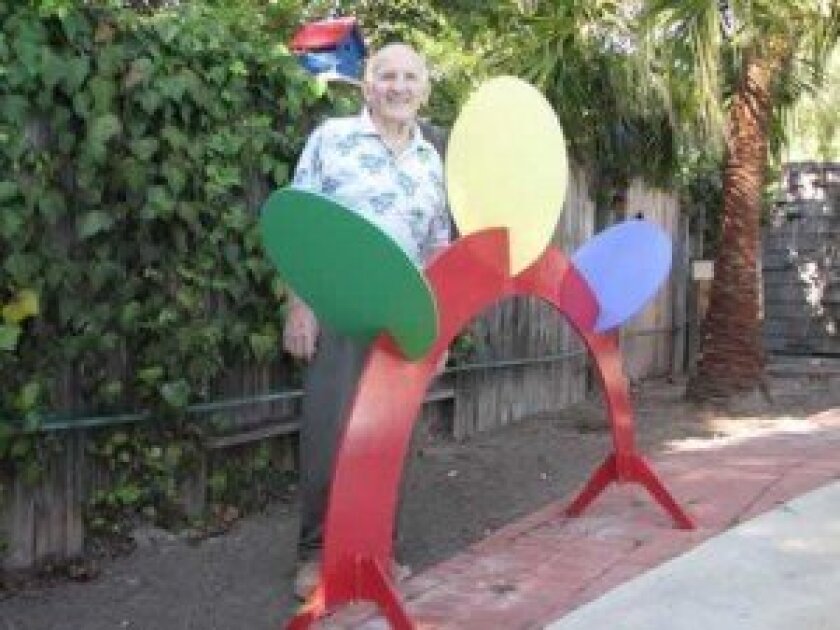 Hujsak said he finds a flexibility in working with metal, a counterintuitive thought that keeps his sculptures fun.
He said that's his inspiration: creating something funny. "An occasional thought might strike me — something in the news, something I remember or something that might be funny."
From there, he fashions metal in his home workshop and decorates the pieces. Though some works have been exhibited and sold over the years, Hujsak said he likes to "have them around me." There are about 20 sculptures on his property on Nottingham Place where he resides with his dog, Barney.
For one piece in particular, "Riven Sky," Hujsak said he could envision it at the top of a hillside with the sky behind it so the blue center strip would give the illusion of splitting the sky.
For the majority of his pieces, Hujsak laughs off the question of where his inspiration came from. One piece, however, is a tribute to his late wife, who died two years ago. A concert pianist and harpist, Hujsak said she was "just a great lady." In his front yard sits "Arpa," a work created in her honor.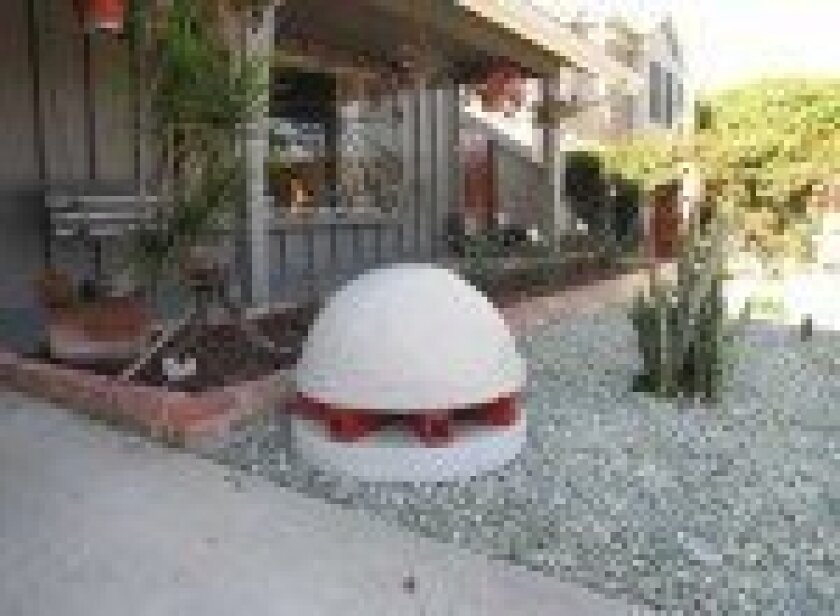 His favorite piece, he said, is whichever one was made the most recently; in this case, "The Dome." A sculpture standing only a few feet tall and looking like a flying saucer, "The Dome" has solar cells embedded in brick and glows at night, in tribute to his interest in space.
That interest carries over from childhood and he combines it with sculpting.
He joked that his interest in art started from reading Buck Rogers as a child, when he would replicate the spaceships described in the stories. While the interest in art never stopped, he said it seriously started about 20 years ago, when he retired.
His career brought him from New Hampshire to San Diego in 1955, because he said that's where the jobs were in his field. His work earned him several accolades, including being named the 1989 Engineer of the Year by the Engineering Society of San Diego.
When not sculpting, Hujsak said he likes to write. He has his own blog, rocketscientist20.blogspot.com, contributes to Science News magazine, and has written seven books on varying topics.
He also spends time with his two sons, Jonathan and Michael, and one grandson.
A member of a large family, Hujsak has 11 brothers and sisters, leading to 48 nieces and nephews. He said he's lost track of how many grandnieces and grandnephews he has.
A special moment with his family included a show he did two years ago with the La Jolla Art Association, where his niece, Elizabeth Lisewitz, and grandniece, Elizabeth Zaykowski, also showed their artwork.
---