Dine the 'guacho way' at Fogo de Chão Brazilian steakhouse in San Diego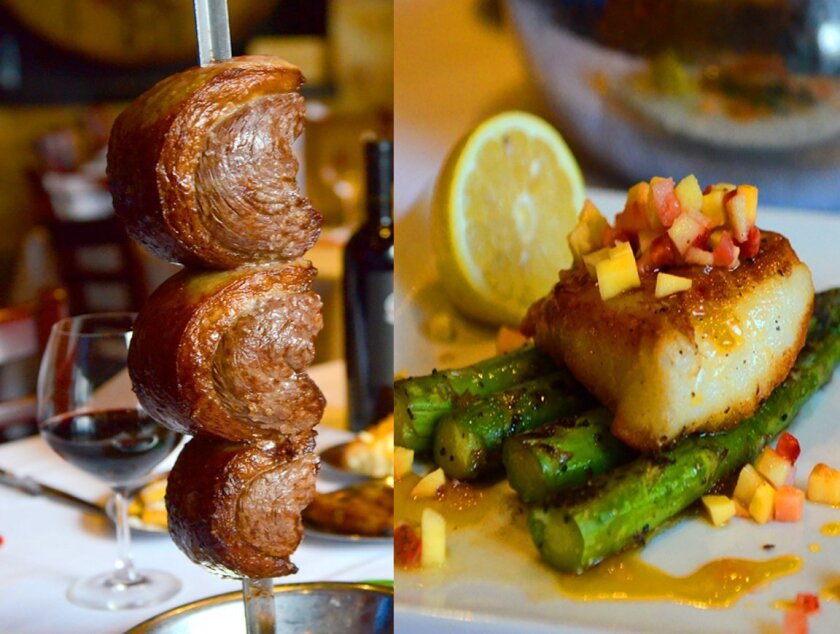 • ON THE MENU:
At Fogo de Chão, patrons get a taste of the "gaucho way." Actually, it's more like a bellyful.
For a set price ($22.50-$51.50 per person), guests can fill up on all-you-can-eat gourmet salads and grilled meats at this Brazilian steakhouse, located in the heart of downtown San Diego's Gaslamp Quarter.
The experience is unique, and is explained to customers shortly after their arrival and seating. This is the perfect opportunity to order Brazil's national cocktail, the Caipirinha, a strong, sweet-yet-tart beverage created with silver cachaça (sugarcane liquor) and muddled with limes. Meanwhile, Pao de Queso (cheesy bread puffs) are brought to the table, and the Jumbo Shrimp Cocktail is offered as an optional appetizer (at an additional cost).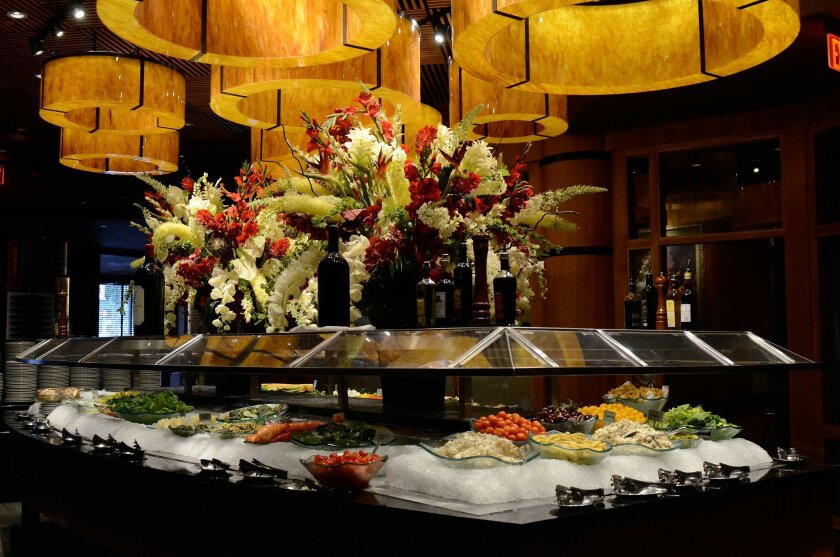 The next step is to take a trip to the gourmet salad bar. It's easy to go overboard with all the selections — more than 30 items — but if meat is on the agenda, it's probably best to take things slow and steady. But the temptation is there, with fresh vegetables, Brazilian side dishes, cured meats and imported cheeses. There's everything from marinated Shiitake mushrooms, to seasonal salads such as the Strawberry, Spinach and Endive, to smoked salmon slices and triangles of manchego.
Then it's time for the main attraction — meats, prepared the "gaucho way," roasted over open fire.
Patrons have a card on their table, red side up, and when they're ready, they flip it over to the green side. It's not long before the gaucho chefs make their way over, each presenting a different cut.
There are 16 to choose from, and the chefs will slice it to the preferred thickness, at the desired degree of doneness. "You can have as much or as little as you want," General Manager Adam Schroeder said.
The signature is the Picanha, a juicy prime cut of top sirloin. But there are others that shouldn't be missed, including the Alcatra, a flavorful top sirloin; the Filet Mignon, with a tender center; the marbled and rich Beef Ancho (rib eye); and the robust Fraldinha (bottom sirloin). And there's more than beef that's brought around, including Frango (two varieties, including chicken breast wrapped in bacon), Linguica (spicy, slow-roasted pork sausages); Lombo (pork filet encrusted with Parmesan) and Cordeiro (leg of lamb accompanied by mint jelly and chimichurri). Mango Chilean Sea Bass can be substituted for the meats.
Meanwhile, sides are brought to the table to complement the meats, consisting of crispy polenta, garlic mashed potatoes and caramelized bananas. And there are a number of wines (international and domestic) that pair well with the fare, including the restaurant's smooth malbec.
The chefs will keep stopping by a table with sizzling selections until the card is flipped back to the red side. Turn it back to green, and the merry-go-round of meats begins again.
If possible, diners may want to attempt to leave room for dessert, at least for the Papaya Cream. The rich concoction is a blend of papaya and vanilla ice cream, decorated with crème de cassis.
Other sweet options include South American flan, Crème Brulee, and assorted cheesecakes and chocolate cakes. An accompanying shot of espresso can help relieve the food coma.
Guests seeking lighter fare may enjoy Bar Fogo for happy hour or small plates, such as Picanha Sliders or Shrimp Skewers.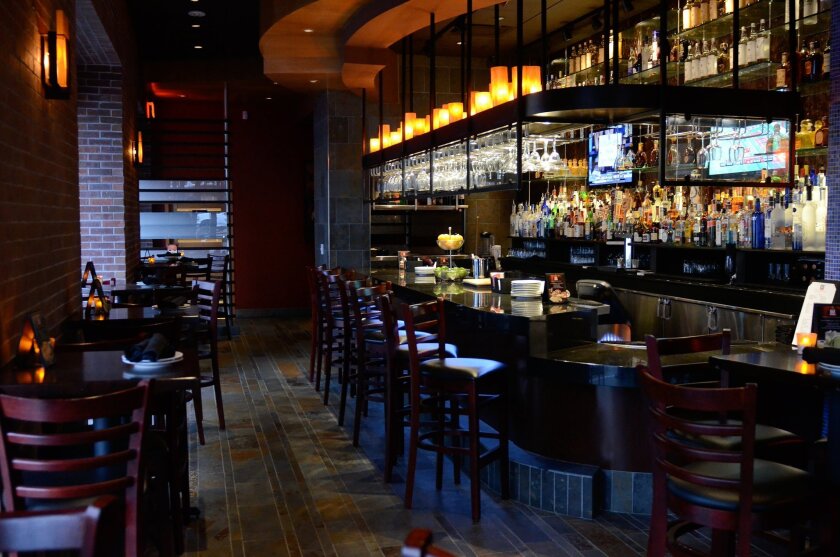 — Fogo de Chao, 668 Sixth Ave., San Diego
Phone: (619) 338-0500
Website: fogodechao.com
The Vibe: Intimate, upscale casual
Signature Dishes: Picanha, Papaya Cream
Open Since: 2013 (San Diego Gaslamp location)
Take Out: No
Patio Seating: No
Reservations: Yes
Happy Hour: 5-7 p.m. daily
Lunch Hours: 11:30 a.m.-2:30 p.m. Monday-Friday
Dinner Hours: 5-10 p.m. Monday-Thursday; 5-10:30 p.m. Friday; 4:30-10:30 p.m. Saturday; 3:30-9 p.m. Sunday
••• On The Menu RECIPE: Each week, you'll find a recipe from the featured restaurant at lajollalight.com. This week: Fogo de Chão's Pao de Queso (Cheesy Bread Puffs)
• Prep time: 10 minutes; Cooking time: 15 minutes; Serves: 8
• INGREDIENTS:
1.5 cups whole milk
1.5 cups sour tapioca flour (azedo*)
1 cup sweet tapioca flour (doce*)
3/4 cup shredded parmesan cheese
3/4 cup corn oil
4 eggs
1 teaspoon salt
• METHOD:
Preheat oven to 425 degrees. Lightly grease a 12- or 24-cup mini-muffin pan or small dariole molds.
Combine all ingredients in a large bowl. Mix well until batter is smooth. Fill each muffin cup three-quarters full.
Bake for 15 minutes or until golden brown. Breads should be crisp on the outside and hollow on the inside, like a popover. Serve warm.
*Sweet and sour tapioca flour can be found at Brazilian food stores.
Recipe courtesy of Fogo de Chão
---