New fire captain brings years of experience to La Jolla post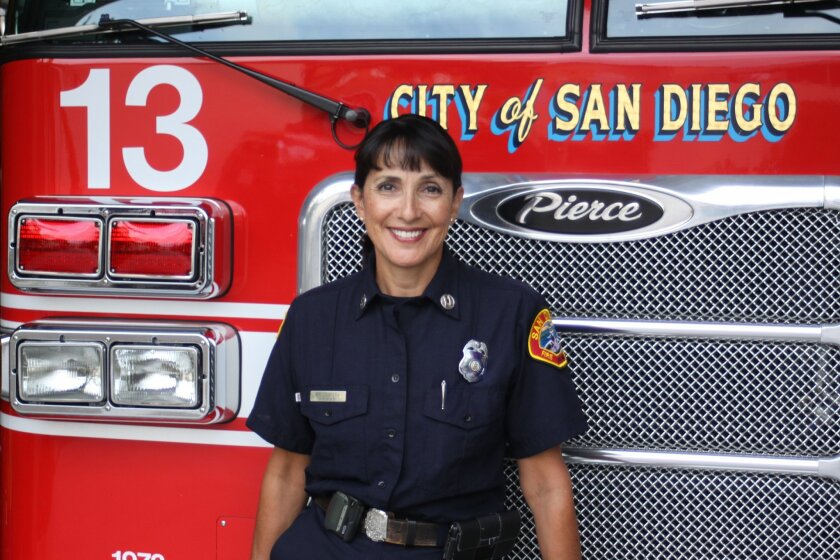 For Captain Maria Cabrera, the new division captain at La Jolla's Fire Station 13 (809 Nautilus St.) coming to The Jewel meant a change of pace. She spent the last 16 years at one of San Diego's busiest stations, Station 12, serving the Lincoln Park area near National City. Her former station had almost 6,000 calls in Fiscal Year 2014, compared to La Jolla's 1,559.
With a little less than a year until retirement, Cabrera said coming to La Jolla is a nice way to close her career.
"For my health's sake it was time for me to slow down and enjoy my time," she said. "Not that I didn't enjoy it at Station 12, but it was just very busy ... and La Jolla is so pretty; I thought it would be nice to come here for work every day."
Station 13 has three rotating divisions — A, B and C — designed to ensure someone is present at all times. Firefighters work in multi-day blocks, coupled with a few days off. Cabrera helms A Division, but crewmembers of each division are confident in her ability.
"If we have an incident here, whatever it is, she'll know exactly what to do, how to handle it and how to manage the scene," said Leslie Gallo of B Division. "I couldn't ask for anyone better." Gallo has been with Station 13 for 16 years, and said she's seen a lot of captains come and go. With Captain Cabrera, "you'll get good service here in La Jolla," she said.
The majority of calls Station 13 responds to are medical, followed by ringing home and car alarms, Cabrera said, but the engine will respond to any emergency. That's why, she said, if drivers see a fire truck coming with lights and sirens, they must pull to the right.
"A lot of people panic and don't know what to do, or they will be on their phones and distracted," she said. "If you hear sirens, we ask that you pull to the right and look around because a lot of times you don't know where they're coming from. Instead of darting through an intersection to get out of the way, just be alert and aware ... because if we think the intersection is clear and come barreling down ... let's just say it's not a good match."
In addition to the 16 years at Station 12, Cabrera spent more than a decade working at other stations and in other fire-related city departments. She began her career as a weed abatement inspector after the Normal Heights fire of 1985, and then made her way to a code compliance supervisor. She joined the department as a firefighter in 1987, the same year her daughter, Alyssa, was born.
Has being a woman in the male-dominated field of fire fighting ever presented a challenge? Cabrera said, "absolutely," adding she is often met with doubt.
"(People forget) female firefighters have to pass all the same tests and perform all the same drills as males. We pass the same academy and we are all very qualified," she said.
These days female captains are found across San Diego stations, just not in big numbers. Out of approximately 1,000 firefighters, there are 50 female captains, Cabrera said.
Captain Cabrera extends an invitation to residents to come by the station and say hello or introduce themselves. "Our door is always open," she said.
---