Filner spends some of first day as mayor in La Jolla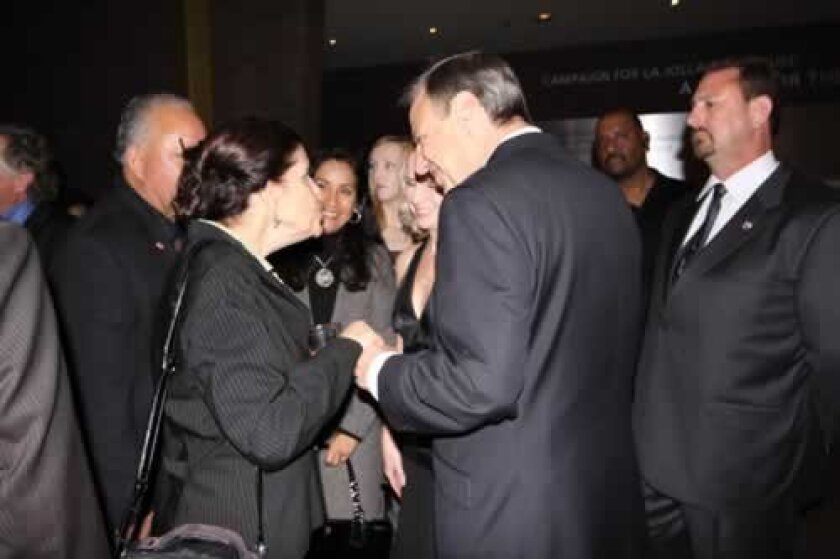 By Ashley Mackin
In his first day as San Diego Mayor on Dec. 3, Bob Filner visited schools, neighborhoods and the La Jolla Playhouse to meet with constituents.
"Today I was sworn in downtown, but we moved it out of City Hall – the swearing in – we moved it to Balboa Park to show not only that we want to get out of that bubble of City Hall, but, of course, because Balboa Park is such a jewel," Filner said.
After being sworn in at the Balboa Park Club at 10 a.m., Filner visited Memorial Preparatory for Scholars and Athletes Middle, Patrick Henry High, and Central Elementary schools. Filner served on the San Diego Unified School District Board of Education from 1979 to 1983.
He then visited the La Jolla Playhouse to meet and take photos with supporters. He said he came to advocate for UC San Diego, the Playhouse, and La Jolla, in general.
"We're absolutely honored that Mayor Filner has chosen to kick off his evening of inaugural events here at the La Jolla Playhouse," said its Artistic Director Christopher Ashley. "(We're) excited to have a mayor who is such an art supporter to the San Diego arts community."
Filner began his speech by acknowledging those who helped with his campaign, and stating his support for UCSD and higher education. He also said he will be an arts booster and would be attending a play at the Playhouse soon.
"We have to do a lot of work in this city on our arts. Yes, (at) the La Jolla Playhouse, but (also) throughout our city and throughout our neighborhoods. We know that a great city is defined by great art. It makes us better human beings," Filner told the crowd.
In addition to supporting the arts and education, Filner said he would work to improve infrastructure in La Jolla. "Even La Jolla needs infrastructure repairs; even La Jolla needs its roads and parking (and) parks maintained," he said. "The so-called 'showers' and so-called 'lifeguard towers' (need improving, too).
"We have a tough job ahead. ... It's a new day and we're going to listen to new voices and there's going to be new faces at City Hall, and I hope you will join in with this new administration."
After the speaking engagement at the Playhouse, Filner went to Mira Mesa High School, then on to Hillcrest, Southcrest and San Ysidro.
"We're going from the north in La Jolla to the border to say it's the communities that matter, it's the neighborhoods that matter," Filner said.
Mayor Filner
■ Address: 202 C St., 11th Floor
■ Phone: (619) 236- 6330
■ E-mail: bobfilner@ sandiego.gov
---